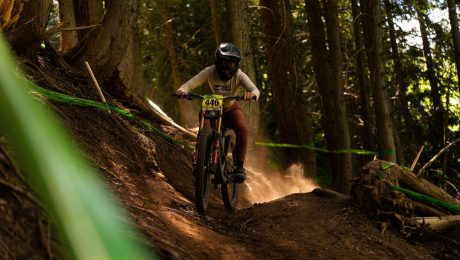 Get ready for a gravity-filled, energetic weekend of downhill racing. Fernie Alpine Resort is proud to partner with SE Racing, Cycling Canada, and Cycling BC to welcome back the Fernie Dunbar Summer Series Canadian Nationals DH Championships. Fernie is the first of 4 stops on the Dunbar Summer Race series – the best downhill mountain bike series in Western Canada!
To keep informed on all the Dunbar Summer Series Races, visit their Facebook page here.
Watch the Course Preview video here!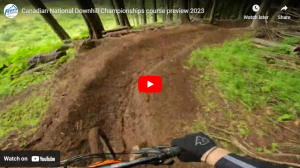 Registration:

Registration for the event is now SOLD OUT.
Schedule: 
PLEASE NOTE:  Schedule is subject to change
Thursday, July 13th
Early Ticket Pickup
3:oopm – 7:00 pm: Guest Services is open for racers to pick up their lift tickets for Friday through Sunday.
Friday, July 14th
Timber Chair is open for racers, unofficial course inspection, and plate pickup.
8:30 am-8:00 pm: Ticket Windows open in the main plaza for racers to pick up their lift tickets for Friday through Sunday.
10:00 am – 3:00 pm:  Timber Chair Open. DH Course will be marked and open to pre-registered racers. No course marshals. No public access to the Timber Chair (Elk chair is open from 10:30 am – 4:30 pm for friends/family of racers to access the Fernie Alpine Resort Bike Park).
3:00 pm – 4:00 pm:  Course closed for UCI Inspection
3:30 pm – 4:45 pm: Lift Access for course walks. Waivers & lift tickets are required.  *DO NOT COURSE WALK before 4:00 pm*
5:00 pm – 8:00 pm: Plate Pickup @ Griz Daylodge in the plaza
6:30 pm: Official Cycling Canada Riders & Team Managers Meeting @ Plaza
Saturday, July 15th
Official Practice, seeding runs for the elite categories and plate pickup.
8:30 am: Ticket Windows open for racer lift ticket pickup
9:00 am – 1:00 pm: Plate Pickup @ Griz Daylodge in the plaza. Jr Ex & Elite can plate pickup only.
9:30 am:  Timber Chair Open for registered racers only
10:00 am – 12:40 pm: Open Practice (all categories)
12:45 pm – 1:00 pm:  Volunteer Break & Plates 1-150 Queue for upload only
1:05 pm-2:00 pm:  Plate 1-150 Practice Only
2:00 pm – 3:40 pm: Plates 200+ practice only
3:50 pm – 5:00 pm: Jr Ex & Elite Seeding Runs (course closed after last timed run). The last Upload is at 4:30 pm
7:30 pm:  Racers Meeting @ Plaza. Seeding podium, swag toss, games and more!
Sunday, July 16th
Race Day!
8:00 am:  Ticket Window open for racer lift ticket pickup
8:00 am – 9:00 am: Last Chance Plate Pickup
9:30 am: Timber Chair Open for registered racers only
10:00 am – 11:25 am: Plates 200+ Practice Only
11:30 am – 12:15 pm: Plates 1-150 Practice Only
12:20 pm-12:45 pm: Volunteer Break
12:50 pm: Pre-Runners
1:15 pm: Race Start
4:30 pm: Last Upload (Re-Run Only)
**Awards and podiums to follow shortly after final racer.
NOTE: The Timber Chair is open to racers only. The Elk Chairlift is open all weekend from 10:30 am – 4:30 pm for lift-accessed biking, hiking and sightseeing for racers, family and friends.
Tech Guide
Please find a copy of the Tech Guide here: https://cyclingcanada.ca/wp-content/uploads/2023/07/DH-MTB-Canadian-Championships-Tech-Guide-Final-V.2-.pdf
Accommodation:
Hotels
Several hotel options exist at the resort and in town for the event. Our central reservations team can help you find the best accommodation for your needs – packages are available. Call 1-800-258-7669 or visit https://skircr.com/vacations/summer-vacation-packages/
**Please book your accommodations early. Due to a large contractor staying in town for the summer, hotel availability is significantly less than in previous years.
Registered competitors get a discount on accommodation booked through Central Reservations – if racers did not receive their booking code, please email [email protected].
Camping
There are several options for camping for the event. Fernie has several campsites in town and close by. You can reserve spots in the following campgrounds for those looking for traditional campsites. Please book your camping early, as local campgrounds do sell out.
The Fernie RV Resort and Mt Fernie Provincial Park campgrounds are a short drive and located within 7km of the resort and venue.
Fernie RV Resort (full serviced sites and amenities including internet and laundry)
https://tourismfernie.com/accommodations/camping-rv/fernie-rv-resort
Mt Fernie Provincial Park (un-serviced sites but has washrooms, shower facilities and proper campsites with picnic tables and firepits)
https://tourismfernie.com/accommodations/camping-rv/mt-fernie-provincial-park
Camping is also just outside of town at both Mountain Shadows Camping in Sparwood (approx 25min drive to the resort) and Kikomun Provincial Park near Lake Koocanusa (approx 30min drive from the resort)
Mountain Shadows Campground (serviced sites)
https://www.mountainshadows.ca/
Kikomun Creek Provincial Park – 3 separate camping areas (mostly un-serviced sites with a limited number of sites with electrical hookups.  Shower and washroom facilities available on site)
https://tourismfernie.com/accommodations/camping-rv/kikomun-creek
On-Site Camping
Basic parking lot camping will be available at the resort for the event. Campers must be self-contained as no services are available other than basic washrooms/porta-potties (no shower facilities, water, or power will be available). For those seeking more services, please see the campground options above.
Cost: $25+gst per night
Due to the availability of parking on-site, parking lot camping spaces are limited, and reservations are required.
Reservations will open on Monday, May 29th, at noon Mountain Time Zone (11 am Pacific Time Zone). Limited number available
**ONSITE CAMPING UPDATE – RESERVATIONS ARE NOW SOLD OUT***
Lift Tickets:
Racers will receive discounted lift tickets for July 14, 15 and 16. To receive the discount, racers must be pre-registered for the event and pay for and pick up their tickets in person during the times below.
Competitors can get their tickets for the weekend at the following locations. Racers can pick up tickets for all 3 days on Thursday afternoon and Friday.
NEW THIS YEAR – EARLY PICKUP Thursday, July 13th:
Lift Tickets will be available at Guest Services from 3 pm – 7 pm.
(beat the rush on Friday morning and pick up your tickets for Friday, Saturday and Sunday early)
REGULAR TICKET PICKUP: Friday, July 14th through Sunday, July 16th
Please go to the designated Lift Ticket Window outside Guest Services for the following times:
Friday, July 14th – 8:30 am- 8 pm
Saturday, July 15th – 8:30 am – 3 pm
Sunday, July 16th – 8 am – 10 am
All racers must complete an RCR Bike Park Waiver online before purchasing their ticket. Please do this online ahead of time via the following link – https://passes.skircr.com/waiverNSSummer/signupFull.aspx?w=bike
Once the waiver is complete, you will get a confirmation page with a unique ID code. Save a screenshot of the confirmation page or save the confirmation email to show the guest services/ticket window staff member that the waiver has been completed. Please have this ready ahead of time to speed up the ticket purchasing and pickup process.
*Racers 15yrs of age and younger must have their parent or legal guardian fill out the waiver for them. Please ensure the waiver is in the Racer's Name (not the parental name).
Lift Ticket Prices, including discount:
Adults (18yrs+)
3 Day Ticket (valid July 14-16): $118.71+gst
2 Day Ticket (valid July 15&16): $65.95+gst
1 Day Ticket (valid July 16): $26.48+gst
Youth (13yrs-17yrs)
3 Day Ticket (valid July 14-16): $95.31+gst
2 Day Ticket (valid July 15&16): $52.95+gst
1 Day Ticket (valid July 16): $26.48+gst
Discounts are available for registered competitors only.
Family & support crew can purchase lift tickets at the same time (or online ahead of time). Details on lift ticket pricing for non-racers can be found here: https://skifernie.com/purchase/summer-lift-tickets/
Season Pass Holders 
Summer Season Pass Holders who are registered racers for the event. Your Summer Bike Season Pass is valid for the weekend (you do not have to purchase a separate racer ticket). However, all season pass racers MUST have the following race identification on their bikes in order to be allowed on the Timber Chairlift (if you do not have the accreditation, you will not be allowed up).
For those riding on Friday, July 14th – please come into Guest Services to pick up an accreditation pass for the day (this is free). For those riding Saturday and Sunday – your bike plate will identify you as part of the event (so please pick up your plate before heading to the Timber Chair).
Course Map:
See the course maps below.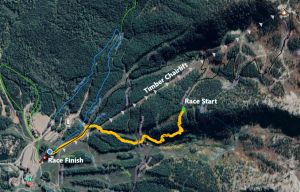 Marshal Locations: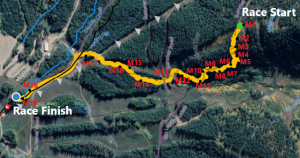 Volunteers:
We're super grateful to our volunteers who help with Marshalling the races. Thank you to everyone that reached out – we have all our volunteers for the weekend!
THANK YOU
Thank you to SE Racing and Dunbar Cycles for supporting this event.
'We gratefully acknowledge the financial support of the Province of British Columbia for funding through the BC Fairs, Festivals, and Events Recovery Grant'.