I am the mom of a spunky 7 year old boy and wife to an amazing husband, partner and friend. We live in Calgary, Alberta, Canada at the doorstep to the fabulous Rocky Mountains. Our family makes it a priority to get out to the mountains almost every weekend for what many would say are big adventures given we have a young child. Follow me on www.rockiesfamilyadventures.com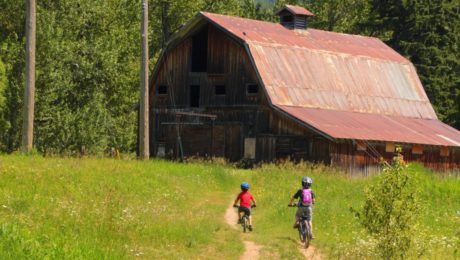 My family loves touring new towns on our bikes and the best loops always include at least one playground, a bike park, a stop for ice-cream, and a spot to cool off. Fernie has all of that in a short 8 to 15 km loop (depending on which trails you link together.)
The Main Town Loop combines several easy trails that are all relatively flat. As a family, you will enjoy pleasant trail riding on well-maintained gravel or dirt paths.  Most of the loop is double track and Chariot-friendly as well. The only challenging sections for us have been on the Old Stumpy Trail (which can be bypassed.)
The loop can be started at multiple locations downtown Fernie but we like to start at the dirt jump and skills park beside the aquatic centre and spray park on the corner of Pine Ave & Ridgemont Drive. We play at the bike park to warm up on the pump track and jumps, and then visit the spray park at the end to cool off. There's also a short beginner mountain bike loop located behind the dirt jump park that helps kids gain an easy introduction to single track riding.
Once you've managed to convince the kids to leave the bike park, cross Ridgemont Drive and find the trailhead for the Kootenay Elk Trail.  This easy trail poses no challenges as it crosses over a boardwalk and small wetland area (image shown). You'll soon reach a junction for the Old Stumpy Trail and the Downtown Connector Trail. The connector trail makes a beeline for Maiden Lake and is the easy trail option. At the lake you'll find a small rocky beach area and a great spot for a dip in the cool water if you've packed swim suits with you.
If you're up for a challenge, take the Old Stumpy Trail and Great Northern Trail for a longer loop to Maiden Lake. This extension has some tricky spots and you'll have to walk bikes when you come to a few short sets of stairs. Regardless of the technical bits on Old Stumpy, it's a beautiful trail with an "old growth forest" feeling to it. It's also a short ride until you reach the much easier Great Northern Trail which parallels the Elk River.
Once you've reached Maiden Lake, the riding gets extremely easy for a while as you continue on the Emily Brydon Trail along the Elk River and connect to the Dogwood Trail heading for the town Boat Launch. Shortly after the boat launch, go around the corner and then cross a small bridge. Here you'll get on the Brewery Creek Trail heading for an old barn (main/top image). The bike tour ends with a short introductory section on the Coal Creek Heritage Trail (where you probably won't want to be wearing white shoes since the trail is practically made of coal dust!)
You'll end up back at the aquatic centre from where it's a short drive or bike ride over to the Happy Cow Ice-Cream Store off Highway 3 (between 5th and 6th Street.)
Progressions for easy – intermediate family mountain biking
Once the kids have cut their teeth on the Town Loop, it's time to move on to some other great intro-trails that are a bit more technical and offer a "real" mountain biking experience.
The Coal Creek Heritage Trail – This trail is divided into two sections, The Lower Coal Creek Heritage Trail and the East Coal Creek Heritage Trail.  We rode a 9 km section of the trail and started from the "Townsite" parking lot on the East part of the trail. To find the parking lot, drive 6.3 km up Coal Creek Road from town, turn left at the bridge onto First Creek Rd. and look for the Trailhead Kiosk, 3 km further along on the left.
This is a classic "truck drop" ride (meaning, you drive up, drop the kids off, and they bike back down to town.) Either arrange the ride with a shuttle or plan to have an adult bike back up for the vehicle (as we did) because making the kids ride UP Coal Creek would not be a lot of fun for anybody. Fortunately, the bike park and spray park are right at the end of the trail so kids will not be bored while they wait for somebody to go fetch the truck.
While this is considered a "beginner" trail, I was pretty new to mountain biking when we rode it and I had to walk a few hills. Gears and hand brakes are imperative for safety and enjoyment on the ride.
Montane Trails – The Montane area has a bunch of new trails, starting from the old barn/coal creek bridge. On these trails you'll be rewarded with great views of the Lizard range, Mt Fernie and the 3 sisters.
Recommended loops:
TransCanada Trail to Montane North (This is the easiest loop in the Montane trail system.)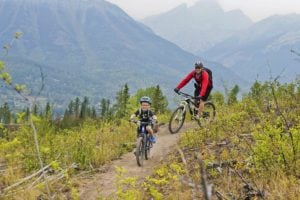 Montane North (image shown) to the TransCanada Trail to Montane / Ruby's Way to Montane Blue for Evyr to Montane. (This loop is a little more challenging with some uphill sections.)
And I've had two separate families tell me how much they love the new Montane Blue for Evyr Trail, a fairly easy section of the loop above. The ride can be completed by riding on Montane, a double track trail and a smooth easy ride.
Biking the Ridgemont Trails with Older Kids and Teens – For families ready to move on to some solid intermediate trails, Ridgemont has plenty to offer with hill climbs, fun downhill riding, flowy corners, obstacles and beautiful scenery.
Recommended Loops: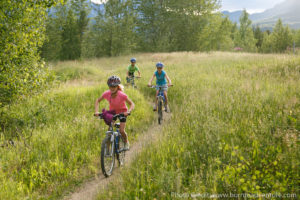 Head up Cemetery bi-pass (image shown) and continue on to the junction where 'KiddieUp' is the middle of 3 trails that branch off.  It is full of easy switchbacks to keep the grade bikeable for the young ones, and give them plenty of practice cornering.  To complete a loop take a right onto the logging road, and about 200m down you can take another right onto 'What's up Doc".
For something longer and more challenging, you could put together nearly any combination to make an excellent loop. Cemetery Bypass, Kiddie Up, Queen V, Ecoterrorist, Eric's Trail, and Broken Hip are all intermediate trails that are popular with families riding with older children and teens.
Information on all trails here can be found on the Trail Forks website.
Progressing to Downhill Mountain Biking at Fernie Alpine Resort
Register for a Kids Freeride Mountain Bike Camp and let professional coaches introduce the kids to lift-accessed downhill riding at Fernie Alpine Resort.
The theme of the camps is "Teaching kids to ride hard and safe." In the camps, kids learn basic downhill riding skills, gain confidence, learn to ride steep lines and to tackle challenging terrain at the resort. Discounted lift tickets and bike rentals are available for camp participants.
The resort will be holding four camps this summer for kids ages 8 – 16 and each camp runs for two consecutive days mid-week. Meanwhile, mom and dad will find no shortage of entertainment at the resort's bike park. Adult lessons are also offered including the brand new mid-week Trail Warrior Camps for adults. These 3-day camps are designed for cross country riders interested in developing downhill bike skills.
My family has a gigantic list of trails we want to ride this summer so we'll see you out there with huge smiles on our faces. My 8 year old (below) will be leading the way and will be yelling back at me to stay on my bike and to stop wussing out on every corner. 😉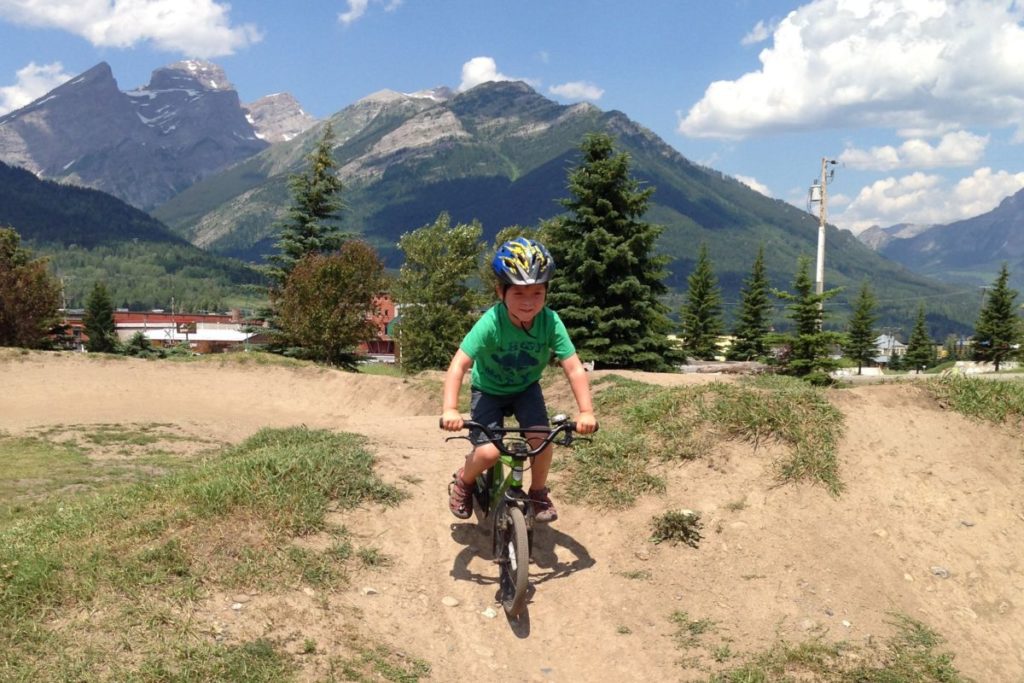 Special thanks to Leanne Nanninga and Coleen Hughes for contributing to this story with trail suggestions, route information, and photos.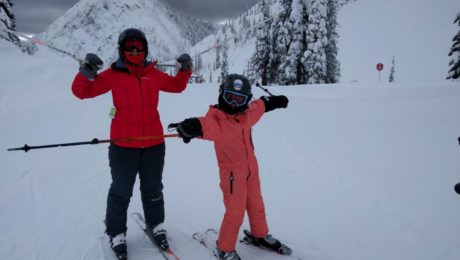 Spend your day skiing beautiful groomed runs on the lower slopes at Fernie Alpine Resort with the younger members of your family. Then take the older children and teens up to the bowls where you can teach them to shred knee deep powder. Take a break for a coffee at the mountain top Lost Boys Café and make sure you find the hidden tree run for the kids off the Deer Chair. Wrap up your day in a slopeside hot tub and swimming pool before heading to one of the restaurants on the hill for dinner. This is what a day at Fernie could look like for your family;
Ten Reasons your Family will Love Fernie Alpine Resort
Levels of progression beyond the magic carpet. Start on a gentle beginner hill serviced by the Mini Moose magic carpet before moving on to the Mighty Moose platter lift and a longer hill, perfect for learning to connect some turns. Once the kids can successfully ski the Mighty Moose, they are ready for the Deer or Elk Chairs, both of which have perfectly groomed runs great for beginners. In total there are 16 runs on the lower mountain, 12 of them green runs for novice skiers.
Night skiing on the Mighty Moose. Try some fun family-friendly skiing Saturday nights from 4-9 pm on the Mighty Moose platter lift. Kids 17

and under ski for free on this lift with adults only paying $18.95 + GST. (And you don't have to pay anything extra if you already have a lift pass from the day.) The area is lit with great visibility and is conveniently located next to the village accommodations and restaurants.

Multiple places to warm up on the hill. Reward the kids with a hot chocolate at the Lost Boys Café, found at the top of the Timber Chair. There are bathrooms at the top of the lift and the views across the valley are very beautiful from the patio. The café also serves Starbucks Coffee, beer, and hot food. Another place to warm up is the Bear's Den Hut and Yurt located at the top of the Elk Chair, again with bathrooms, hot food, and drinks. (And next time I'm definitely buying a hamburger here because they smelled amazing!!)
Multiple dining options in the village. I get tired of cafeteria food at ski hills and don't like having to squeeze into a crowded day lodge for lunch. Fortunately, Fernie has several options in the main village area including my favourite spot for a snack or lunch, the Slopeside Café. Here you'll find a fireplace, sandwiches, soup, and fresh baking, Starbucks Coffee, and small individual tables for your family. There's also a Kelsey's restaurant in the village if you'd prefer to order off a

menu and take a longer break. Finally, I love the couches in front of the fireplace at "Cirque" in the Lizard Creek Lodge for a coffee mid-way through my ski day. (And you don't have to be staying here to visit the lodge)

Dedicated beginner chair lifts with easy runs. Back to the skiing, we always start our day on the Deer and Elk Chairs to warm up before heading higher up the mountain. This gives us an idea of what kind of snow to expect for the day and allows us to test our ski legs on some easy grooming. Stay on these two lifts and you'll never have to worry about your child getting ahead of you and accidentally dropping down a black run. The majority of runs off these lifts are easy green and blue cruisers with gentle grades.
Kids tree skiing off the Deer Chair. Look for the secret Minute Maid Kids Trails off the Deer Chair and hope that eventually you'll get to move on to another chair lift as many kids will want to spend the entire day here. The trails are twisty, windy, and perfectly sized for short skis.
Variety for everybody in the family. My husband likes the double black chutes higher up on the mountain and lives for powder days in the

upper bowls. Meanwhile, I love groomed terrain and could spend hours cruising down "Falling Star," the longest run on the hill at 5 km in distance from the top of the White Pass Chair. Add the easy terrain on the lower mountain for kids, and there is definitely something at Fernie for every ski ability and style of skiing. You can find grooming and powder on the same day, often off the same chair lift if you're skiing off Timber or White Pass.

An easy way down from the top of the resort. Kids will never be content to just stay on the lower slopes and will always beg you to take them up higher to the "top of the mountain." Fortunately at Fernie, there is an easy groomed blue run, Falling Star, which runs all the way from the top of the White Pass Chair down to the bottom of the hill. There are a few flat sections where you'll probably have to pull younger kids with your ski pole, but other than that, there are not too many steep pitches on this run. To make it easier, ski it down from the top of the Timber Chair (conveniently located right beside the Lost Boys Café) and skip the upper part off White Pass.
Uncrowded space for everybody on the hill. With 142 trails, 5 alpine bowls, and tree skiing, people tend to spread out at Fernie and you'll often find yourself the only person on your run. Stay away from the main run off each chair lift (the main run off the Elk Chair for example) and you'll have plenty of space to practice your turns. One of my favourite runs on the lower mountain for solitude is "Holo Hike," an easy groomed blue run, where you get to ski through two tunnels and weave your way through resort cabins. On the upper mountain, there's a good chance you'll have "Falling Star" to yourself and once you reach the lower flat stretches, you might actually think you're off cross country skiing in the wilderness (not for everybody, but I like it.)
Ski in, ski out accommodations on the hill. Stay at one of the condos on the hill and you'll be in line for first tracks every morning after making a gourmet breakfast in your own private kitchen. Return to your condo for lunch rather than dealing with crowds in the day lodge, and then end your day on the slopes whenever you want (even if other family members are still skiing) because the hot tub is waiting for you! My son and I usually head to the outdoor swimming pool and hot tub when staying at the Lizard Creek Lodge by 3:00 in the afternoon, my husband pounding out a few more turns until the hill closes. We also enjoy staying on the hill in the evening so that my son can enjoy some night skiing on the Mighty Moose, we can go out to eat in one of the village restaurants (a short walk from any of the condos,) and so we can spend more time in the slopeside pool. Many of the condos and hotels on the hill also have common areas where you can eat your lunch or hang out with the kids Sunday afternoon after you've already packed up and vacated your suite.
See you on the slopes and enjoy your next visit to Fernie. Next time, I'm renting one of the resort's fat bikes for an afternoon tour and I still have to return for the snowshoe and raclette tour! A weekend is never enough in Fernie and my family will be back for more!
Our First Family Ski Trip to Fernie Alpine Resort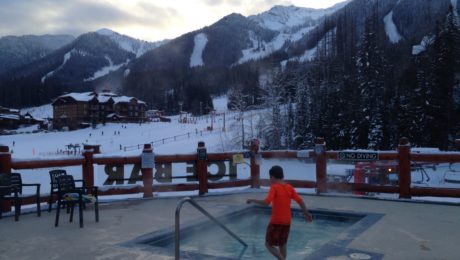 I remember weekend ski trips to Fernie with great fondness but up until recently we hadn't ventured beyond local hills near Calgary. I guess we thought that a big ski resort like Fernie would be intimidating as a family, that there wouldn't be enough beginner terrain to ski, or that it was just unnecessary to travel three hours to go skiing when we had Nakiska Ski Area on our doorstep. On all accounts I was wrong and we're already talking about how we have to go back to Fernie next winter (if not sooner) – and oh please let it be sooner!
Fernie Alpine Resort is located approximately three hours away from Calgary and is reached via a scenic drive through the Crowsnest Pass as you cross the border into British Columbia. Heading to Fernie is extremely doable for a normal two-day weekend with an after-work departure on Friday. It's even realistic to arrive in Fernie in time to put the kids to bed at their normal bedtime. (To save time, pack or buy dinner to eat on the road so that you don't have to stop along the way.)
While you can easily find a motel in downtown Fernie, we were able to stay right on the hill on our recent trip and we might be forever changed in how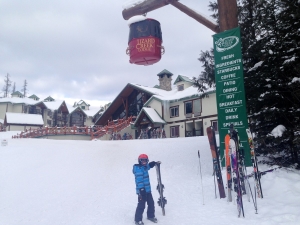 we plan future ski trips. We had comfortable ski in/ski out lodging at the Lizard Creek Lodge, located right at the base of the Elk Chair (a great chair lift for novice skiers.) We had a one-bedroom condo at Lizard Creek that had a pull out sofa in the living room, making it plenty spacious for our family of three. Our condo had a full kitchen (making breakfasts super easy to prepare before hitting the slopes) and we had a very comfortable living area with fireplace and television (should we have wanted one.)
This was our first time enjoying ski in/ski out accommodations and a mom could get used to such luxury!  There was no driving to the hill in the morning, no sharing a crowded day lodge at lunch time, and no dilemma over what to do when one of us grew tired of skiing mid-afternoon (while other family members still wanted to do more runs.)
A typical day at Fernie with on-hill accommodations could look a lot like this (based on our personal experience):
8:00am – Enjoying a relaxed breakfast in the newly renovated "Cirque" restaurant in the main building of the Lizard Creek Lodge.
9:00am – In line and ready to head up the Deer or Elk Chair with the kids (both fantastic for novice skiers with plenty of green runs to choose from)
10:30am – Back to Lizard Creek Lodge to warm up and grab coffee in front of the fireplace in the main lodge (no crowded day lodge for us!)
11:00am – Heading up the Great Bear Chair to try some more challenging family terrain
1:00pm – Back to our condo for lunch and a bit of R&R before heading back out for more afternoon skiing on some bigger chairlifts (bring granola bars in your pockets so you can postpone lunch a bit later in the day)
2:00pm – Heading up the Timber Chair to try out the "Falling Star" run (one of the easiest intermediate runs on the hill)
3:00pm – Younger kids done for the day and heading to the outdoor swimming pool and hot tub at Lizard Creek with Mom, also tired. Older children and teens could still be skiing strong. In our case, Dad skiing hard till the hill closed
4:00pm – Quiet time back at the condo, games, books, and relaxation before dinner. This could also be a good time to try some cross country skiing or snowshoeing on the resort trails. (Something I tried out Sunday morning.) Alternately, it's a great time to head back to "Cirque" for drinks and appies in front of the fireplace
5:00pm – Heading for an early dinner at Kelsey's over at the main resort area (they had great kids' meals and it was a bit more family-friendly than the more decadent "Cirque" restaurant in our lodge
6:30pm – Night skiing on the Mighty Moose Lift (open Saturday nights from 4-9pm and included with your day lift ticket at FAR)
7:30 – Trying out the new Ice bar in the Lizard Creek Lodge for some Vodka tastings (make sure you try the salted caramel – yum!!) – and kids are welcome to come in and watch
8:30pm – Kids heading to bed ,watching a movie, having down time in the condo… – adults enjoying a glass of wine in front of the condo fireplace (and our condo had two televisions so in theory, the kids could be watching a movie in the bedroom while Mom and Dad chill in front of the fireplace)
We had a blast at Fernie Alpine Resort and we were pleasantly surprised at how much beginner terrain there was at the hill! We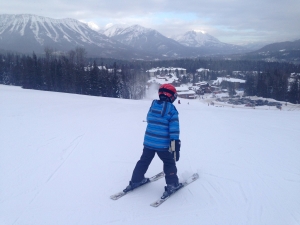 could have easily skied on the Deer and Elk chairs all day with a couple runs down the Great Bear Chair and Timber Chair for more challenge. The terrain off the lower chairs was immaculately groomed and perfect for novice skiers, with Falling Star off Timber also nicely groomed (I headed here first thing Sunday morning for the most amazing experience flying down the fresh corduroy on my own private run – not another skier in site on the whole run.)
We're heading to Kimberly Alpine Resort soon and can't wait to try out another great family-friendly ski resort with ski in/ski out accommodations again. Fernie has changed our ski style as a family and it's doubtful we'll be satisfied to spend every weekend skiing close to home anymore. Ski weekends bring the family together and we look forward to more mini-vacations like this in the years to come.
Words & Photos by Tanya Koob
Read about her and her families outdoors adventures on her blog – Rockies Family Adventures.