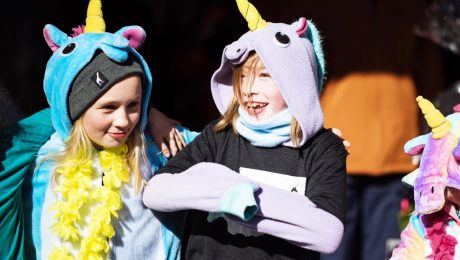 This weekend Fernie Alpine Resort is celebrating International Women's Day with SheJumps! You can play the online Get the Girls Out! game all weekend (Friday – Sunday) and meet up for in-person activities on Sunday, March 6 at the Elk Base. 
SheJumps Get the Girls Out! is a national campaign to unite women as they support, challenge, mentor, and inspire each other in the outdoor sports world. 
Due to COVID precautions, our 2022 event will follow a hybrid model using a virtual scavenger hunt through the Goosechase app and a few on-hill games at Fernie! This gives participants the flexibility to engage with the SheJumps community at the level at which they are comfortable.
Beginning on Friday, March 4, 2022, participants can begin playing the Get the Girls Out! event using the Goosechase app on their phone. Registration for the event is free, and you're connecting with people from around the world and also your local community. Win points by completing the missions. Then, meet up with SheJumps co-founder and executive director, Claire Smallwood, on Sunday at the Elk Base to participate in some on-hill challenges at Fernie Alpine Resort. The virtual game is live until Sunday, March 6, 2022, at 7 p.m. MST. 
Golden Girafficorn Hunt – find the golden 'girafficorns' on the mountain and bring it back to the booth to be entered to win a prize!

Photo challenges

– Snag a picture with your shred buddies and upload it to social media tagging @shejumps and @ferniealpineresort, we'll choose a winner at the end of the day! 
Can't make it to the ski hill? No worries! Using a mobile app, participants complete outdoor-themed missions to earn points and receive prizes from SheJumps partners. The Goosechase challenges feature 150 activities to complete and earn points. From nature breakdancing to drawing SheJumps' signature Girafficorn to outdoor safety and preparation challenges, Get The Girls Out! gives women and girls an accessible way to enjoy time outside.
Get the Girls Out! and International Women's Day reminds us that we can build a world where difference is valued and celebrated, and a world that is diverse, equitable, and inclusive. Getting outside is an easy and fun way to celebrate the power of community and the importance of outdoor play.  
Read more about the event at Fernie Alpine Resort here.
Questions? Contact SheJumps [email protected]