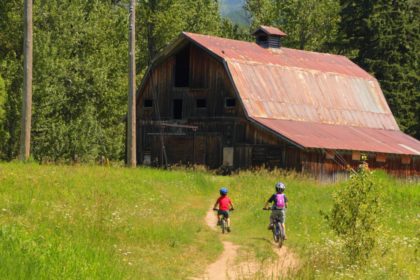 My family loves touring new towns on our bikes and the best loops always include at least one playground, a bike park, a stop for ice-cream, and a spot to cool off. Fernie has all of that in a short 8 to 15 km loop (depending on which trails you link together.)
The Main Town Loop combines several easy trails that are all relatively flat. As a family, you will enjoy pleasant trail riding on well-maintained gravel or dirt paths.  Most of the loop is double track and Chariot-friendly as well. The only challenging sections for us have been on the Old Stumpy Trail (which can be bypassed.)
The loop can be started at multiple locations downtown Fernie but we like to start at the dirt jump and skills park beside the aquatic centre and spray park on the corner of Pine Ave & Ridgemont Drive. We play at the bike park to warm up on the pump track and jumps, and then visit the spray park at the end to cool off. There's also a short beginner mountain bike loop located behind the dirt jump park that helps kids gain an easy introduction to single track riding.
Once you've managed to convince the kids to leave the bike park, cross Ridgemont Drive and find the trailhead for the Kootenay Elk Trail.  This easy trail poses no challenges as it crosses over a boardwalk and small wetland area (image shown). You'll soon reach a junction for the Old Stumpy Trail and the Downtown Connector Trail. The connector trail makes a beeline for Maiden Lake and is the easy trail option. At the lake you'll find a small rocky beach area and a great spot for a dip in the cool water if you've packed swim suits with you.
If you're up for a challenge, take the Old Stumpy Trail and Great Northern Trail for a longer loop to Maiden Lake. This extension has some tricky spots and you'll have to walk bikes when you come to a few short sets of stairs. Regardless of the technical bits on Old Stumpy, it's a beautiful trail with an "old growth forest" feeling to it. It's also a short ride until you reach the much easier Great Northern Trail which parallels the Elk River.
Once you've reached Maiden Lake, the riding gets extremely easy for a while as you continue on the Emily Brydon Trail along the Elk River and connect to the Dogwood Trail heading for the town Boat Launch. Shortly after the boat launch, go around the corner and then cross a small bridge. Here you'll get on the Brewery Creek Trail heading for an old barn (main/top image). The bike tour ends with a short introductory section on the Coal Creek Heritage Trail (where you probably won't want to be wearing white shoes since the trail is practically made of coal dust!)
You'll end up back at the aquatic centre from where it's a short drive or bike ride over to the Happy Cow Ice-Cream Store off Highway 3 (between 5th and 6th Street.)
Progressions for easy – intermediate family mountain biking
Once the kids have cut their teeth on the Town Loop, it's time to move on to some other great intro-trails that are a bit more technical and offer a "real" mountain biking experience.
The Coal Creek Heritage Trail – This trail is divided into two sections, The Lower Coal Creek Heritage Trail and the East Coal Creek Heritage Trail.  We rode a 9 km section of the trail and started from the "Townsite" parking lot on the East part of the trail. To find the parking lot, drive 6.3 km up Coal Creek Road from town, turn left at the bridge onto First Creek Rd. and look for the Trailhead Kiosk, 3 km further along on the left.
This is a classic "truck drop" ride (meaning, you drive up, drop the kids off, and they bike back down to town.) Either arrange the ride with a shuttle or plan to have an adult bike back up for the vehicle (as we did) because making the kids ride UP Coal Creek would not be a lot of fun for anybody. Fortunately, the bike park and spray park are right at the end of the trail so kids will not be bored while they wait for somebody to go fetch the truck.
While this is considered a "beginner" trail, I was pretty new to mountain biking when we rode it and I had to walk a few hills. Gears and hand brakes are imperative for safety and enjoyment on the ride.
Montane Trails – The Montane area has a bunch of new trails, starting from the old barn/coal creek bridge. On these trails you'll be rewarded with great views of the Lizard range, Mt Fernie and the 3 sisters.
Recommended loops:
TransCanada Trail to Montane North (This is the easiest loop in the Montane trail system.)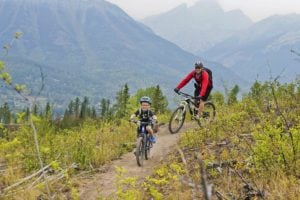 Montane North (image shown) to the TransCanada Trail to Montane / Ruby's Way to Montane Blue for Evyr to Montane. (This loop is a little more challenging with some uphill sections.)
And I've had two separate families tell me how much they love the new Montane Blue for Evyr Trail, a fairly easy section of the loop above. The ride can be completed by riding on Montane, a double track trail and a smooth easy ride.
Biking the Ridgemont Trails with Older Kids and Teens – For families ready to move on to some solid intermediate trails, Ridgemont has plenty to offer with hill climbs, fun downhill riding, flowy corners, obstacles and beautiful scenery.
Recommended Loops: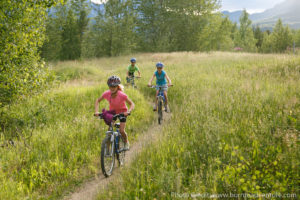 Head up Cemetery bi-pass (image shown) and continue on to the junction where 'KiddieUp' is the middle of 3 trails that branch off.  It is full of easy switchbacks to keep the grade bikeable for the young ones, and give them plenty of practice cornering.  To complete a loop take a right onto the logging road, and about 200m down you can take another right onto 'What's up Doc".
For something longer and more challenging, you could put together nearly any combination to make an excellent loop. Cemetery Bypass, Kiddie Up, Queen V, Ecoterrorist, Eric's Trail, and Broken Hip are all intermediate trails that are popular with families riding with older children and teens.
Information on all trails here can be found on the Trail Forks website.
Progressing to Downhill Mountain Biking at Fernie Alpine Resort
Register for a Kids Freeride Mountain Bike Camp and let professional coaches introduce the kids to lift-accessed downhill riding at Fernie Alpine Resort.
The theme of the camps is "Teaching kids to ride hard and safe." In the camps, kids learn basic downhill riding skills, gain confidence, learn to ride steep lines and to tackle challenging terrain at the resort. Discounted lift tickets and bike rentals are available for camp participants.
The resort will be holding four camps this summer for kids ages 8 – 16 and each camp runs for two consecutive days mid-week. Meanwhile, mom and dad will find no shortage of entertainment at the resort's bike park. Adult lessons are also offered including the brand new mid-week Trail Warrior Camps for adults. These 3-day camps are designed for cross country riders interested in developing downhill bike skills.
My family has a gigantic list of trails we want to ride this summer so we'll see you out there with huge smiles on our faces. My 8 year old (below) will be leading the way and will be yelling back at me to stay on my bike and to stop wussing out on every corner. 😉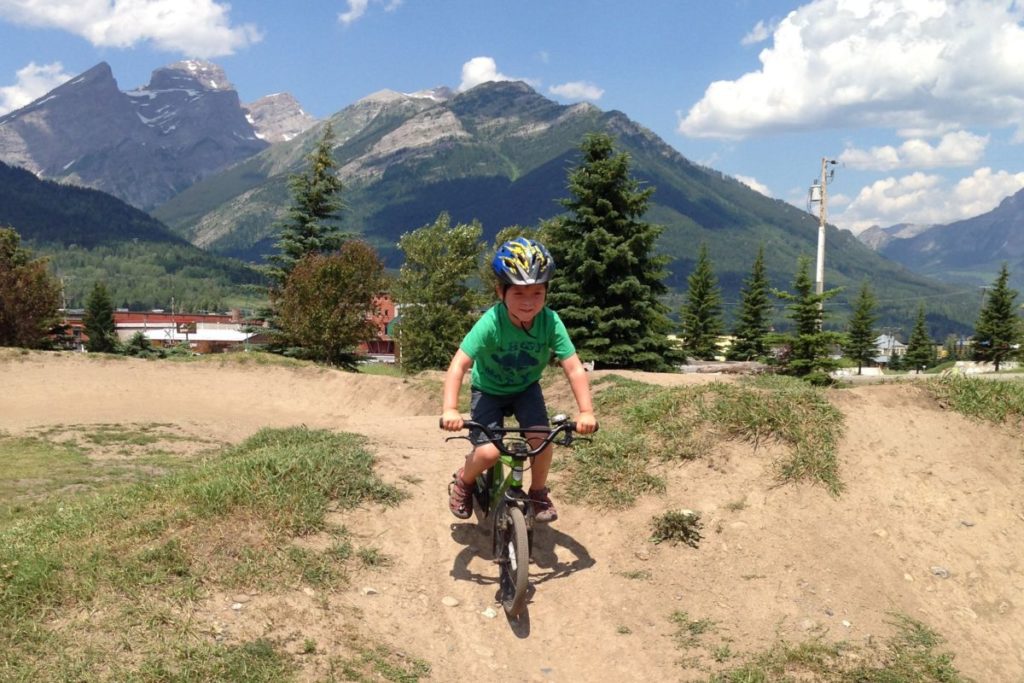 Special thanks to Leanne Nanninga and Coleen Hughes for contributing to this story with trail suggestions, route information, and photos.