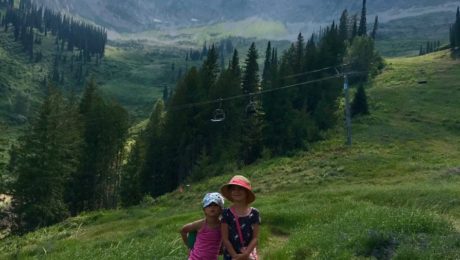 During this summer's first heatwave, it was extremely challenging to find things to do with the kids. With a Park Pass at Fernie Alpine Resort, and it being community week, I decided on an exciting, lift-access hiking adventure… I mean, how could they say no to a ride up, and a hike (downhill!) to the base?
Let's be realistic, they said no. They are eight and six years of age, and pretty much immediately say no to anything we suggest! But somehow, I managed to entice them (somehow meaning the promise of a slushie upon completion) and off we went.
Armed with snacks, drinks, caps and sunscreen, we were well-prepared for the experience ahead. Even with the hot temperatures, the lift ride was comfortable and very entertaining. Examining the terrain below, remembering the names of the runs we skied just months prior, and noticing how many of the bike trails are the tree trails we enjoy so much in winter. Discussing whether they would be keen to try them on a bike one day. Watching the DH bikers head down at full speed, feeling both fully impressed and a tad anxious. "That looks scary!" although I catch a bit of curiosity in their eyes.
As we reach the top, the girls chat about the hike – Daisy Lane. The name is everything and they're ready to explore. Exiting the lift, we follow the signs and easily find our way. It's nearing the end of the day, so it's like we have the mountain to ourselves. We can hear the bees buzzing and the birds chirping as we begin our descent under the Bear chair. After awhile, the girls recognize that unique feeling in their quads… the jiggly 'walking down steep terrain' feeling. I tell them, "it's just making your legs stronger!" and they take it in stride.
We connect a few trails and get some relief from the sunshine, and the conversation jumps from there's Fernie to how much longer to which flavour of slush we should get. As the base comes into view, we decide on a detour to hit the kids' aerial park – perfectly situated in the shade of the beautiful cedar trees. They so wish they could go onto the 'real' aerial park, but know they need to grow a bit before they're allowed, "it's something to look forward to!" We look up to the platforms and ladders floating in the sky.
At long last, we reach the car. Our legs are covered in dust, we have a sweaty glow, and a cold and sweet slush has never tasted better. Next time, we're keen on one of the hikes at the top of the Elk Chair. They've got their eyes set on taking the lift down… and another slush, of course.
For details on all hiking opportunities at Fernie Alpine Resort, visit their site which also includes a map!