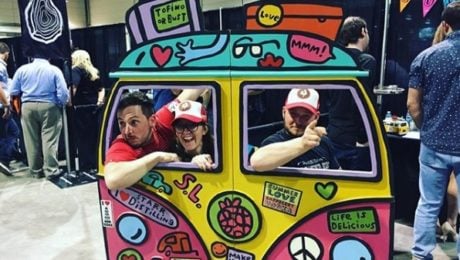 Craft Breweries, quaint mountain towns, stunning rocky mountain views – those are the new experiences many people seek when planning at road trip.  Road trips really are the best of all travelling worlds – without the major cost/headache of flying somewhere, staying semi close to your homebase while getting out and seeing the world at the same time.  If you're still looking to plan a fun, easy to manage getaway this summer or fall – here's an itinerary all laid out for you.  Less planning – more fun!  It doesn't get much better than that!
If you're coming from Calgary in the south of the city or surrounding area, start at Fernie Alpine Resort – it's an easy 2.5 hour drive when there's no snow on the ground and it is home to perhaps the best known craft brewery scene of all our suggested locations.  If you're heading out from Calgary in the north or surrounding area, Kicking Horse might be the place for you to start your trip and do this whole circuit in reverse.
Fernie, B.C. – where the beer is local, but your server might be an import
Fernie is one of Canada's great ski towns, not only has it been named 'the coolest little town in North America' by Rolling Stone Magazine, it's also been named 'the greatest Canadian outdoor town' by Get Out There Magazine, in part because it truly is a year round outdoor destination with so much to do in the summer as well as the winter.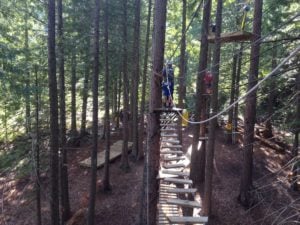 What to try – for a non boozy activity, try the Aerial Park at Fernie Alpine Resort.  It's a super fun afternoon where even adults find a challenge in the tree top obstacle course (perhaps do this one before the brewery tour, you might not want to have a hang over when 30 feet up in the trees)!
Where to drink – The Fernie Brewing Company is not just well known in Fernie, it's well known in Calgary and branching out into many other major cities as well.  But Fernie, of course, is the breweries home.  The Fernie Brewing Co. building is located just as you drive into town (from the Sparwood/Calgary direction), they have a tasting room where you can try a flight of 4 beers for just $5 – which they donate to charity!  Want to give back and drink at the same time? Fernie Brewing Co. is for you!  Another fun initiative from the Fernie Brewing Co. is the Trail to Ale challenge, which is pretty much exactly what the name suggests, get more information on the Trail to Ale challenge on their website.
Kimberley, B.C – a place to get away from traffic, full calendars and all things marked 'urgent'
Kimberley is a town where you feel relaxed, like really relaxed.  If you're from the city when was the last time you can say you felt completely relaxed?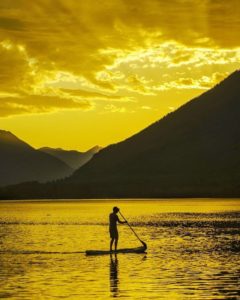 Maybe it was on a nature walk, or in your backyard or maybe it's only when you actually get out of the city.  If you're asking the questions where can I relax and forget about all my worries while on vacation – Kimberley is your answer.
What to try – swimming in gorgeous St. Mary's lake, it's super fun & super free!  There's not only swimming at St. Mary's Lake you can also canoe, kayak, stand up paddle board, fish or just float!  If you're looking to rent some water sports equipment check out local company Kootenay Rafting for options.  St Mary's is home to some of the most gorgeous views in the region, Instagram worthy pictures for sure (and everyone needs to document their best vacations on Instagram).  For even more options of what to try in Kimberley, check out my blog from last summer – '12 (plus) reasons to visit Kimberley this August'.
Where to drink –  Overtime Beerworks in Kimberley may be the youngest of all the breweries on our list, starting in 2016 – don't let that deter you though, their beers are brewed with the sophistication of a much older brewery and they're quickly making a name for themselves further than just in Kimberley and are available in a variety of cities and towns in British Columbia and Alberta.  All their beers are brewed in small batches, making each of them slightly different with the unique flare of each individual batch – try local favourites like the 'Mountain Standard' Golden Ale or the 'Right About Now' IPA.
Golden, B.C – the friendly mountain town
Golden is another one of those ultimate outdoor adventure towns on our list, with a TON to choose from in regards to outdoor activities.  Golden and Kicking Horse Mountain Resort are frequently named in magazines with annotations such as 'extreme', 'challenging' and 'adventurous' and while it is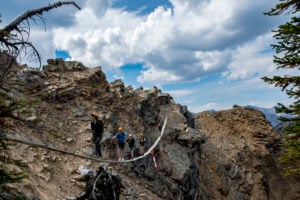 all of those things, it's also a place to chill out and enjoy adventures everyone can try.  For example…
What to try – the Via Ferrata at Kicking horse Mountain Resort is an amazing experience not to be missed while in Golden.  While it admittingly does look pretty hardcore, it's actually a mountain climbing trek even novices can accomplish and feel comfortable while doing so.  Via Ferrata courses are a series of iron rungs and handles mounted across the mountain face that novices and expert climbers can do, all the while strapped into to a safety harness – an added bonus of the Kicking Horse course is the suspension bridge you need to cross to get to the Via Ferrata course, it's an experience in itself!  In fact, if the Via Ferrata is still a little too hardcore for you – the Suspension Bridge can be done on its own without having to continue onto the full course. The sense of wonder and accomplishment you'll feel after achieving the Via Ferrata course or just crossing the Suspension Bridge is enough to make anyone want a beer!
Where to drink –  The Whitetooth Brewing Company is the place to go in Golden, not only do they offer their own unique and delicious beers (that goes without saying), their outdoor patio is one of the best in Golden with an epic view of the surrounding mountains.  There are quite a few beers to choose from that fall into three categories – 'West Coast Inspired', Belgian Inspired' and 'High Gravity' – no matter what type of beer you enjoy you're sure to find one that suits your taste buds here.  The Brewery doesn't have a huge capacity and is usually busy – they open at 2pm so make sure you go early and you might just get to sit here, I can't think of very many better seats than that!