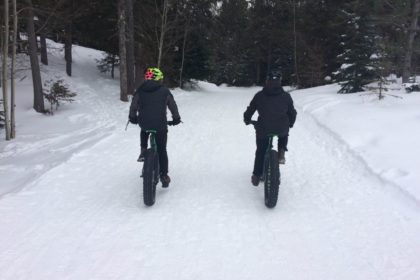 Fat Biking at Fernie Alpine Resort
What is fat biking? It's a great way to enjoy the outdoors when you're not shredding down the slopes at Fernie Alpine Resort. Last week, I went out fat biking with my friend Charlie for the first time. We had a blast!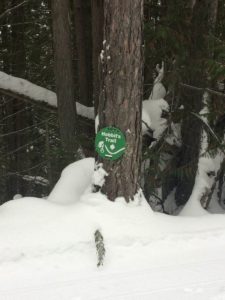 We started our ride at rentals where we got our helmets and fat bikes. The process was quick and simple. After a safety check, we grabbed our equipment and headed towards the trails next to Lizard Creek Lodge. We started on the View trial and merged right onto the Boom Creek trail. The trails were wide and the snow was compact.
I did not know what to expect, but it was surprisingly relaxing. We made it all the way to the Elk Valley Nordic Society Cross country trails. At that point, we turned around and headed back towards the View trail. After a leisurely 30 minutes bike ride we decided to venture up to the Boomerang triple chair. The next 15 minutes was all up hill, definitely a work out!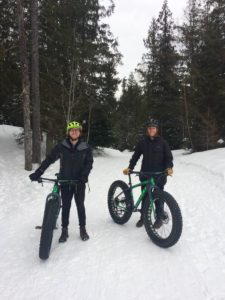 We arrived at the Boomerang chair and we were nearly half way to the end of the trail. Tired, but having a great time we headed back down hill all the way to Boom Creek, past the mountain condos and into the Griz Day Lodge for a hot chocolate and coffee.
Snowshoeing at Fernie Alpine Resort: Strapping Up For the First Time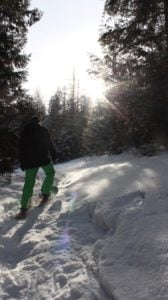 Two weeks ago, I had the opportunity to go snowshoeing for the first time. We had a blast! We spent the afternoon exploring the trails on the east end of the mountain. Neither of us had snow shoed before, but it was fun and easy to pick up.
We met up at the Fernie Alpine Resort rental shop and picked up two pairs of snowshoes. The staff were super friendly and the process was simple. Charlie rented the shorter Denali snowshoes and I took out the larger Tubbs snowshoes. Both pairs fit nicely over our boots. The Denali were more effective on packed snow and the Tubbs did well in the deep powder. For that reason, I lead the way on our excursion.
We began our adventure past Lizard Creek Lodge on Boom Creek trail. Charlie noticed an opening just to the right of the Mighty Moose lift. The view in between the trees was so incredible that we decided to take some photos to share with you.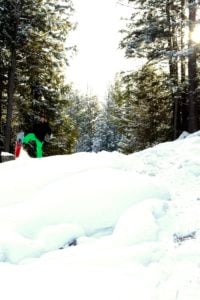 After the photo shoot, we headed further down Boom Creek trail and up into the woods. We spent the afternoon exploring through the trees and getting lost in the moment. The experience was unforgettable and I would  definitely recommend it for anyone looking to spend a day in the woods. There is certain feeling you get when you are nature and are surrounded by nothing but trees and snowfall. Pure bliss.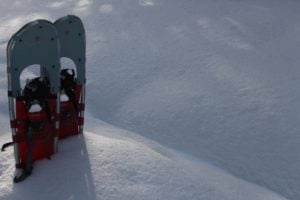 Post by Neil Kabesh