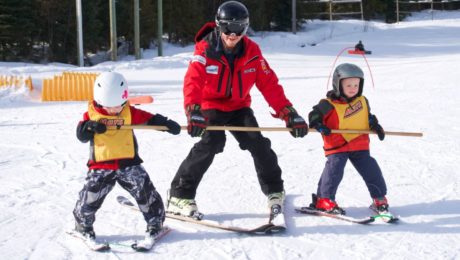 The Winter Sports School at Fernie Alpine Resort offers lessons, skill development and specialized programs for all ability levels.
We spoke with Snow School Director Wendy Reade and Level 3 Ski Instructor Rodger Renwick to learn more about Fernie's Winter Sports School.
How many instructors are there at Fernie? What kind of training do they have?
Wendy: We have about 130 instructors. They receive mandatory safety training, and we run training sessions every morning and afternoon. There are 4 levels of Ski and Snowboard instruction certification and we are lucky to have approximately twenty level 4 instructors, so per size of snow school probably the highest certified in Canada.
Why do you like being an instructor?
Rodger: I think it's because I get a kick out of seeing people learn and when they learn, they light up and it makes my day.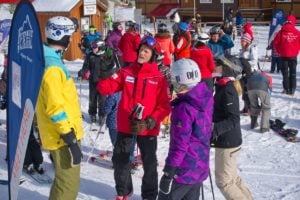 When, and how often do lessons run? What levels of instruction are offered?
W: Lessons run daily, starting at 9 and finishing at 4. Privates, group lessons, specialty clinics, a variety of everything. 6 levels of instruction on skis, 5 on snowboard from never-ever up to all mountain, all terrain, all snow conditions.
Where do the lessons take place?
W: All terrain, all mountain. Levels 1,2,3 on the lower mountain, levels 4,5,6 all mountain. When we are in group time we tend to go minimum terrain, maximum speed so we're not always challenging them with the most difficult conditions. We try to work on understanding and learning through reflection and some guided discovery to be able to then challenge more difficult terrain.
Why should a beginner sign up for a lesson?
R: First of all, you get to be out on the mountain and meet new people. It will shortcut you to having access to the lifts, if you don't you could waste a lot of time. You get straight to the point: how to ski, what movements to make, how to balance and blast though all the myths around skiing.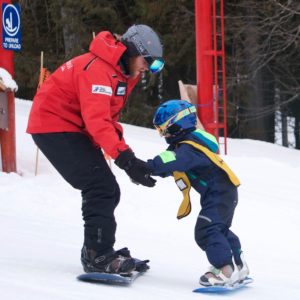 Why should a parent sign up their child for a lesson?

W: I think it's really fun for the kids. They love to play on skis and our instructors have a way of bringing that out, which they then share with the parents so that the parents can continue on with that positive experience.
What kind of new techniques can people learn?
R: Proper stance and balance, proper mobility, how to edge a ski properly, how to manage your speed, how to ski and read the terrain.
Why should an experienced skier/boarder sign up for a lesson?
W: I think it gets you to think about it differently, it gets you to really appreciate the sport. I think it gets you to appreciate yourself and what you can do physically, emotionally and mentally so you are able to challenge and do things and conquer things that maybe you had a bit of a barrier with before. Less fatigue, less injury, better performance, more enjoyment.
How does an instructor improve your technique, stance, form, etc.?
R: An instructor will set an objective and from that, can make an assessment as to if you've met that objective or how you can better meet that objective. They can give you feedback directly as to what you need to do to become a better skier.
What kind of different techniques do instructors use to teach kids, adults?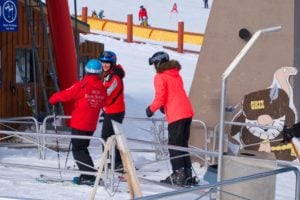 W: The kids because of the way that they learn it's more global, so they learn by doing, by experiencing and by play. That's how their brain works so it's playing games that will develop those skills without them actually being cognitively aware that they're developing something. Whereas adults need to know the why a little bit more, so that's where you start to create development that ties into a bit of reflection on what's happening and why, so that they really understand it.
Do you see improvement over the course of a single lesson?
R: Absolutely, yes. Sometimes it's huge. Biggest improvement I've seen personally: I had someone who could barely turn snowplow left and right on the Mighty Moose. By the end of 2 hours, they were skiing down the Bear with parallel turns.
How long has the WSS at Fernie been in existence? How has instruction evolved since?
W: Since Heiko started the resort. Dave Rogers started with Heiko (and still works with us). Technique has changed because of ski design and snowboard design. Tactics have then progressed to be able to allow a broader range of skier or rider to feel comfortable and safe and really feeling good in more challenging terrain than they used to before. Teaching wise, we're developing more of a scientific approach as to how people learn and trying to follow a good structure of development that gets people to learn not just to be taught.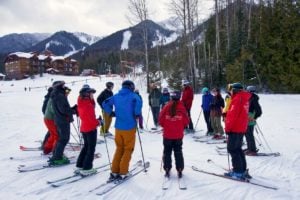 R: Instruction has changed but not changed, a big driver around changing is the equipment, and the technique is slightly different because of the equipment. The component of teaching that hasn't changed is the guest experience, giving people the time of their lives, and making peoples day. Years ago the skis were straight and skinny soyou needed to use a lot of up and down movement to lighten the ski to turn it. Nowadays there's a lot of shape to the ski, so you don't need so much movement up and down and the ski design can help you turn. In that respect, balancing on the ski is very similar.
Come try a lesson with our amazing instructors today! Call 250-423-2406 visit https://skifernie.com/purchase/telus-winter-snow-school/ or come into the Winter Sports School desk in Guest Services to sign up.