Introduction
Mountain biking, hiking, and other activities that take place at Fernie Alpine Resort involve the risk of injury. The information contained in the Safety and Risk Awareness section of this website is intended to inform you of the risks, dangers, and hazards that you may encounter at a resort area and help you to stay safe while enjoying these activities. Whether you are a participant in these activities or a parent or guardian of a minor participant, please take the time to familiarize yourself with the Safety and Risk Awareness information on this page.
Emergency Line
Bike Patrol
If you require assistance from bike patrol on the mountain, dial 1 (250)-423-2426
Exclusion of Liability - Assumption of Risks (mountain biking, hiking, sightseeing)
The use of resort area premises and facilities and participation in activities at resort areas involves various risks, dangers, and hazards. It is a condition of your use of the premises and facilities that your participation in these activities that you assume all risk of personal injury, death, or property loss resulting from any cause whatsoever, including negligence, breach of contract, or breach of any duty of care on the part of the resort area operator. Your legal responsibility as a user of the resort area premises and facilities or participant activities at the resort area is explained in the following notice, which you will see posted at the resort area.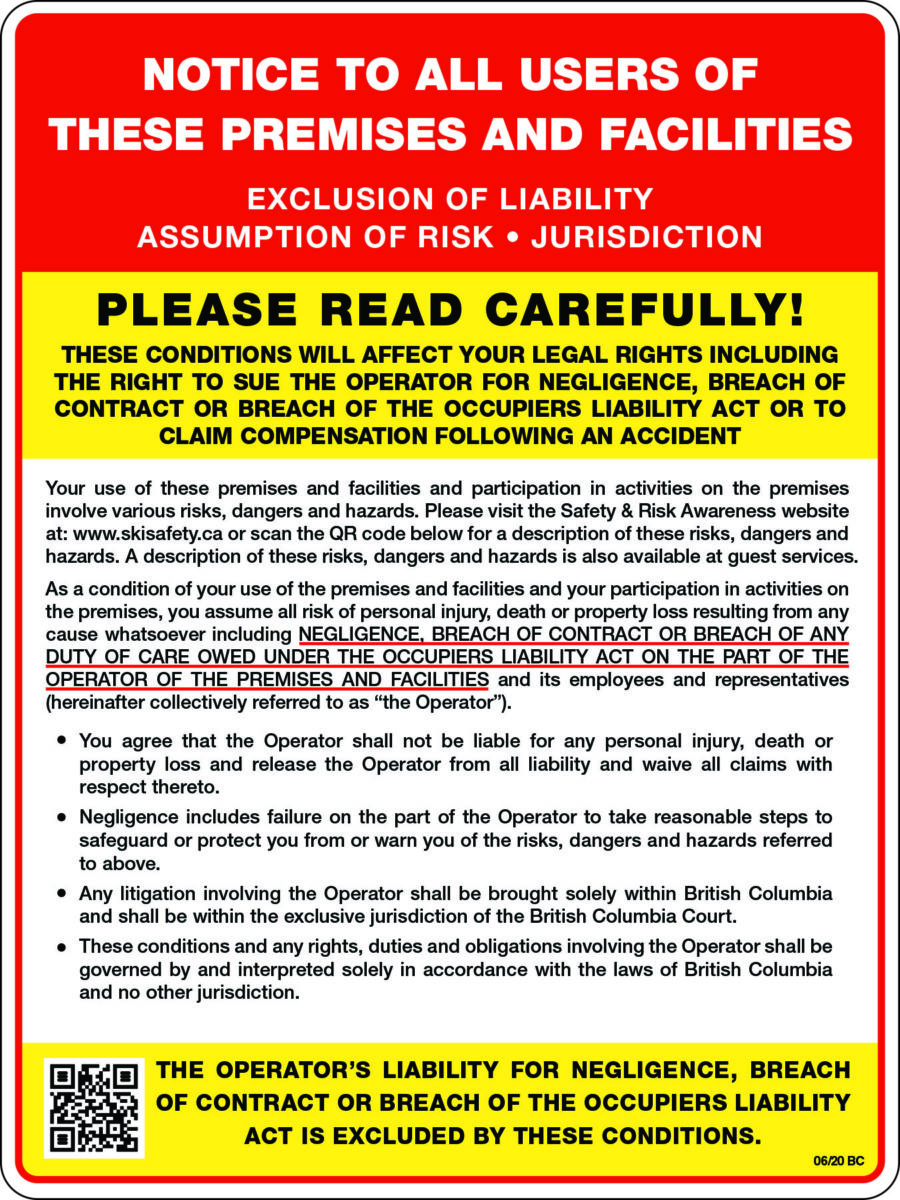 Mountain Biking, Hiking & Sightseeing
Mountain biking, hiking, sightseeing and other mountain activities involve various risks, dangers, and hazards including, but not limited to the following:
Changing weather conditions;
Exposed rock, roots, and other natural objects;
Trees, tree stumps, and forest deadfall;
Variation in the terrain may create blind spots or areas of reduced visibility;
Variation in the surface or sub-surface;
Cliffs, overhangs, and other exposed areas;
Snowcat roads, road banks or cut banks;
Collision with lift towers, fences, vehicles, equipment, or structures;
Encounters with domestic and wild animals including dogs, and bears;
Collision with other persons;
Loss of balance or control; slips, trips and falls;
Accidents during mountain bike lessons;
Negligent first aid;
Failure to act safely or within one's own ability or to stay within designated areas;
Negligence of other persons; and NEGLIGENCE ON THE PART OF THE OPERATOR and its directors, officers, employees, instructors, agents, representatives, volunteers, independent contractors, sub contractors, sponsors, successors and assigns.
Mountain Biker's Responsibility Code
The Mountain Bike Responsibility Code provides the basic rules of conduct and must be followed by using all the terrain, and is consistent across all Resort Areas of Western Canada.
Ride in control and within your ability level
Protect yourself
Do not ride if your ability or judgement is impaired by drugs, alcohol, or fatigue
Inspect and maintain your bike
Obey signs and warnings
Inspect trails and features
Be lift smart
Look out for others
Be visible
Cooperate