Articles about Fernie and Fernie Alpine Resort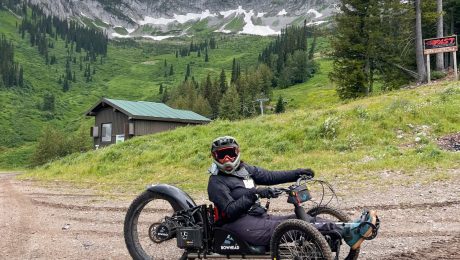 Scott Patterson has surfed all over the world, swam the English Channel in a relay, and represented Canada as an athlete three times in three different sports. He's also spent the last 40 years in a wheelchair. 
This summer, when the BC Cup Dunbar Series came to Fernie Alpine Resort, there were top athletes from all over the world—many of them were adaptive athletes like Scott. Unfortunately, the media doesn't always pick these athletes to tell stories about, which stifles the growth of the adaptive category of downhill mountain biking.  
Huddled under the Kootenay Adaptive Sport Association tent at the base of Timber Chair, I was surrounded by people in wheelchairs and the sleek, powerful adaptive bikes these athletes use. Almost exactly a year ago, my best friend Annijke Wade crashed while mountain biking, resulting in a spinal cord injury (SCI). This devastating injury turned Annijke's world upside down, but making connections with the adaptive community has been a central part of her healing process. 
The anniversary of Annijke's accident (her "Alive Day") fell on the same day as the BC Cup event at Fernie. Attending the event in Fernie had been a large motivating factor during her ongoing recovery. Annijke said, "It's been an amazing experience to meet and be a part of this community. These are some of the top adaptive mountain bikers in the world. So many of the people here have been very integral in the last year of my life and have been willing to chat, connect and support from afar – it's great to meet people in person." 
Supporting Annijke over the previous year made me aware of just how able-bodied our world is. It also made me realize that within the action sports world, there is so much we can do to address inclusion that will ultimately cultivate belonging for everyone, regardless of ability or background. Unfortunately, our society is so 'able-bodied' that we generally ignore the fact that at any moment, any able-bodied person can become a member of the disabled community with the tiniest accident, freak mistake, or miscalculation. 
After learning so much about adaptive sports through Annijke's injury, I'll admit that I was surprised that this was only the second year there was adaptive downhill racing at the BC Cup level. While it is significant progress, there's more we can all do to amplify the needs of the adaptive sport community and grow sports such as these.
Through my chats with the adaptive athletes and their support crew (most notably Mike Riediger, the executive director of the Kootenay Adaptive Sport Association), I began to understand that advocacy starts with representation. Given that this was the first year there was a full adaptive category for the Dunbar series (recognized within the BC Cup), my hope is that it's only the beginning of attracting athletes from all over the globe. 
"It's my Christmas," Sierra Roth, an adaptive athlete, said. Sierra raced motocross for 10 years before her accident. This was her first full year racing with her adaptive bike, made by Bowhead. Sierra said it's the highlight of her entire year to be able to connect with other adaptive riders. "Not only is it community, but I push myself here and learn from others. I guess you could say I come for the racing, stay for the vibes." 
I asked a few of the athletes what people can do to support adaptive mountain biking and adaptive sports in general. Scott said, "Just come and watch the races." He added that making trails that are "more adaptive friendly" is also beneficial for beginner riders, not just those on adaptive bikes. 
Sierra doubled down on the need to increase awareness of adaptive riding. "It's all about awareness. Once [people] understand what we need, it's not that far outside of the norm. Adaptive trails and access make it easier for everyone to be involved." 
Ethan Krueger travelled from Vancouver, where he works as a Rehab Equipment Specialist, just to attend this race. This was his second year racing, and he sees so much more possibility than just being in the BC Cup. "It's great that Dunbar recognized the adaptive category, but we need to spread the word of adaptive riding and racing into more of Canada and the USA. Not just recreation, but legitimize the sport globally… right now, they need to come here to do it." He hopes that creating a pathway for more riders into the Paralympics will help establish adaptive mountain biking as a Paralympic sport. 
Mike Riediger from Kootenay Adaptive Sport Association planned the entire adaptive event this year and hopes the exposure will get people excited, eventually filtering more adaptive riders into race development programs. "But it's really about advocating for better access to trails," Mike said. "It's happening organically in British Columbia because our work focuses on creating advocates instead of leaving it to individual adaptive sport organizations to advocate." 
One of these incredible advocates was Kineret "Kiné" Muñoz. Kiné travelled from Puerto Natales in Chilean Patagonia simply to be immersed in the adaptive community. Kiné used to work as a guide in the famous Torres del Paine National Park before a car accident left her paralyzed a decade ago. Kiné spent this past summer travelling all over the US and Canada to meet with adaptive organizations and athletes to learn how to advocate and create something similar in Chile. "There's nothing like this where I am. I have a dream of buying land and creating a space for other disabled people to come and learn how to bike." 
This model of educating the athletes and individuals allows advocacy to take a more organic route than relying on an annual bike race series. For example, my friend Annijke is supporting Kootenay Adaptive by working towards a goal of eventually becoming an adaptive mountain bike coach. 
"I wanted to make new memories," Annijke shared with me. "It was so important for me to begin to connect with the adaptive mountain biking world. I'm in awe. The level of skill and athleticism represented in the adaptive category is beyond incredible. Being able to witness this event has allowed me to see what's possible and even given me some goals to set for myself in the sport and my recovery."
Even though the downhill course itself is a bit daunting for new riders to try right away, it always comes back to representation. As a female athlete, I used to crane my neck to watch the glimpse of a woman grace the big screen at any annual ski film premiere. Now we are fortunate enough to see more representation across many intersectional identities, but there needs to be intentional investment and support from businesses, organizers, and bike clubs to ensure we are pushing to include the disabled community as well.