Krista Turcasso, Editor of the Fernie Fix Magazine, is a born and raised Fernie girl and mother of two who loves to spend time exploring the mountains on skis, bike or running shoes and share its brilliance with family, friends and the lucky visitors that come to this corner of British Columbia.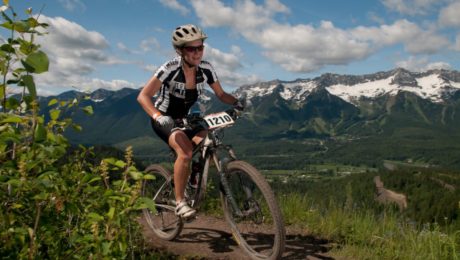 I didn't discover mountain biking until my mid-twenties. While Fernie's epic trail network, both in town and at Fernie Alpine Resort had yet to be developed in my youth, mountain biking has become such an integral part of Fernie it's difficult to remember it any other way.
After graduating, the lure to come home was strong. I spent every possible moment in Fernie and noticed a big change during the summer months. Bikes… they were everywhere. I decided to take a friend up on an offer to go for a ride. That friend was Emily Brydon, and she decided Verboten was great way to start (a Black Diamond at the top of Red Tree Road just off the ski hill.) A group of us rode from Timberline Village, and I was mesmerized as we crossed bowls I had only seen on skis. This feeling quickly shifted to fear and defeat as we made our way down the technical trail.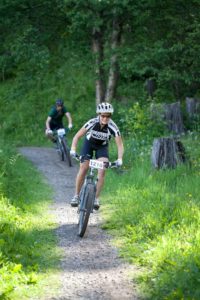 A few years later, I moved home and decided to park my car and buy a mountain bike. It was 2006, and while I still had a tremendous amount of fear, I just couldn't get it out of my head. I fell in with a fantastic group of women who supported and pushed me and were integral to me falling in love with the sport. In August of that summer, I watched in awe as rider after rider crossed the finish line of the TransRockies and thought… I'm going to do this one day. And I did.
While I love the accomplishment of finishing a race, I get the same feeling nearly every day riding in Fernie. Trail development and enhancement has meant new entry level and flow trails are available, along with more challenging and technical rides and everything in between. I love this about mountain biking. It allows everyone to test themselves whatever age, level or style of rider, and in turn can expose them to a side of themselves they may have long forgotten or didn't know existed. The same goes for Fernie – it never saw itself as a summer destination, but mountain biking has sure shown us something different.
I bike a lot, from the first trails to show themselves in the spring, to the last trails to be covered in the fall. Typically during the week I stick to trails in town for the ease of a quick early morning or evening ride just out the door. A favourite loop is Hyperventilation to Hyper Extension, and slipping into Ridgemont to finish on Oh Dear if there's time. But on any given Sunday I can be found in Mount Fernie Provincial Park, heading to Fernie Alpine Resort via Old Goat and Mega Hurtz or the newly revitalized Ben Emmett. From there, I catch a lift and laugh and giggle all the way down beautifully manicured trails like Duff Dynasty, Top Gun and Eville. And on the way home, I always climb my way to Verboten for the final descent, and remember how times have changed. For the better.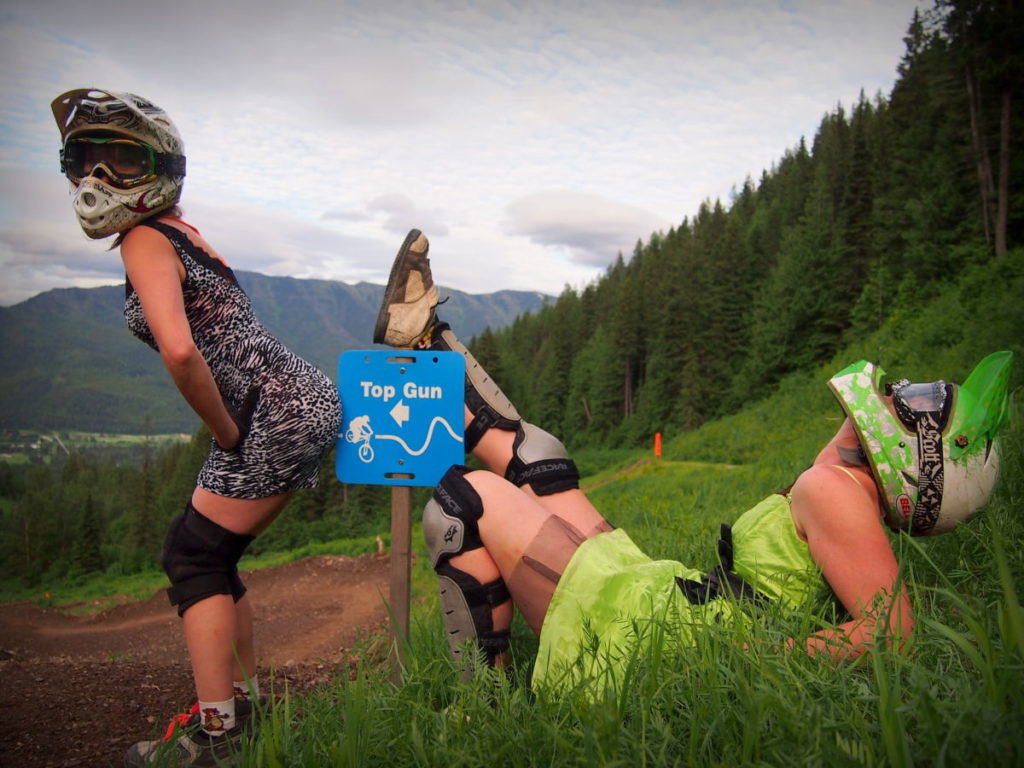 Tuesday, 08 November 2016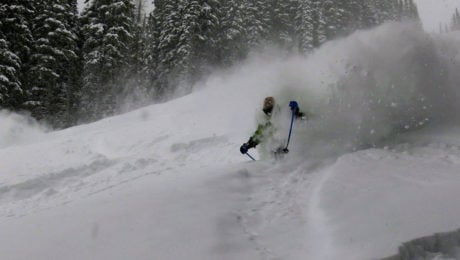 A typical powder day in Fernie, BC
All winter long, you methodically check in with Ron Lakeman of Fernie Alpine Resort's Alpine Weather Report (he's the man, and he's honest), and it's looking extremely good for the next couple of days. The storm is on its way, and it has the potential to be big. Like, Champagne Tuesday big.
After work, you head on home and prepare your things.
"Hmmm, if I get to the hill by 8am, I can grab first chair and ski hard for a couple of hours and make it back to my desk before noon."
Perfect. You have a nice dinner, periodically checking the forecast and weather outside, and decide to head to bed at a reasonable hour to ensure you're at your best in the morning… but the falling snow glowing in the street lights just outside your window has you too excited, and by 6am you're checking the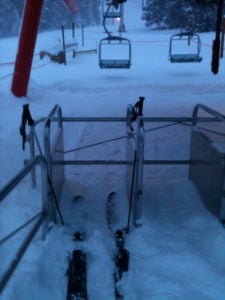 Griz Plot Mountain Cam on Skifernie.com… and that's all it takes. The 10-15 is easily 30cm+, and the stoke is way up. The coffee is on, you call in your Big Bang Bagel to pick up en route, and get ready to go.
The early bird not only gets the worm, but also the parking space. You know exactly where you're headed, and meet a few like-minded and familiar people as you buckle your boots and take the short downhill traverse to your lift of choice. Having grown up in this valley, the Old Side is where you're headed as you've been skiing it since you were three and know well how and where it holds snow on any given powder day.
The ride up the Bear Chair is silent with anticipation, not a line can be seen in the pristine runs below, and your mind is busy with plans on how to execute the next two hours of heaven. Cedar is only open from the ridge, so you decide to ski PS I Love You to Boom… and it's definitely the right choice. The crystal flakes kiss your face, and your own laughter and breath reach your ears. Then it's Cedar Ridge, and Linda's Run, and….. Cedar is open! You arrive just in time and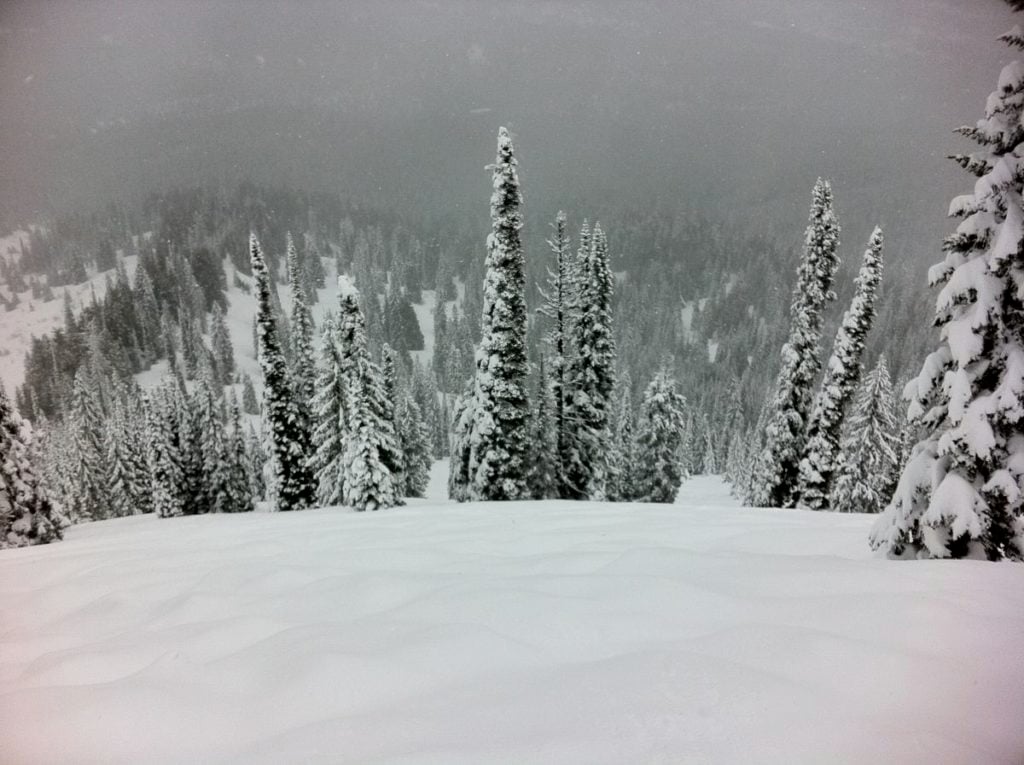 help to put in the traverse to Steep and Deep…. When you get fresh tracks on this pitch, you know you've played the morning well and that it couldn't get much better. You have just enough time for a couple of more laps on Snake, and then happily make your way across the mountain. Perfection.
There is really no better start to the day, and it looks like tomorrow will be much the same… you've checked in with Ron, just to be sure.