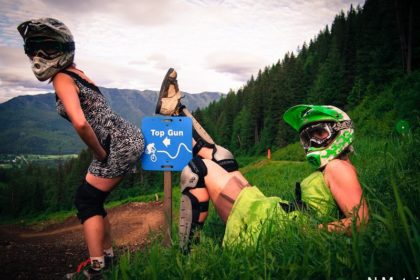 While there are many, many reasons to Mountain Bike (or learn to), here are (arguably) some of the best;
1) Bragging rights and Looking Cool
Can you ride the Binlogdin Wall?  Or take on Rumplestumskin, the new Duff Dynasty trail, maybe perhaps even Phat Larry's?  You're awesome – brag it up!

(Brag on social media – share your photos with Fernie on Facebook, Instagram & Twitter)
2) Impress your crush
Boys, girls will be impressed with your skills and girls..boys will be SUPER impressed with your skills!
3) Skip the gym but stay in shape
Have you ever tried Mountain Biking?  If you have you'll know how hard it works your core, similar to snowboarding in the winter, so stay in shape and outside while doing so!
4) Get in a tan
Soak in the sunlight, not the fake lights – Now that you are in shape, get your tan to match that bod! (You might have to work on this during your lunch break)
5) The truth about mountain biking
The truth about mountain biking here is it doesn't have to be intimidating.  Over the last few season Fernie has made a huge effort to increase the amount of trails for the beginner and intermediate rider as well as offering a variety of lessons and brush up courses (although we still have plenty of hardcore trails for those looking for an intense ride).
6) Sun, Mountain Air, Views
A day in the Fernie bike park with the gently rolling mountain views with the town of Fernie in the distance and the sunshine on your face, is always better than a day in the city or office.  Hands down.  No Contest.
Get into Mountain Biking in Fernie this summer!  Check out our First Timers Guide, available Lesson Programs or book a vacation Online.
By Cali Sammel
@california1530
Photos by Nicole Matei & Henry Georgi