Wednesday, 11 August 2021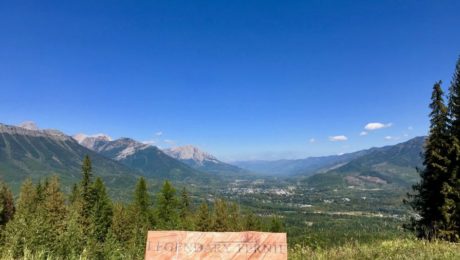 Last year, when the pandemic hit and my two girls were suddenly home I felt a heavy responsibility to keep them active physically and mentally, on top of staying safe. Where better to take the learning than outdoors? Each week, I would shake things up by heading somewhere new and inspiring. Reading circle at Silver Springs. Science class in the Old Growth or at Matheson Falls. Gym class at the Fernie Alpine Resort (FAR) Aerial Park. Many of our 'classrooms' I hadn't been to in years, and some never! They were shocked, 'but you grew up here!?'
Now, it's been two years since we've left the beautiful bubble of the Kootenays. Two years! And while I am extremely fond of this area, it has begun to feel a little too… comfy. As an avid biker, I was feeling uninspired. Yes, we've done a couple of trips to the West Kootenays, but here I had ridden nearly every inch of trail countless times some in both directions. It made me think back to that time, at the beginning of the pandemic. How could I shake things up?
Years ago, before I had kids I spent a lot of time training for bike events and hit a similar wall. A park pass at FAR not only helped me to gain additional confidence on the downhill, it exposed me to new, technical terrain and had me excited about biking again. 'That's it,' I thought. 'There are over 30 trails over there!' And I headed to Guest Services to get my pass.
Pass in hand, I went out on my first adventure. I decided to check out the newly established Uphill Enduro Route as I had yet to try it. Taking you up the access route, it is a bit painful to cross beneath the Elk Chair and the relaxed lift riders, but it is quick, to the point, and allows you to do a few laps while also testing your endurance.
For the first lap, I decided on Hollow Tree. I have ridden this trail numerous times as it was in two TransRockies events hosted at the hill. Forested, loamy, rooty, optional stunts. It is always a blast and over too soon. I hopped onto Monorail to finish off and got right into my second climb. Next, I decided to take upper Top Gun and then climb over to Bin Logdin to lower Rumplestumpskin. Again, extremely fun and I could have handled twice the length! This lap was flowier, fast and exciting… and had me easily convinced to head up again. This time, I decided on Will Power. We hosted Tears and Gears at FAR two years ago so I had only ever been on it to flag the course. Wow, it had me on my toes and it was nice to feel challenged. Similar to Hollow Tree but more narrow and steeper in sections.
Feeling inspired and fulfilled, I left wanting more. Next week, hiking with the kids. Chair lift up, hike down… should be easy, right?
Hot Tips
The Uphill Enduro Route is exposed and the last portion steep. Make sure to bring enough water to keep you going, consider electrolytes on hot days.
While getting your pass, ask Guest Services about their Multi-Use Pass for just $5, which covers access annually to xc trails on their property.
If biking in town, make sure to get your Fernie Trails Alliance – Fernie Trails Pass which supports building, maintaining and developing the Fernie Trail Network.
 Carve out some time for a rewarding post-ride refreshment at Legends – you deserve it!