BIKE TRAILS OPEN
BIKING CONDITIONS
Trails are in good late season condition. Trails will be wet after last night's rain but will dry out and get dusty as the sun affects them.
HIKING TRAILS OPEN
HIKING CONDITIONS
Trails are in good condition but might be slippery in sections after last night's rain
NOTICES
Be prepared for the weather to change at any moment. Carry extra layers, food and water.
You are in wildlife country. Always travel in groups and make noise while on the trails and carry bear spray. If you need assistance please contact Patrol at 250-423-2426.
Our trails are now closed for biking & hiking for the week, and will re-open for our Bonus Weekend on Sept. 7 & 8. Our crews will be working on the trails by hand and with machinery. Please obey our closed signage and help us keep you and our workers safe. Thanks for your co-operation.
CHAIRLIFT HOURS
BONUS WEEKEND - SEPT. 7 & 8
Sunday, September 8th - Elk Chair will be open from 10am - 5pm
| # | LEVEL | ELK SIDE TRAILS | TYPE STATUS |
| --- | --- | --- | --- |
| | | Summer Road | |
| | | Skeleton Flats | |
| | | Old Growth Magical Forest | |
| | | Cedar Bowl Loop | |
| 3 | | Boom | |
| 4 | | Cedar | |
| 5 | | View | |
| 6 | | Deer Trail | |
| 7 | | Will Power | |
| 8 | | Trac II / III | |
| 9 | | Playground | |
| 9A | | Case Closed | |
| 10 | | Duff Dynasty | |
| 11 | | Kodiak Karnage | |
| 12 | | Gorbie Loop | |
| 13 | | Black Forest | |
| 14 | | Aggravated Assault | |
| 16 | | Hobbits Trail | |
| 17 | | Ben's Big Rig | |
| 18 | | Honey Bee | |
| 19 | | Rubber Ducky | |
| 20 | | Monorail | |
| 21 | | Phat Larrys | |
| 22 | | Hollow Tree Trail | |
| 23 | | Holo Bike | |
| 24 | | Alt Flight Pattern | |
| 25A | | FAR Out | |
| 25 | | FAR Out | |
| 26 | | Lil' Miss Buffit | |
| 32 | | Top Gun | |
| 33 | | Mr. Berms | |
| 35 | | Eville | |
| 36 | | Ewok | |
| 38 | | Cats Pyjamas | |
#
LEVEL
TIMBER SIDE TRAILS

Access via Elk Chair

TYPE STATUS
27
Bike Thief
30
Megasaurus
31
BC Cup
34
Bin Logdin
| # | LEVEL | BASE AREA TRAILS | TYPE STATUS |
| --- | --- | --- | --- |
| 1 | | Silk (XC) | |
| 2 | | Manchuria (XC) | |
| 15 | | Double Creek Trail (XC) | |
| 15A | | Double Creek Ext. (XC) | |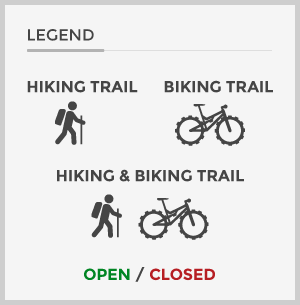 WEATHER
Partly Sunny with valley fog in the morning, Slight chance of morning showers