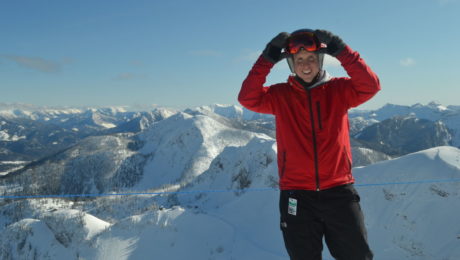 Let's get straight to the point; winter tends to overstay its welcome. With major snowstorms lasting into April earlier this year, Mother Nature definitely took longer than expected to bestow warmer temperatures upon us Canadians.
Living in this wonderful, snowy nation, there are some crucial lessons to learn in order to thrive in the 'Great White North'. Most importantly, is realizing the importance of making the best of your environment and conditions (especially the long winter months we so often endure).
Our initial instincts are to stay warm and cozy during blizzard-stricken months, huddled indoors with blankets, warm drinks, a crackling fire and taking in an unhealthy amount of Netflix, while silently praying that our neighbour or significant other will shovel the walkway. Winters have such great potential though, why surrender such glorious opportunities to see the remarkable beauty Canada boasts in its backyard?
Exploring the outdoors throughout all four of our Canadian seasons is a revitalizing experience for us, which should be taken advantage of to refresh our frame of mind. It's a chance to discover new adventures just a snowball's throw away. We're all familiar with making the most of warm temperatures during the summer months with patio season and backyard lounging in full swing. The winter landscape can be just as inspiring too, when given the chance.
If you need more convincing, here are a few of Canada's premiere winter activity destinations:
Fernie, British Columbia
The shops, cafés, restaurants and pubs along 2nd Avenue in Fernie are some of the Canadian Rockies' hidden gems, with surrounding mountain peaks looming over the glow of its downtown streets.
Located just down the road, Fernie Alpine Resort is home to some of Canada's most legendary powder, with an average snowfall of 30ft. From epic downhill skiing to leisurely snowshoe and groomed cross-country skiing trails, the resort has activities for the whole family. It also offers plenty of weekly programs to get you outside and even yoga classes to help you find your winter Zen. Their on-mountain accommodations along with a local shuttle to town make for a perfect introduction to Canada's winter activities.
Kimberley, British Columbia
If you're looking for a classic mountain town, you've found it. The town of Kimberley embodies the Canadian spirit with humble, welcoming locals and a relentless passion for nature. Kimberley is home to craft beers, great local dining, the oldest building in Canada and a variety of activities to enjoy outside.
With stunning scenery of the Kootenay mountains, Kimberley Alpine Resort is just minutes from town and offers great facilities and terrain for people of all skiing and snowboarding ability levels – from first-timers to seasoned slope shredders. Looking to stay on level ground? Try the area's expansive snowshoe trails, cross-country skiing network or check out fat biking, one of North America's favourite new activities (mountain bikes with wider tires for better grip in snow conditions).
Golden, British Columbia
One of the most famed locations along the Powder Highway, Kicking Horse Mountain Resort and the town of Golden are conveniently located along the TransCanada Highway and ready to provide you a mountain experience like no other. Drop into Whitetooth Brewing Co. for locally crafted beers, or the Northern Lights Wildlife Wolf Centre for an up-close learning session with these amazing animals.
Delving deeper into nature, Kicking Horse Mountain Resort offers Canada's highest dining experience, the Eagle's Eye Restaurant at 7,700ft. Once you're fueled up, hit the slopes of the Catamount Chair to learn the basics on your skis or snowboard, or bring your little ones to the tube park and natural ice rink at the base of the resort. Advanced skiers head to the top via the gondola for wide ranging bowls, ridges and chutes. If staying grounded is your preference, Golden is primed with world-class snowmobiling, along with plenty of rentals and tours available.
Life's too short – and winters are too long – to miss out on a lifetime of adventure. Let winter activities revitalize your soul and help you look forward to the inevitable snowfalls each year. Meet Mother Nature halfway on this one and discover how rewarding Canada's winter climates can truly be.