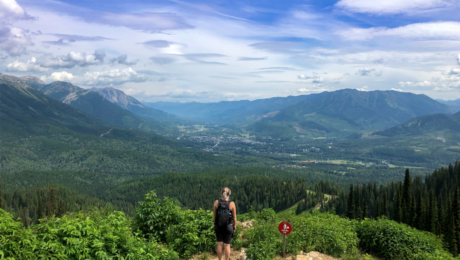 Hello Fernie!
As our Summer Season opening was announced last week, I want to take a minute to tell you where we are as a resort and how we got here.
First of all, everyone at Fernie Alpine Resort shares in the admiration, respect and concern for our medical community and essential workers. Many of us have spouses, partners, parents or kids who are working long, stressful hours to help make sure we are safe and cared for if needed.
The last two and a half months have been the strangest in my 48-year career, and we all know how much the stress and uncertainty have affected our families and our community.
After deciding as a company to cease operations on March 16th, our community, our team and frankly the entire mountain tourism industry have worked tirelessly to get to the exciting announcement that we will be opening for summer operations on June 27th.
All of us at FAR want you to be able to enjoy the mountains, lakes, rivers and pathways that define our home. Our team put their efforts into high gear to figure out a way forward since that crazy day in March and now feel we have a summer program we can be proud of while ensuring the safety of our guests and our staff.
Some things will be very familiar at the Resort while other aspects of our summer operation will feel different, even strange. But rest assured, with an abundance of caution and a goal for a safe, sustainable program, we will offer Mountain Biking, Hiking and Sightseeing seven days a week from June 27th to September 7th. Legends Mountain Eatery will be open for dining and relaxing, and Bike Rentals and Retail Goods will be offered.
We will continue to confer with Fernie's local Health Care community about our operations and ensure that we are in step with their needs and guidelines.
Opening a mountain resort during these times is a complicated, challenging exercise, one in which every aspect of human interaction needs to be thought through.
Some of the changes you will encounter this summer are:
When you arrive at the Plaza or Lizard Creek Lodge, you will see signs and team members asking you the basics: Are you experiencing symptoms of COVID-19? Have you been out of the country in the last 14 days? Do you live or work with anyone who has any symptoms?
The purchasing of lift tickets, food and bike rentals will be handled at our ticket windows or Guest Services Desks in the plaza.
You will be able to purchase meals and drinks at the ticket windows and receive a voucher to give to your server at Legends. These will already include taxes and gratuities.
Our vast selection of seasonal gear will be available in the Retail Cabin, now reserved for you to have the time you need to make the best choice in apparel or equipment.
You can buy your lift ticket and bike rentals at the ticket window and hand over your rental voucher in the bike shop, now located in the Slopeside Deli.
You will be riding the Elk chair by yourself unless two or more people from the same household are together.
Your tickets will be scanned through a distance and barrier system.
Line ups will be spread apart to meet provincial health guidelines.
Thursday Night Races will go ahead. The event will take longer so that we can ensure safety but will still be super social and fun!
We do expect there to be longer wait times during busier periods and hope that you understand the necessity of this process. Our commitment to providing top-notch trails will remain the same.
Dining and drinking will be offered both indoors and outdoors, and tables will be spread apart to ensure our guests and staff safety.
If dining at Cirque Restaurant or Legends Mountain Eatery does not fit, we can deliver delicious meals, beverages, beer, wine, liquors and a complete menu of groceries to your home, condo or room. Our delivery staff are waiting to hear from you! We will deliver your order at your direction to ensure you are safe while visiting us. Our menus will be available on our website. You will be surprised at the depth of choices, but again, our primary goal was to make sure you are safe and comfortable.
The smiles will be real, the appreciation great and the welcome warm. We are proud to be a part of this community, and we will always be there.
We do anticipate that changes will continue to happen and will adapt as necessary.
We look forward to a great, safe summer and know that the Ski Season is just around the corner.
All the best!
Andy Cohen and the Entire Team at Fernie Alpine Resort