Caleb Brown is a big mountain freeskier who has competed on the world stage. Born and raised in Fernie, he can still be found in the mountains, scoping out his next big line.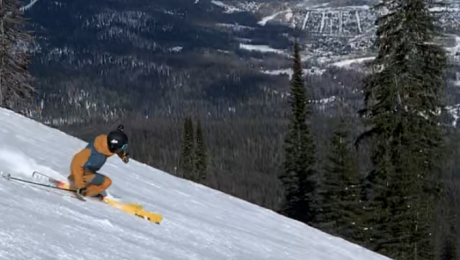 I usually avoid weekends at the ski resort. Being a Fernie local, I can pick my days, and I prefer the less crowded days for obvious reasons. But this year, I found a new appreciation for the busy days and found myself marvelled by the action of packed lift lines and busy runs.
My dad, Andrew Brown, worked at Fernie Alpine Resort for over 25 years, so growing up, we skied together a lot, along with my Mom, Christa, and brother, Sam. Now, our days together on skis are few and far between. We try to get one day on the slopes together, and this year that day was when I started seeing the busy days with new eyes.
When my dad and I go skiing, our goal is always to ride each lift, mostly so he can check out all the bull wheels, sheaves and grips, but it is a good way to spend the day skiing. As we rode the Mighty Moose (yes, we even rode the Moose), I payed attention to all the kids surrounding us, having their best day. I also noticed the adults and couples teaching each other how to ski; maybe not having the best day ever, but they were out there utilizing the lifts and growing from their efforts.
I started to appreciate the chair lifts being full in front of us. These lifts are spinning whether there are people on them or not, so they might as well be loaded up, taking us all to the goods. The energy in the lift lines is always exciting. You see all sorts of people in the lift lines, don't you? The jib kids that ski 9-4 every day, it doesn't matter the weather. Then the old-timers who also ski every day but maybe for just a run or two. The guys from Saskatchewan in their hockey jerseys and gear from the 80s, or the city folk with their shiny new gear that only gets used a few times a year. But we are all here for the same thing; to buy the ticket and take the ride.
We did ski every lift on our family ski day (except the Magic Carpet), and we will do it again next year. I wasn't even a year old in my first season pass photo. I didn't ski that year, but my dad got free season passes for the family, so they took the photo and kept them for fun. The story goes that I kept tipping over in my seat, so it took a few tries to get the photo right, but that means I've had 30 season passes at Fernie Alpine Resort. I hope to be one of those 'old timers' in another 30 years, riding the lifts and skiing, even if it is for just one run a day.
So I raise my glass, cheers. To Fernie!
Wednesday, 22 December 2021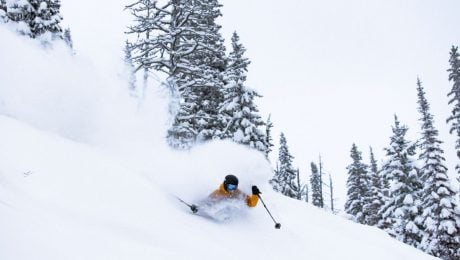 "That was some of the deepest snow I've ever skied!"
I heard those exact words from two different friends last weekend. One of those friends was with me on our first tour of Outer Siberia just outside the Resort boundary, then the next day, we had the same conditions but inside the ski hill ropes. To be honest, I would have to agree with them. The past two days have been some of the best skiing I've had in years. And to think that just over a week ago there was grass, not only in our front lawns but at the base of the ski hill as well!
That is how quick the seasons can change in Fernie. One moment we are bracing for a green Christmas, then a couple of days later, you find yourself shovelling the driveway for the second (or third) time that day. That is what is happening right now. It is STILL snowing! And the weatherman is calling for heavy accumulation.
There is nothing better than having days like this at the start of the season, with each day bringing new terrain as the base builds, hiding the stumps and dangers below. If you are lucky enough, you might just stumble upon a rope dropping for the first time of the season with over the waist, untouched snow below. Anyone who experienced this recently knows what I am talking about, and I know there will be more of that in the next few days.
So this is just a friendly reminder, as I had to remind myself of this, not to get too worried early on in the season because who knows when the Fernie Factor will kick in and unload an unexpected amount of snow.
Now you should probably stop reading this and get out there. The face shots await!
– Caleb Brown