Wednesday, 22 December 2021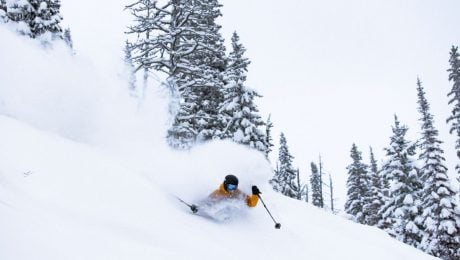 "That was some of the deepest snow I've ever skied!"
I heard those exact words from two different friends last weekend. One of those friends was with me on our first tour of Outer Siberia just outside the Resort boundary, then the next day, we had the same conditions but inside the ski hill ropes. To be honest, I would have to agree with them. The past two days have been some of the best skiing I've had in years. And to think that just over a week ago there was grass, not only in our front lawns but at the base of the ski hill as well!
That is how quick the seasons can change in Fernie. One moment we are bracing for a green Christmas, then a couple of days later, you find yourself shovelling the driveway for the second (or third) time that day. That is what is happening right now. It is STILL snowing! And the weatherman is calling for heavy accumulation.
There is nothing better than having days like this at the start of the season, with each day bringing new terrain as the base builds, hiding the stumps and dangers below. If you are lucky enough, you might just stumble upon a rope dropping for the first time of the season with over the waist, untouched snow below. Anyone who experienced this recently knows what I am talking about, and I know there will be more of that in the next few days.
So this is just a friendly reminder, as I had to remind myself of this, not to get too worried early on in the season because who knows when the Fernie Factor will kick in and unload an unexpected amount of snow.
Now you should probably stop reading this and get out there. The face shots await!
– Caleb Brown
Monday, 12 September 2016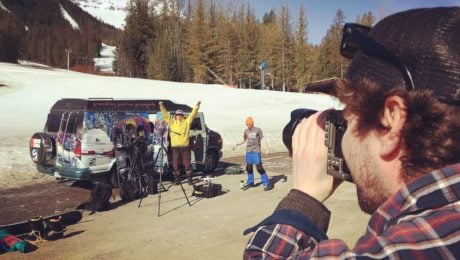 Imagine arriving at a crossroads and finding a sign that reads Powder Highway.  What would you do?  Well, you'd take that road, of course.  Say it once or twice out loud. "Powder Highway."  It has an alluring sound, doesn't it?  A sort of "I dare you not to drive it," quality that spells road trip.
There are few things I enjoy more than loading skis into the roof box, packing a change of long underwear, extra gloves and toques, bags of chips and whatever other road trip indulgences you desire, then hitting the highway.  The Powder Highway cuts through the Canadian Rockies and Columbia Mountains, a region of such staggering density in skiing and snowboarding opportunities, be it resort, cat, heli and backcountry, that you'll be struck with an option paralysis of the favorable kind; a too-much-of-a-good-thing problem that we skiers and boarders love to have.  Assemble your favorite winter superlatives – steep, deep, blower, big vert, cruisy, epic, etcetera – and that pretty much sums up the Powder Highway.
At Fernie Alpine Resort, the lifts service five alpine bowls in the legendary Lizard Range of the Canadian Rockies blessed with snow as light as the down in your puffy jacket.
Kimberley Alpine Resort, a little off the beaten track, has always been a breeding ground of ski racing talent with its fall line groomers and spacious terrain.
At Kicking Horse Mountain Resort, the Eagle Express Gondola shuttles skiers and boarders to the top of the Dogtooth Range in the Purcell Mountains in a more than 4000 vertical foot butterflies-in-the-stomach ascent. From the top terminal, choose your adventure.  A cruisy top to bottom groomer that will have the legs burning, or perhaps a boot pack to the top of Feuz Bowl or T1 followed by a drop into a spicy 45 alpine chute.
Then there are the towns, archetypal ski communities.  Not cookie cutter prefab creations but towns with heart and history.
Fernie, with its main street lined in heritage buildings, steeped in the tradition of 19th century mining, where skiing has a long history dating back more than 50 years. Kimberley and its quaint Bavarian motif, also oozing with colourful mining and pioneering history.
And Golden near the confluence of the Kicking Horse and mighty Columbia River and at the foot of Kicking Horse Mountain Resort, where a tradition of mountain adventure has its roots in the golden era of railroading in Canada when Swiss guides arrived in the late 1800's to explore the vast wildness of Canada's mountains, many of them settling in and around Golden.
While a love of skiing will lead you to the Powder Highway, the towns, real mountain towns full of real mountain people, will steal a piece of your heart. On a rest day, after exploring between Fernie and Kimberley, drive up the beautiful Columbia Valley, next to frozen lakes and wetlands that spring to life in summer.  Pull into the HQ of legendary Kicking Horse Coffee in Invermere, where the smell of roasting beans drifts in the air.  Fill up with a mug of Kick Ass coffee, relax, and dream about the turns and terrain that awaits at Kicking Horse Mountain Resort.  A little further north, slip into Radium Hot Springs, and watch wild Big Horn Sheep scale the surrounding cliffs.  How many more reasons do you need to explore the Powder Highway?  Next step –  pack your ski bags, load the vehicle and hit the road – your idea of the perfect winter road trip will be changed forever!
Words: Andrew Findlay
Photos: Love Street Media, Raven Eye Photography, Antoine Caron Cabana, Henry Georgi & Tourism Golden