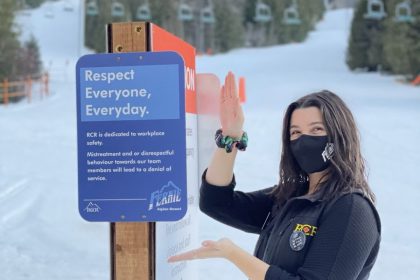 New season, new systems!
How to smooth out your first day on the slopes.
Well, here we are!
We've made it to another ski season during a pandemic, and while some regulations will stay the same as last season, we are also dealing with a few new ones. Here are some guidelines to help make your first day out in the mountains as smooth as possible for you and your family.
Request your Season Pass or Direct to Lift Card in advance
If you have purchased a season pass, you should have received an email requesting your upload your QR code/proof of immunization online. Please upload your information and request your pass be sent to you as soon as possible. Ensuring your pass gets into our printing queue as soon as possible allows you the best chance of receiving your pass ahead of your first visit. If you have not received your email requesting proof of immunization, please feel free to reach out to our guest services team to request one by emailing [email protected]. If you have requested your pass but have not received it before your first day, you will need to visit the resort Guest Services building to receive a day ticket and show proof of immunization. If you are having problems with our system accepting your Proof of Immunization, please refer to our FAQ's to find out why.
Mind our Know Before you Go updates
While many of our guidelines have stayed the same, a key update this season is the requirement to be fully vaccinated to access our resort lifts and facilities. Please refer to the information above on how to provide this ahead of your visit.
Bring your QR Code on your first few visits.
To ensure we have a record of your information, we encourage you to have your QR Code and government-issued photo id with you on your first few trips. If you purchase day tickets, you will need to show proof of immunization when picking up your lift tickets each time you visit.
Limit your baggage and prepare for a few lineups
We will not be allowing bags to be stored unattended in our daylodge or common areas. Please ensure you're leaving any unnecessary baggage in your car or your pre-purchased locker. While requiring proof of immunization should help alleviate some lineups at our lifts and facilities, please note that some people may still choose to stay distanced from others; we ask you to respect the wishes of those around you.
Be kind
As always, we ask you to be kind to our fellow guests and also our staff. Please realize our front-line staff are working hard to ensure you enjoy your experience and share your passion for the mountains. Let's all work together to make our mountain experience an enjoyable one.