Wednesday, 22 December 2021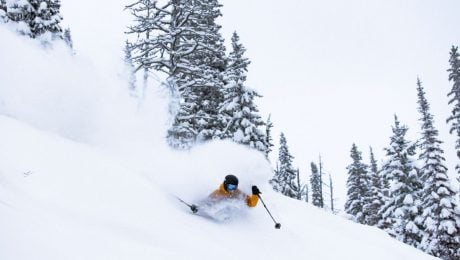 "That was some of the deepest snow I've ever skied!"
I heard those exact words from two different friends last weekend. One of those friends was with me on our first tour of Outer Siberia just outside the Resort boundary, then the next day, we had the same conditions but inside the ski hill ropes. To be honest, I would have to agree with them. The past two days have been some of the best skiing I've had in years. And to think that just over a week ago there was grass, not only in our front lawns but at the base of the ski hill as well!
That is how quick the seasons can change in Fernie. One moment we are bracing for a green Christmas, then a couple of days later, you find yourself shovelling the driveway for the second (or third) time that day. That is what is happening right now. It is STILL snowing! And the weatherman is calling for heavy accumulation.
There is nothing better than having days like this at the start of the season, with each day bringing new terrain as the base builds, hiding the stumps and dangers below. If you are lucky enough, you might just stumble upon a rope dropping for the first time of the season with over the waist, untouched snow below. Anyone who experienced this recently knows what I am talking about, and I know there will be more of that in the next few days.
So this is just a friendly reminder, as I had to remind myself of this, not to get too worried early on in the season because who knows when the Fernie Factor will kick in and unload an unexpected amount of snow.
Now you should probably stop reading this and get out there. The face shots await!
– Caleb Brown