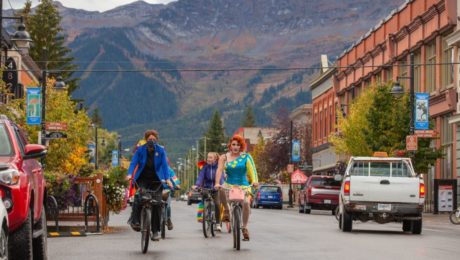 It's Pride Month, and here in Fernie, we love to celebrate LGBTQIA2S+! ‍🌈
Fernie has come a long way with its support of Pride. In 2016, the Fernie Pride Society was established, and it didn't take long for the community to show their support. From the painting of rainbow crosswalks across town, the monthly Ears for Peers event, to the week-long Elk Valley Pride Festival held every year in September (best week ever!), it is inspiring to see people of all ages, genders, and sexualities coming together in support of each other.
This month, the Fernie Pride Society has a full schedule of online events:
June 7th, at 10 am, is Drag Story and Craft Time with the one and only, Freida Whales. Head to the Fernie Pride or Fernie Heritage Library Facebook page to participate.

On June 14th, the magical rainbow crosswalks will be repainted onto the corner of 3rd Ave and 5th St (next to the Post Office/Library). This year, they are keeping the painting party small, but please reach out to Fernie Pride on their Facebook page if you would like to volunteer your time. These crosswalks have become a wonderful addition to Fernie's downtown. Make sure you stop by to check them out.
On the 3rd Thursday of every month is Ears for Peers (via Zoom). Ears for Peers is a safe peer-to-peer place for conversation, support, gathering and more. This month it is on June 17, 6:30 pm – 7:30 pm. The zoom link will be posted on their Facebook page leading up to the event.
Later in June, Fernie Pride will be hosting (via Zoom) their popular Rainbow Connections event. Keep an eye on their Facebook page for more information coming soon!

Continue celebrating pride through art by downloading this fantastic Day of Pink colouring page featuring Fernie Pride's President, Kevin Allen. You can find it here. It is a part of Day of Pink's latest colouring book that can be found here. This colouring book shares the stories of trans and queer folks who are creating safer spaces, celebrating our community, and advancing human rights. Learn about our past, present, and future while enjoying the art of colouring.
New events are continuously being added, so please show your support and follow the Fernie Pride Society on Facebook to join in on the fun.
If you are looking to support Fernie Pride Society's initiatives, please donate to their membership drive, which is happening all month long. When you purchase a membership (only $20 for 3 years), you are supporting an essential local organization and helping them secure support and funding for some great programming and initiatives, which will continue to benefit the community. Get your membership here.
Pride month is when we celebrate diversity and LGBTQIA2S+ communities, acknowledge their history, the hardships they have endured, and the progress made. Fernie is a community full of strong Allies who really help make a difference. Let's all fly the rainbow flag and show that EVERYONE is welcome in Fernie.