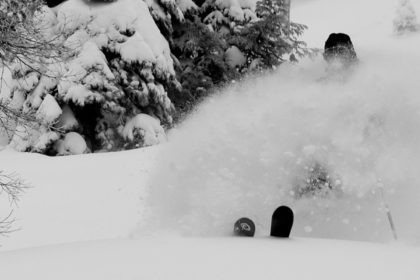 Ski towns are generally run on a couple of simple rules;
There are no friends on a powder day
and
The 20cm rule (cms may vary by town)
To put it another way, ski towns are run by snow.  And lots of it.  Those epic powder days that ski bums dream of.  Those drool worthy runs where you feel as if you're literally floating through the snow.  Those moments longed for with snow hitting you all the way up to your face.  YES!  Your face.  We don't let opportunities like those pass us by in a ski town, hence why when Fernie Alpine Resort or Kicking Horse Mountain Resort receive 20cms or more of snow in a short period of time, it's not uncommon to see 'gone riding' signs posted on closed shop doors and why there isn't even time to give your friends a call before heading up to the resort – every man for themselves!  After all, that's why we choose to live here – why haven't you?
Here are some of our best envy inducing recent powder moment.  What are yours?  Tell us about it in the comments.
Are you kidding me?
Sigh…
All the pow
I can't even..
To die for
This is too much
It's not even fair
Can I get a snorkel over here?
Want!  Need!
That's it.  I'm done.
Wake me when it's winter.
Photos by Brad Lorriman, Robin Siggers, Powder Matt and Abbydell Photography