Our First Family Ski Trip to Fernie Alpine Resort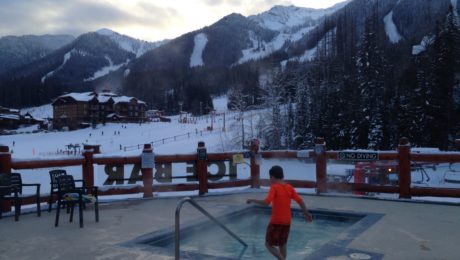 I remember weekend ski trips to Fernie with great fondness but up until recently we hadn't ventured beyond local hills near Calgary. I guess we thought that a big ski resort like Fernie would be intimidating as a family, that there wouldn't be enough beginner terrain to ski, or that it was just unnecessary to travel three hours to go skiing when we had Nakiska Ski Area on our doorstep. On all accounts I was wrong and we're already talking about how we have to go back to Fernie next winter (if not sooner) – and oh please let it be sooner!
Fernie Alpine Resort is located approximately three hours away from Calgary and is reached via a scenic drive through the Crowsnest Pass as you cross the border into British Columbia. Heading to Fernie is extremely doable for a normal two-day weekend with an after-work departure on Friday. It's even realistic to arrive in Fernie in time to put the kids to bed at their normal bedtime. (To save time, pack or buy dinner to eat on the road so that you don't have to stop along the way.)
While you can easily find a motel in downtown Fernie, we were able to stay right on the hill on our recent trip and we might be forever changed in how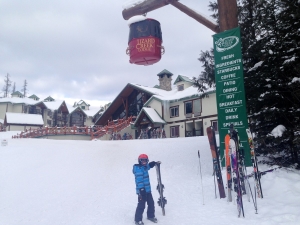 we plan future ski trips. We had comfortable ski in/ski out lodging at the Lizard Creek Lodge, located right at the base of the Elk Chair (a great chair lift for novice skiers.) We had a one-bedroom condo at Lizard Creek that had a pull out sofa in the living room, making it plenty spacious for our family of three. Our condo had a full kitchen (making breakfasts super easy to prepare before hitting the slopes) and we had a very comfortable living area with fireplace and television (should we have wanted one.)
This was our first time enjoying ski in/ski out accommodations and a mom could get used to such luxury!  There was no driving to the hill in the morning, no sharing a crowded day lodge at lunch time, and no dilemma over what to do when one of us grew tired of skiing mid-afternoon (while other family members still wanted to do more runs.)
A typical day at Fernie with on-hill accommodations could look a lot like this (based on our personal experience):
8:00am – Enjoying a relaxed breakfast in the newly renovated "Cirque" restaurant in the main building of the Lizard Creek Lodge.
9:00am – In line and ready to head up the Deer or Elk Chair with the kids (both fantastic for novice skiers with plenty of green runs to choose from)
10:30am – Back to Lizard Creek Lodge to warm up and grab coffee in front of the fireplace in the main lodge (no crowded day lodge for us!)
11:00am – Heading up the Great Bear Chair to try some more challenging family terrain
1:00pm – Back to our condo for lunch and a bit of R&R before heading back out for more afternoon skiing on some bigger chairlifts (bring granola bars in your pockets so you can postpone lunch a bit later in the day)
2:00pm – Heading up the Timber Chair to try out the "Falling Star" run (one of the easiest intermediate runs on the hill)
3:00pm – Younger kids done for the day and heading to the outdoor swimming pool and hot tub at Lizard Creek with Mom, also tired. Older children and teens could still be skiing strong. In our case, Dad skiing hard till the hill closed
4:00pm – Quiet time back at the condo, games, books, and relaxation before dinner. This could also be a good time to try some cross country skiing or snowshoeing on the resort trails. (Something I tried out Sunday morning.) Alternately, it's a great time to head back to "Cirque" for drinks and appies in front of the fireplace
5:00pm – Heading for an early dinner at Kelsey's over at the main resort area (they had great kids' meals and it was a bit more family-friendly than the more decadent "Cirque" restaurant in our lodge
6:30pm – Night skiing on the Mighty Moose Lift (open Saturday nights from 4-9pm and included with your day lift ticket at FAR)
7:30 – Trying out the new Ice bar in the Lizard Creek Lodge for some Vodka tastings (make sure you try the salted caramel – yum!!) – and kids are welcome to come in and watch
8:30pm – Kids heading to bed ,watching a movie, having down time in the condo… – adults enjoying a glass of wine in front of the condo fireplace (and our condo had two televisions so in theory, the kids could be watching a movie in the bedroom while Mom and Dad chill in front of the fireplace)
We had a blast at Fernie Alpine Resort and we were pleasantly surprised at how much beginner terrain there was at the hill! We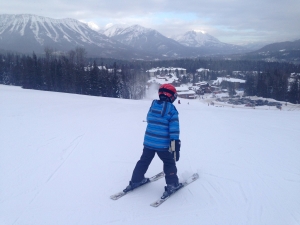 could have easily skied on the Deer and Elk chairs all day with a couple runs down the Great Bear Chair and Timber Chair for more challenge. The terrain off the lower chairs was immaculately groomed and perfect for novice skiers, with Falling Star off Timber also nicely groomed (I headed here first thing Sunday morning for the most amazing experience flying down the fresh corduroy on my own private run – not another skier in site on the whole run.)
We're heading to Kimberly Alpine Resort soon and can't wait to try out another great family-friendly ski resort with ski in/ski out accommodations again. Fernie has changed our ski style as a family and it's doubtful we'll be satisfied to spend every weekend skiing close to home anymore. Ski weekends bring the family together and we look forward to more mini-vacations like this in the years to come.
Words & Photos by Tanya Koob
Read about her and her families outdoors adventures on her blog – Rockies Family Adventures.
Kids are #1 at Fernie Alpine Resort: 10 kid friendly activities to try this season.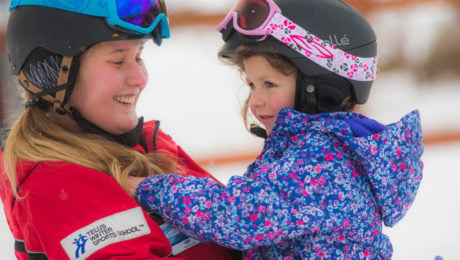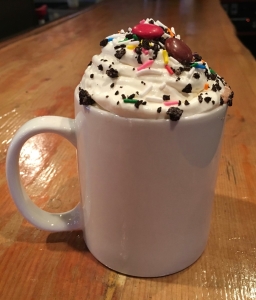 1. Hot Chocolate with Sprinkles
Take a break from shredding the slopes and warm up with a cup of hot chocolate, piled high with whipped cream and topped with sprinkles! You can find this treat for kids of all ages at Kelsey's, Lost Boys Cafe, Cirque Restaurant and Slopeside Coffee Shop.
2. $5 Meals at Kelsey's
Taking the family out for dinner doesn't have to break the bank. Every day at Kelsey's, kids 12 and under eat for $5!
3. No School Ride Days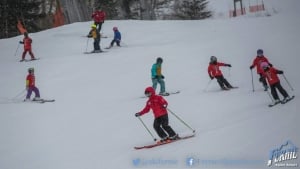 School District 5 kids are out of school on February 5th, 8th, 26th and March 28th and you need to keep them busy! Drop them off at the hill for a No School Ride Day hosted by our Winter Sports School. $55 will get them a full day lift ticket and lesson, $29 for a half day. Come in to the WSS desk at Guest Services, call 250-423-2406 or email [email protected] for more information and to register.
Every Saturday night from now until the end of March, come out and spend an evening with your friends on the Mighty Moose from 4-9pm. Lift tickets from that day are valid for night skiing. Children and Youth (up to age 17) can pick up a free night skiing ticket at the rental shop.
5. Mommy Ride Day
Does Mom need a break? Drop the little one off to have fun at our daycare while you head up for some ski time. Half-day daycare, half-day lesson and lift ticket for $69, available Monday-Friday. Contact Winter Sports School to book. (Don't worry Dads, this deal applies to you too!)
6. Riglet Boards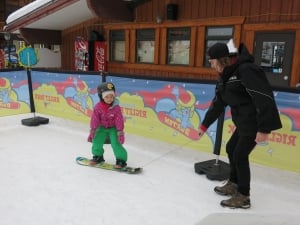 If you're wanting to get your little ripper onto a snowboard this year, head to the Rental Shop and ask about our Burton Riglet Snowboards. Our rental professionals can get them outfitted and our Winter Sports School instructors can provide top level instruction to get them started on the right edge. Riglet boards are intended for kids from age 3 and up, you can check out http://burtonriglet.com/ for more information.
7. Griz Kids Carnival
Saturday, March 12th is the Griz Kids Carnival! The plaza will be full of activities, games and entertainment that the whole family can enjoy. The best part of this carnival is that it's all free!
8. Weekend Clubs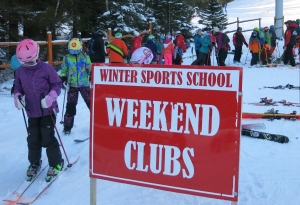 Keep the kids busy and improving their skills on the weekend. Starting February 20th and running every weekend for 6 weeks, these programs are designed for ages 3-18. They will be skiing or riding with kids around the same age and ability level, and will be with the same instructor every week. For more information and descriptions of the camps available: https://skifernie.com/rentals-lessons/telus-winter-sports-school/kids-clubs/

9. Kids Birthday Parties
Celebrate your birthday at Fernie Alpine Resort! Available Saturdays during night skiing, you get access to Slopeside Cafe, Deck and Fire Pit. $10 per Guest gets one slice of pizza, veggies and hot chocolate. For more information and to book, please contact Stacey at 250-430-7163 or [email protected]
10. Secret Kid's Area
If you turn left off of the Deer Chair and go down the Meadow run you'll find the Minute Maid Secret Kid's Entrance. Head into the trees and try to spot the mascots for all the RCR ski hills.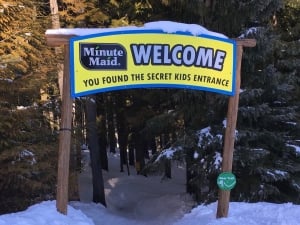 Written by Jordan Johnson
Photos: Vince Mo, Mark Eleven Photography, Jordan Johnson