Chasing Powder: The Dylan Siggers Story
Wednesday, 25 November 2015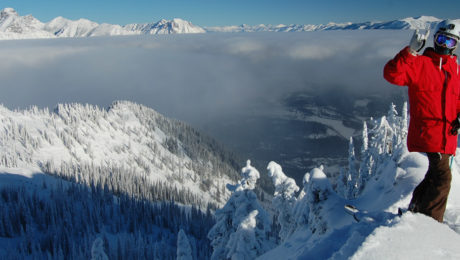 From grinders to Burlapzzz – not many people can brag about how awesome their life is like Dylan Siggers can (and trust us, he has rights).  Let us tell you why;
Dylan is what we refer to as a true Fernie local, meaning he is born in Fernie to parents who have been living here for some time (even though we technically don't consider them locals)!  Dylan's Dad, Robin Siggers made his discovery of Fernie Alpine Resort while powder seeking, coming from Vancouver, he settled in Fernie and never left.  Dylan, growing up in an incredibly outdoorsy mountain town, the adventure roots run deep in Dylan's blood.  In fact, Dylan's Dad – Robin, is the mountain operations manager at Fernie Alpine Resort, allowing him to fall in love with mountain biking and skiing in a way few can.
On top of absolutely mastering the art of skiing (and mountain biking), Dylan's passion is also in videography and photography.  Branching into this industry with his strong background in the sport has brought Dylan and his crew around the Powder Highway and the world in their efforts to snap the greatest images, put together the most adrenaline pumping videos – all while seeking the greatest powder they can find.
Check out one of Dylan's most popular ski videos 'Kootenay Influence Episode 5, with over 60,000 viewson the Fernie Youtube Channel.  His Dad, Robin, is also no stranger to producing viral videos, check out his most popular one with over 15,000 views First Run of the 2010 – 20111 Season also on Fernie's Youtube channel.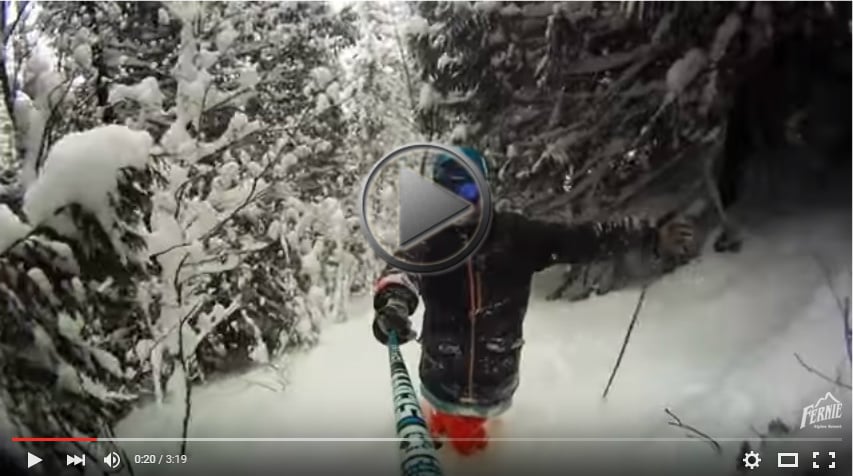 With Dylan's success filming in Fernie, B.C – his talents have expanded to Kicking Horse Mountain Resort, Kimberley Alpine Resort, Nakiska Ski Area as well as doing work for Biglines, Line Ski and more.
Burlapzzz, Dylan's most recent and more personal project focuses on having fun and has taken him and his 'coworkers' Josh & Brody Mcskimming to places across British Columbia and Canada with hopes of taking it even further (like the entire world!) and soon.
Not only an accomplished filmmaker, Dylan is in fact an amazing skier and community member – he's won multiple Freeski comps, most recently placing first in the signature Wrangle the Chute event at Kicking Horse in 2014.  His passion also runs deep within the community in Fernie, not only is he sponsored in his riding by many local businesses, he's also one of the main organizers of the Wam Bam Dirt Jump Jam an annual celebration of mountain biking and music combined into one awesome festival.
Check out more of Dylan's videos on his Vimeo Channel and stay tuned for more epic pow videos to come from him this winter!
Words by Cali Sammel
Feature Photo by Robin Siggers of Dylan Siggers
Fernie Bike Park Update #3 – Thou Shall Build It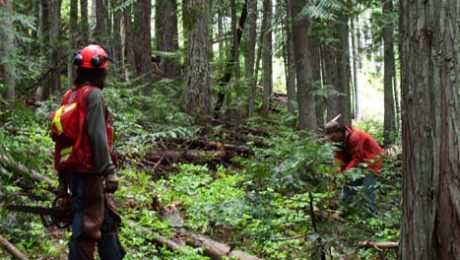 Bless me Bike Park for I have sinned, it has been one week since my last Trail Crew Confession. We have been bombarded this week with requests for the inside scoop on what has been happening in the Bike Park. It feels like a public flogging some days but I assure you, it is not sloth, we are just toiling away with our heads down, eyes on the prize only a short few days away. We are proud to say this will be the most legendary summer at Fernie Alpine Resort yet.
The Bike Crew set forth unto the mountain this week with a solid schedule of machine and hand work but our plans quickly changed. Unfortunately, we were plagued by machine issues and lost a few discouraging days waiting for parts.  Rising above our wrath, the time out enabled our crew to chase the Timber side snowline. Our alpine trails are usually out of consideration this early in the season as deep snowpack and heavy blow down can take weeks to mitigate. But, with newly found "free time", we headed up,  shovels and snow pants in hand. Discouragement soon turned to lusting about rousing these epic trails back to life from their winter sleep and we began digging. The drier sections received some detailed buffing, with most of our focus being on the middle section of Rumplestumpskin.  Looks like we will be able to offer TNT, Rumplestumpskin, and Bike Thief for the first time ever on opening weekend.
As we speak, the mini hoe is back in service and working in the rain to cut the last new stretch on Mr. Berms. What now looks like a swath of destruction will start coming together this week as hand crews move in to shape the lips and berms. A sneak peak at the new work left the Bike Team wiping drool from our dirt stained faces, lusting  on who will get  the first ride. We love a loamy single track descent here at Fernie Alpine Resort, but this new machine made trail will be manageable for less confident riders to access Eville and Honey Bee yet will still allow advanced riders to "flow and show" their way to base.
The crew has also been greedily fixing a few of our own personal arch nemesis sections of trail – confident that if it bugs us – it bugs you too. There is a small route change to the Deer Trail around a previously rooty and eroded fall line section. We continue to pick away at repairing some other tired sections of trails as well. Alternate Flight Pattern needed dirt work and root removal; there is new rock armoring additions in some chronic bomb holes; and the usual minor wood work repairs to old technical terrain features. As always, we are on a mission to ensure the trails at FAR are sustainable; able to handle high levels of traffic though out the dry season and, of course, ensuring your #ferniestoke meter is revving on high all season.
On another unusual, but very cool note, deep, late melting snow packs are holding  grizzly bears lower down in the valley than usual this time of year. It is hard not to be envious of them watching us from the ski runs, lazing in the hot summer sun, gorging their furry bellies on dandelions.  We are kicking it into high gear with just two weeks until opening day. Taking a lesson from these gluttonous bears as we too, fill our bellies and fuel our muscles for the final trail work assault.
Hopefully, our hard work this week is retribution for the lack of Bike Park updates and photo posts. We look forward to seeing your rejoicing dirty grins in BOTH our lift lines on June 28th, 2014. This mountain is our church, biking is our religion, and for all you fellow believers… welcome home.
Sincerely,
Your Fernie Alpine Resort Bike Crew
Fernie Bike Crew Update #2: Pedal Stroke Stoke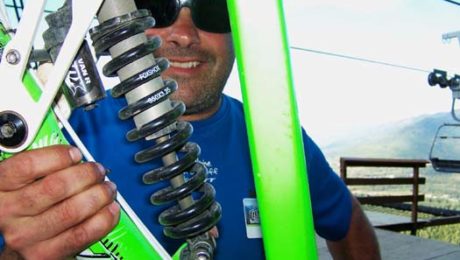 Another push of the pedal, another turn of the cranks, a well oiled chain, and the bike park gears keep going. Your FAR Bike Crew is ardently back in the saddle …spinning our wheels getting this place ready for another awesome opening day on June 28th, 2014. Like pro cyclists who spend years perfecting their pedal stroke, until all phases seamlessly blend together into a powerful semblance of efficient energy,  we too are just hitting our best stride.
Each season we draft behind the triumphs of previous summers, note and swerve around the mistakes, then charge forward in our Bike Crew peloton towards that famous "Legendary" acclamation. Our crew embarked on a not so glamorous 'drainage campaign' last year and the results have paid off. After a solid week of spring trail inspections, I am proud (and relieved) to say that things are looking pretty good out there. This translates into the ability for our team to hammer forward on some detailed maintenance we have been longing to complete and, furthermore, to add a few new projects our guests have been begging for.
With two weeks until the lifts start spinning, our preparation plan is as follows. Mr Berms has been totally rebuilt and moved into the newly gladed tree island under the Elk Chair. We have reduced the grade, added some flow, and look ahead to a much smoother, and more sustainable trail surface. There is an improved access from Mr. Berms over to Eville  and Honey Bee via the "Hurtin' Albertan" connection on Hornet. Further to that; we have built an entirely new trail from the Bear Chair load elevation to the base area (our crew is calling it Duff Dynasty but who knows if that yellow jersey will stick). In  addition, we have reworked Ben's Big Rig to mellow the fall away sections and improve the berm to berm rail-ability for those cruising with more speed. These upgrades will promote progression within our bike park and open up a whole new network of creative trail to trail connection options.
With this steady cadence, a solid pit crew of dedicated employees, and the co-operation of our best friend  –  Mother Nature, it looks like a clear race to the finish line. As tired muscles become the norm, hands thicken with calloused palms, and dirt tattooes into skin, we settle into our bike crew niche and keep pedaling to deliver your Legendary Summer 2014.
Sincerely,
Your Fernie Alpine Resort Bike Crew