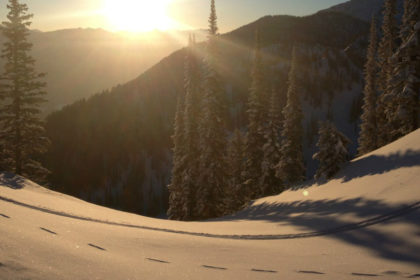 In Hollywood they say there's no business like show business, and in Fernie we say there's no business like snow business.  And when we say business, we mean business.  No matter what type of rider you are, we've put together a secret little list of tips for you to steal and use this season straight from the best source, our staff and locals.  So, steal this list and find places on the mountain to explore you might never have known existed, find some of the best scenery Fernie offers or cruise down the longest run for a relaxing ride down.  So pick up your trail map from the resort or download it from the Mountain Stats section on our website, find these runs and have the best day at Fernie of your life!
Morning Glory
#2 – Black
Morning Glory [in Siberia Bowl] has great morning light, a good pitch and nice tree spacing. Looking for those powder stashes and untouched spots on the mountain? Look no further than Morning Glory for the best chance!
Mama Bear or Papa Bear
#118, 119 – Double Black
For some of the most amazing view you can image, ride the Polar Peak lift (the newest lift at Fernie Alpine Resort) to the summit. Start above the clouds and descend to get to the sunshine, enjoy amazing view and ride a huge vertical on your way down. There are also 2 blue runs off Polar Peak – try Polar Coaster (#124) or Polar Circus (#125) for an easier way down.  As Powder Matt likes to say "this one works better than a strong cup of coffee to get that heart pounding fun going on!
Corner Pocket
#93 – Double Black
Mother Nature presented Fernie with an interesting problem at Corner Pocket. Corner Pocket (in Lizard Bowl) is a tight entrance to steep chutes, being a high wind area the snow was often blown away.  About 10 years ago, Fernie's ski patrol came up with an idea – tires!  Hauling tires across the mountain to this hidden spot one a time patrol finally was able to create a system to get to the steeps without ruining the bottom your of your skis.  Climbing here you'll find some of the best powder at the resort!
Sky Dive
#93 – Double Black
Currie Bowl, home to the popular Sky Dive run, is loved by the more extreme rider, drop into Currie for some of the best steeps on the mountain (but we didn't tell you that). "I love Currie bowl for many different reasons.  The famed Currie rope drop, the whole Concussion zone and Alpha Centari just to name a few.  But the main reason is it accesses the Big 3.  For me there is no better situation at Fernie Alpine Resort than being the first track down Skydive on a pow day.  Top to bottoming that beast is the best feeling in the world.  You definitely deserve some Griz Bar pints after picking off all 3!"
– Kieran Summers, Owner Giv'Er Shirtworks
Easter Bowl
#49 – Black
Arguably the favourite bowl at Fernie Alpine Resort, Lizard is great for the thrill seeker. Home to the locals' favourite area Easter Bowl, Lizard is also the location of the Headwall. "The lizard bowl is like falling for the girl in the hot miniskirt and realizing she's as kind as the girl next door"
– Tyler, Fernie Ski Patrol
Surprize and Shaky Acres
#98 – black, #13 – Blue
You'll be hard pressed to find a rider who doesn't love Surprize. Located in Timber Bowl, surprise is laden with challenging terrain coming in through the trees but also has some slightly easier and wide open spots (like Shaky Acres).  This bowl accommodates almost any skier/rider (plus you get to show off your skills for all those on the chairlift as you pass below) and everyone likes a show off, right?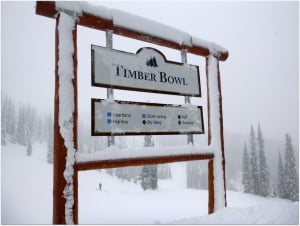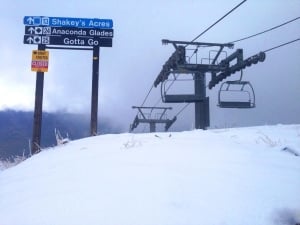 Snake Main & Glades
#82 & 82A – Black
Cedar Bowl is another local favourite with lots of natural rollers and fall lines, providing amazing vista's and views. End your day at the Snake Ridge area, where the snow is known to be some of the deepest at the resort.  Snake Ridge stays freshest the longest and you can get in some great long laps!
Need to look any of these spots up?  View and download our trail map online.
See you out here!