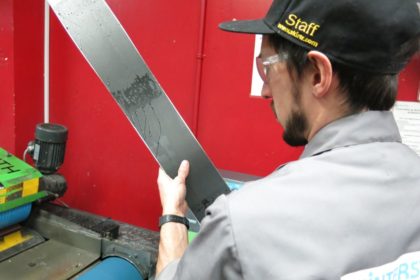 Your skis that is.
Kay, retail and rental manager here at Fernie Alpine Resort gives us some advice: It's recommended you wax your skis every 5 or 6 times out.   The reason being the base of your ski is very porous (similar to your skin) with lotion (wax) you'll have a better running surface.  This will allow for increased glide over all snow conditions, less leg fatigue and increased speed.  The layer of water that is created by the friction between your skis and the snow will wick away from the base of your skis and not get absorbed into the base thus allowing for better glide (even when you're skiing powder).
Remember the base of your skis is just like your skin, when it's dry you take care of this by putting on lotion.  Hot waxing is the lotion for your skis!
Our Professional tech's at the ski resorts will be able to take care of this for all of our guests, find them in the Repair area located in the Rental Shop in the base area at Fernie Alpine Resort. Just print off a coupon from the Member Benefits website and redeem it at the resort.
Don't forget – if you're a season passholder use this member benefit to get a free tune up – 'Buy 2 Get 1 Free – buy 3 full tune ups for the price of 2, includes edge base and side, stone grind, Ptex and hot wax'.  Just show your season pass to take advantage of this benefit!
Find out more about why to wax your skis and what a tune up entails on our YouTube channel (plus find out what the fancy machine behind Harry is used for too).