Snow? Yep. Real Mountain Town? Check. Powder Alert? YES!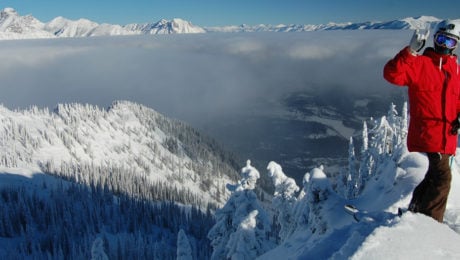 Words by: Andrew Findlay
Photos by: Robin Siggers & Fernie Alpine Resort
Published: March 15, 2015
Robin Siggers discovered Fernie some three decades ago long before someone conjured up that delicious sounding term Powder Highway. The Vancouver boy never left. It's a Thursday afternoon, and I'm following Siggers as he drops into Corner Pocket, a spicy little couloir that squeezes into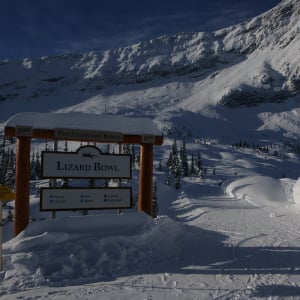 wide open Lizard Bowl, one of five bowls at Fernie Alpine Resort. The couloir features a fixed rope allowing people to hand line down the steep, often wind polished entrance that always gets the adrenaline pumping. Siggers goes first. He holds the rope, does a side slipping abseil to where the chute opens up. He releases the rope and after a trio of tight jump turns, exits the couloir then waits for me in the lee of a vertical limestone cliff that trims the bowl. This guy clearly loves skiing. As operations manager he probably bags more days on snow than an airline pilot logs time in the air. He loves skiing so much, that he's out here today, on his day off, shredding like a 25 year old with a bunch of visiting writers.
For the already initiated, the Powder Highway needs no introduction. For the uninitiated, think of it as the place in British Columbia where you go to realize your skiing dreams, where the terms steep and deep are more than just platitudes on a brochure or website – they're real, very real. Nature pays special attention to this corner of BC, a province already blessed from a snow sports perspective. As winter weather fronts march east from the Pacific Ocean, they discharge moisture on the rugged Coast Range. By the time these systems hit the Columbia Mountains and western slope of the Rockies, they have recharged with moisture from interior lakes. Snow falls again, this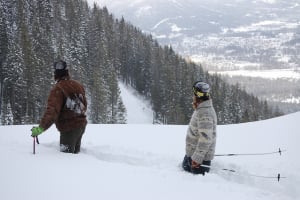 time in dreamy, fluffy, feather-light quantities. There are no guarantees; it's weather after all, but the odds are on your side when you travel the Powder Highway. The ridiculous variety and concentration of world class destination resort, cat, backcountry lodge and heli skiing operations is a testament to the riches. Skiers are smart this way. Like Robin Siggers, they go to where the goods are. You've probably heard about the Powder Highway, and it's now lodged in your brain. It won't go away, so it's time to act. Consider Fernie Alpine Resort and Kicking Horse Mountain Resort the southern and northern bookends to your Powder Highway road trip. Fernie overlooks the charming town of the same name, tucked into the Lizard Range, a magical piece of geology that puts the lie to the claim that it never really snows in the Canadian Rockies. Here, where the craggy Lizard Range sits perpendicular to the normal north-south axis of the Rockies, intensely local weather systems re-circulate over the mountains often dumping coastal quantities of snow on the resort's array of wide open bowls, chutes and long meandering tree runs. By the time, you've zig zagged your way up Kootenay back roads and Columbia Mountain valleys, legs feeling fit and acclimatized to Powder Highway vertical, you'll arrive on the western side of the Rocky Mountain Trench at Kicking Horse Resort. This is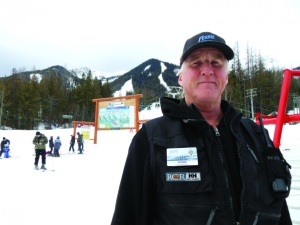 where you'll get your game on – again. As you ride up the Golden Eagle Express gondola your eyes will scan the bony ridges that cut the Dogtooth Range, and divide the Kicking Horse into four main zones of downhill fun. Top to bottoms at Kicking Horse are legendary. Stack a few of these 1,260 meter vertical back-to-back and you'll have no problem sitting at the Eagle's Eye restaurant and tucking into a lunch of Elk Bourguignon or some good old Alberta beef. Or perhaps you'll make dinner reservations at this peerless mountain-top dining room. You'll watch the moonrise, and the first stars twinkle over the surrounding peaks. Or perhaps snowflakes falling in the amber glow of the outdoor lights. You'll dream of the Powder Highway and when you'll come back. Once experienced, never forgotten. Just ask Robin Siggers.