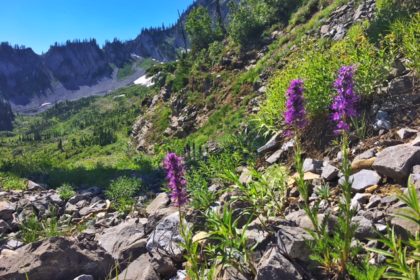 Considered by many of our staff to be the hidden gem of the resort, the Skeleton Flats / Summer Road loop takes hikers on a 4km loop through the stunning Lizard Bowl.
Beginning on the Summer Road trail at the top of the Elk Chair, hikers steadily climb (16% grade, 345 m elevation gain) a wide road with panoramic views of the city of Fernie and surrounding peaks before reaching the Lizard Bowl Observation Deck. Interpretive signs line the viewing platform and explain some of the historic features of the area.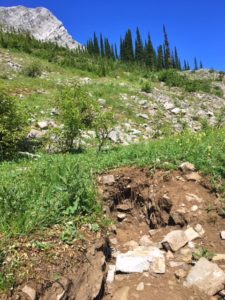 Continuing further up trail, hikers will make two scenic road switchbacks before reaching a trail junction. From this point, hikers may choose to either ascend via the Skeleton Flats trail (and descend the Summer Road at the end of the hike) or continue up the Summer Road and complete the loop in reverse down the Skeleton Flats trail. Both options are equally as rewarding. The Skeleton Flats trail climbs through the Dancer avalanche path to reach a stunning sub-alpine meadow exploding with wildflowers. Of interesting note are large timber debris piles and trees which have been broken or become bent over as a result of powerful winter avalanches. Hikers may notice the large 'caves' or sinkholes, many of which have been filed in with large boulders for safety. These are formed by the easily dissolveable limestone rock which make up the Lizard Range, known as Karst topography.
The trail then begins its traverse across the top of the Lizard Bowl. Keep your eyes on the rocky headwalls for white mountain goats, as they are often spotted here! As you approach the Bear Chair unload, a marked Fossil Zone presents an exceptional rock wall, hosting a variety of ancient sea floor life fossils.
The top of the Bear Chairlift marks the junction with the Summer Road trail and the descent back down to the Elk Chair. Moose, bears, deer, ground squirrels, and even badgers can often be viewed here. Be sure to stop by the Nature Bob's Interpretive Centre located at the top of the Elk Chair to learn more about the flora, fauna, and fossils that make Fernie unique or to discover more hiking options at the resort.
Blog & Photos by Nicole Matei