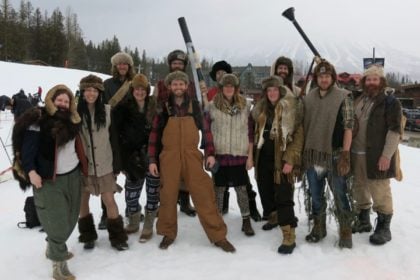 What does it take to crown an Extreme Griz? Come find out on March 4 when competitors flex their manly – or womanly – mountain muscle. This legendary event kicks off at 11 a.m. with a hearty pancake eating competition at Station Square in Fernie. 
From 12:30 to 3:30 p.m. at Fernie Alpine Resort, competitors will prove their skills with entertaining mountain games at the base of the resort. While events like axe throwing will have competitors throwing a double sided axe at a wooden target, it's about more than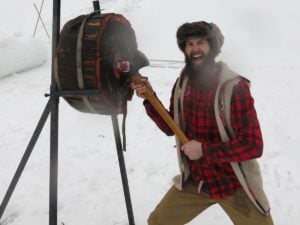 strength and skill. Extreme Griz King and Queen prospects will also be judged based on their ensemble, so the more mountain-esque their appearance, the better!
The Extreme Griz is crowned at Fernie's Station Square at 4:30 p.m., and participants are invited to walk Fernie's history 2nd Avenue amidst the Griz Days Parade celebrations at 5:30 p.m.
Everyone 19+ is invited to enter the Extreme Griz competition. The event is $10 to enter and sign up is required as spaces are limited. Contestants should be available on the evening of Friday, March 3, for an hour around 8:30 p.m. and need to be available on Saturday, March 4, from 11 a.m. to 6 p.m.
To register for the Extreme Griz competition click here.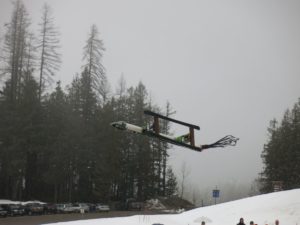 The final event of Griz Days is the Dummy Downhill where decorated "dummies" will dash downhill to delightful destruction on March 5th at Fernie Alpine Resort. A "dummy" for this event is a built structure on skis, it can be anything from a wooden rocket ship to the 45th President of the USA, the sky and your imagination are the limit. That said, we do have some rules to keep the competition fair, fun and safe so be sure to read the rules before you build!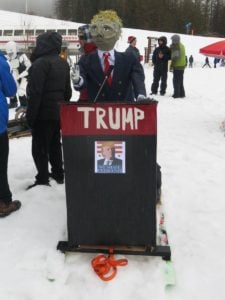 The annual event is a fundraiser for the Canadian Cancer Society where participants build their very own "dummy"   and send them sliding down the slope beside the Timber Chair and off of a large jump. The air time is almost as good as the carnage factor when these dummies land.
This is a highlight event of the year and is an ideal event for the whole family to participate in or watch. The area is easily accessible by foot and does not require a lift pass. The first "dummy" will be sent at 1 p.m. but be sure to come early to ensure a good viewing spot!
To register for the Dummy Downhill take the jump here. 
Blog: Bryn Catton, Pictures: Jordan Johnson