Articles about Fernie and Fernie Alpine Resort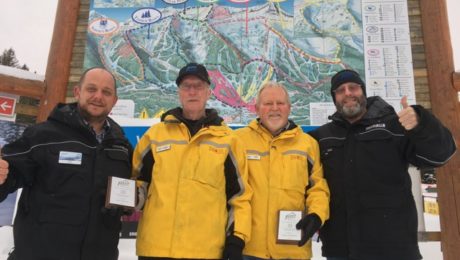 Fernie Alpine Resort was proud to honour 3 of our dedicated Mountain Hosts with long-term service awards this past winter.  Glenn Sedgwick, Lyall Mahan and Wally Pfeifer have been 3 of the friendly faces that have been welcoming and assisting our guests for the past 25 years.  Thank you from the bottom of our hearts and congratulations to Glenn, Lyall and Wally!
Meet our amazing volunteers, who are out there in all weather conditions helping visitors to enjoy their mountain experience to its fullest!
GLENN SEDGWICK
"We moved to Fernie in 1989 as a result of a 3 year loan assignment from the Calgary Imperial Oil office to Byron Creek Collieries. Like so many others we loved Fernie so much we decided to stay here and raise our boys. Skiing and the outdoors was a great attraction for us, so in 1991 I joined the Volunteer Ski Patrol (CSPS) at the Fernie ski hill, then known as Fernie Snow Valley. Things have changed a lot since those early days. The ski hill consisted of only the Lizard and Cedar Bowls. The pro-patrol was small, about 6 people and the CSPS were responsible for the majority of the first aid work on the weekends. The Bear T-bar and Facelift serviced the upper mountain. The only way out of Cedar bowl was Cedar trail. During this period I also coached minor hockey and baseball. My wife Jeanette was enjoying the Fernie Host program, so in early 2000's I joined too. I enjoyed touring and helping guests and proudly showing off our great mountain. I still love being a host, meeting and greeting people and enjoying the comradery of the host crew and it provides a break from my normal day job. It is great to get out of the house, enjoy the fresh air and get a little exercise. Maybe once retirement kicks in, I will be able to spend more time on this great mountain. "
LYALL MAHAN
"I originally came from the Saskatchewan flatland (Melfort), served 10 years with the Canadian Air Force, and then moved to Hinton, Alberta. While living in Hinton I was introduced to skiing at Marmot Basin. We moved to Fernie in 1981 but I didn't take skiing seriously until I retired from Shell's Line Creek mine. Retirement was cut short when Heiko Socher recruited me to do maintenance at the Griz Inn Hotel. This ski environment jump started my enthusiasm for skiing. Volunteering as a ski ambassador while at the hotel and with the Mountain Host program has been a rewarding experience as I enjoy promoting our ski hill to guests from around the world. "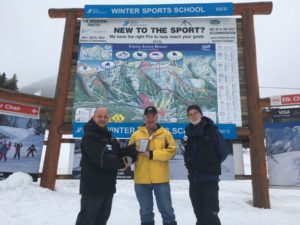 WALLY PFEIFER
"I moved to the quaint little town of Fernie in May 1979. Before moving to Fernie, I merely skied a couple times, skiing behind a ski-doo on cross-country skis.
I seriously started to downhill ski when the three daughters were fairly young (ages 7 to 9 years old) when they joined the Nancy Greene Program which was in the mid-80's. Around about the same time, I also joined the Mine Rescue at Westar Mining where I worked. In 1990, I joined the Canadian Ski Patrol Program. In that first weekend of Ski Patrol, I administered more first-aid than I had done in five years on the Mine Rescue Program at the mine. I continued with the Patrol Program until 1997 which credited me with 7 years of volunteering with them.
The following winter I joined the ski-host pro-gram & presently am still a ski-host. My 25 years of volunteering seemed to have gone by way too fast. The glory years of ski-hosting was when we inter-acted with the guest by giving them 4 hours of touring the mountain; 2 hours in the morning on the old side of the mountain and 2 hours on the new side of the mountain in the afternoon. You knew when you did a good job when you seen all the smiles on the guest's faces. Many of the toured guests came back year after year, became friends and some even retired and moved here. And, now some of them are the ski-hosts.
I will continue with the ski-host program well into the future. Now, I am the Duty Host for our Thursday Group. Come and say Hi. Thanks!"