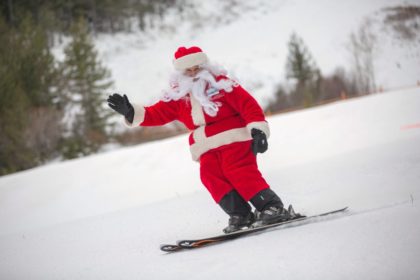 Fernie is a winter wonderland in more ways than one this holiday season! Sure, there's the legendary annual snowfall and seemingly unlimited terrain but there are also many cheer-filled events coming to the resort just in time for the holidays.
There's nothing quite like an old-school scenic sleigh ride to make you feel jolly. With friendly horses and a comfy sleigh that winds through the majestic forests surrounding Fernie Alpine Resort, this is a sure-fire way to get you into the Christmas spirit. From December 21 to January 5, sleigh rides will be running daily between 12 and 7 p.m. for $15 a person. If a private evening sleigh ride is more your speed, then group bookings can be made at Guest Services for groups of up to 11 people. This blissful and relaxing outdoor activity is a great way to kickoff the holidays.
And the fun most certainly doesn't stop there. Saint Nick himself will be making a special visit to Fernie Alpine Resort for two days on December 23 and 24. He heard how great the skiing is and couldn't resist a last minute stopover in Fernie before his big night. You can hit the slopes with Santa between 10 a.m. and noon and then head into the daylodge to tell the man in the jolly red suit your wishlist as you pose for a photo. He'll be in the daylodge until 2 p.m. so you can be sure to snag a photo either the traditional way or in our new Santa photo booth! Elves will be on hand to email the pictures free of charge.
This holiday season is jam-packed with particularly fun activities for the little ones (aged 6-12). The Griz Kidz Holiday Program will keep the kids busy and give the parents some time to get the Christmas shopping done!  The activities cost $5 per child but you can book any five Griz Kidz activities for only $20. One of those could be the Crafty Kidz nights on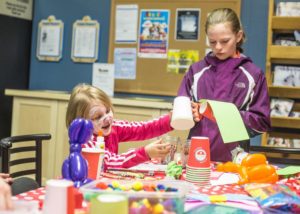 December 22 and January 1 where parents can drop the little rippers off for some supervised craft time. Another could be building gingerbread houses on December 27 or even the mini carnival on the 29th. If you've got an aspiring snowboarder in the family, you don't want to miss the Burton Riglet Snowboard Demo on Boxing Day. With a costume party on January 2, cooking night on January 3 and a games night on the 5th, your little tyke will have plenty to keep them occupied over the school break. All Griz Kids holiday events run from 6:30 to 8 p.m. and registration can be done through Guest Services.
Another way to keep the kids busy this holiday season is with the Kids Christmas Ski & Board Camp. For only $269, kids from ages 6-12 and of all riding abilities will get three full days of on-mountain instruction from our expert instructors. The camp runs from December 26-29 and will focus on skill development, guided discovery of the mountain and of course, fun! Contact the Winter Sports School to sign up today.
For starry fun for all ages, hit up the Mighty Moose for a moonlit ski on December 23 and 24 as well as from December 26 to January 6 between 4-9 p.m. Bring the whole family out for some evening turns on the Mighty Moose and remember, your day pass is valid for night skiing as well! Otherwise, tickets can be purchased for $19.95 plus tax for adults and free for everyone under 17 years old. This is a great way to get all that you can out of your day pass and is especially great if you're just not ready to stop riding at 4 o'clock!
Finally, one the most exciting nights of the year is celebrated across the globe and Fernie is no exception! New Years Eve is a chance to start-over, make some changes, or just continue living the great life that you do. Either way, we want to celebrate another year of awesomeness with you! Bring the whole family down to our New Years Eve party to enjoy a number of free and fun activities. Everything kicks off at 7 p.m. with arts and crafts, a photo booth and more in the plaza area. The night culminates with a dazzling display of fireworks over the Mighty Moose at 9 p.m. If you parents out there aren't quite ready to end your night off so early, drop the kiddies off at the Griz Kidz New Years Eve party, but remember to sign up first.
Little Griz Kidz will have a pizza party, dancing, games, snacks, fireworks, and a movie (with popcorn, of course) just for them on New Years Eve at the Griz Kidz New Years Eve Party. This particular party is a paid event and requires pre-registration at Guest Services so make sure to book your spot! Kids 6 and up are invited to this fully supervised event, with two different options. Drop the kids off early (6 p.m.) or attend the family party together and then drop them off a little later (9:30 p.m.). The professional staff will keep your children safe and happy until 12:30 a.m. so you can ring in the New Year in style!
So, like we said, there are tons of events to help you get in the Christmas spirit at Fernie Alpine Resort this year. We hope to see you on the slopes!