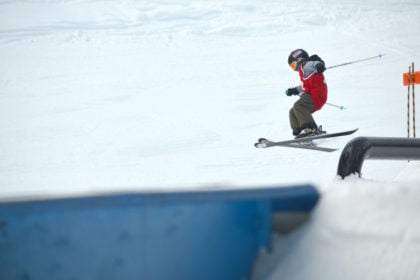 What a perfect day for ripping, slipping, sliding and jumping yesterday was! With warm temperatures and rays of sunshine peeking through the trees and bathing the competitors and spectators of the Raging Elk Kinky Rail Jam in its glow, the day was truly fully-charged.
The action got started just after 11am in the Fernie Alpine Resort Terrain Park, with competitors between the ages of six and "too old to say" hitting six different features, including various boxes and rails. Between their runs, competitors cheered each other on, waved at the chairlift riders dangling above them or used their skis and poles to play air guitar and drums to the pounding beats.
Spirits were running high and competitors were bristling with electric energy as they gave their all on each of the features. We saw tricks ranging in creativity and success and the judges were impressed by all. Skiers reigned supreme in this year's event, with only one snowboarding competitor, Emily Park.
Emily took home a win in the snowboard category as well as in best trick on a snowboard!
It was a bit more of a tricky decision for the judges in the skier categories but after much debating, they chose their winners:
In the Girls Ski category, we saw Amy Shipley take the gold with Nell (The Nellinator) in second place and Ivy Wright hot on her tail in third.
Jack Nash was the winner of the Boys U10 Ski category although Adam Holub and Jake Weyman put up a good fight, coming in second and third respectively.
For the Boys 10-15 Skiers, Parker Kennedy nabbed the top spot with Charlie Nash right behind him in second place. Another Charlie (Domareski) took third place, rounding out the trio.
The tricks got bigger and wilder as we moved up the ranks and the Boys 15 and Over Ski category truly impressed. Lucas Reid and his stylish moves got him a first place finish, with Marten Hammarstrom coming in second place and Carter Murray in third.  
Perhaps one of the most entertaining runs of the day was the final lap through the park for Best Trick! Competitors pulled out all the stops, got really creative and had one last run to show off their flashiest trick. There was spins and turns and one-legged wobbling, all resulting in a very entertaining and impressive show.
Ivy Wright took another win with best trick for girls, while the youngest competitor Theo Favreau got best trick for the younger boys. Charlie Nash wowed the judges and took the best trick for mid-age boys and Carter Murray can now brag he's got the best trick on the mountain of the older boys!
All in all, the day was a raging success! And speaking of raging, let's give a huge shout-out to our title sponsor: Raging Elk Hostel! We couldn't have done it without you guys <3