Fernie and Fernie Alpine Resort Winter Season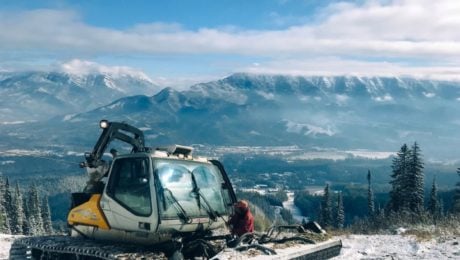 Did you know that in the summer, we have a whole team of people dedicated to preparing our skiable terrain for winter? We call them the Saw & Brush Crew and this year, the stars aligned, and they were able to take the resorts 'haircut' to a whole new level. The early season conditions will be incredible (what alders!?) and some of our most loved runs on the mountain, think Boom, Buck-shot, Suprize and Black Cloud will offer you a very different (FUN!) ski/ride experience.
The most significant change is thanks to the FrankenCat! That's what we call the new mower-cat that was created here at Fernie Alpine Resort. Our Vehicle Maintenace Crew have outdone themselves by constructing a machine that can tackle terrain that was previously unattainable.
Blair and Alina (our grooming/mower-cat extraordinaires) were able to cut every inch of mowable terrain across all 5 of our bowls. In fact, thanks to the use of a winch, they were able to access very steep terrain that has never been mowed before (see below for a HUGE list of what runs were mowed). This is exciting news! If you combine that with the work that our saw and brush crew completed over the summer (see more here), the alders didn't stand a chance. Our early season conditions are set up to be some of the best yet!
Mowing timeline over the years:
1987 – The first (recorded) mowing was in the Fernie Snow Valley days, by Fernie legend, and previous owner, Heiko Socher. They used a European hand mower (walk behind) to mow the Lizard and Elk runs.
1988 – We upgraded to a John Deere 350 Dozer with an attached ditch mower
1993 – We moved onto a bigger Dozer, John Deere 550 while using the same ditch mower
1996 – We changed to a Bush Hog Mower
2007 – The BR-350 #19 snowcat was converted to a mower with a mulcher on the front and fitted with a Winch on the back
2019 – Cat #19 BR350 and cat #33 BR350 were combined to create 'FrankenCat'. It was fitted out with a THC Cancela TTH-350 Hydraulic mower. The #33 cat has been part of the FAR grooming fleet as a winch cat since the 15/16 season. This machine was a favourite for many of the operators in the Grooming department.
The #19 snowcat is a special machine to us as it was the first BR350 that Fernie added to their grooming fleet, and also the first BR350 with a winch. This machine even borrowed by Lake Louise for the FIS Alpine World Cup!
The creation of the FrankenCat has allowed us to make our terrain even better, and a huge credit is owed to the Vehicle Maintenance Mechanics and Jeff's entire team, who worked incredibly hard to make all of this happen for the Resort.
Another cool fun fact: Tim, who joined the Mechanical staff in April after many years of dreaming of being a mechanic at the ski hill, was assigned to work on FrankenCat as his first major project. FrankenCat was the first Groomer that he has worked on. Shane provided a ton of guidance during this project; Dan and Rob also had the lovely task of replacing the hammers inside the mower (which was not an easy job). The new hammers cut the alders like a Samurai sword.
Let's hear it for the Shop Crew, Blair and Alina! Give them some yee haa's when you're cruising down Sib Ridge in the early season.
Runs that have been mowed:
Meadow
Silver Fox
Incline
Bambi
Downhill
Lower Bear
Elk
Emily's
Lower Cruiser
China Mite
Tuck Out
Lower North Ridge
Ballet
Lower Ballet
Lizard
Bear
Lower Kodiak
Bear Cub
Lower Linda's
North Ridge – winch
Upper Kodiak – winch
Bear Right
Bear – winch
Bear Ridge
Upper North Ridge – winch
Siberia Ridge – winch
Wallaby
Deer
Silk Trail – XC Short Loop
Lower Boom
Gilmar Trail
Upper Falling Star
Runs that were cut by the Saw & Brush Crew:
Sunnyside
Bomb Drop (upper Cedar Bowl)
Boomerang
Deep Space
Buck Shot
Upper Suprize
Lower Suprize
Stag Leap – up to Megasaurus
Decline – up to Megasaurus
Skydive – up to Megasaurus
Griz Lift line (in between China Wall and Ballet)
Incline Trail
Timber Lift line above Rock Landing to White Pass load
Black Cloud
Deep Sea
Currie Chutes
China Wall
Upper Puff