Matt Coté is a writer and editor who's spent nearly two decades continually mesmerized by British Columbia's peaks and people.
Tuesday, 22 September 2020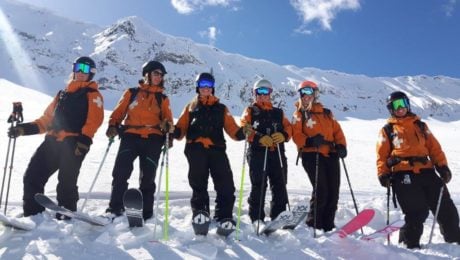 If you grew up skiing on tall, imposing mountains where sliding the upper reaches was your childhood dream, there was likely no more a mystical a character to you than the ski patroller. Effortlessly moving through the wildest terrain, rescuing anyone who gets in over their head, and safely bringing down avalanches, the ski patroller is the apex beast of the mountain hierarchy. The job is one of prestige, skill, and authority. It also used to exclusively be the dominion of men, but times have changed. At Fernie Alpine Resort, those stalwart soldiers of the slopes are increasingly women, and they're some of the strongest and most talented patrollers in the history of the mountain.
We rounded up four of the ladies keeping Fernie Alpine Resort safe this winter so you can know just a few of the folks who've got your back out there. Don't forget to tip your toque.
Megan Kelly
Megan's going into her 14th season at Fernie. These days she's the assistant ski patrol director, but she started at the bottom of the ranks right out of university. Originally from Ottawa, when she was 20 she gave up nursing school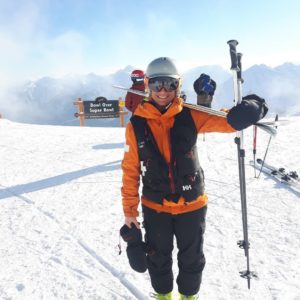 and instead entered the Mountain Adventure Skills Training program at College of the Rockies (which has a campus in Fernie), and then graduated through Thompson Rivers University.
"Something like 15 ski patrollers in the last 13 years have come from that program," she says. "It's a big feeder for us."
She was drawn to patrolling by the outdoor environment and the ongoing challenge of it. She loves long ski tours and the dynamic of the backcountry, and those are elements of her work now. She says one of the tricks of being on patrol is managing the seasonality of it, but Megan did so for years by working as a hiking guide in the summer. Other patrollers pair the job with a trade like being a carpenter or electrician, but Megan works year round at the resort now.
"I worked my way up for 10 years," she says, "through the levels. We have level one, level two, level three, level four, and I kind of got stalled out at level four. Above that, you go into forecasting or management, and I knew I wanted to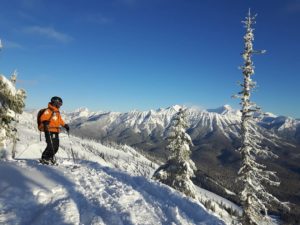 go the management way. So in about year 10, our patrol director at the time stepped down and I interviewed for assistant director, and got the job."
One of the other benefits of being a level-four patroller is she can have an avalanche rescue dog now, too. Hers is named Mogul and is a central part of the team. To keep things balanced off slope, Megan also teaches dance classes and volunteers for Search and Rescue. But the number one thing she wants people to know about the job is it's more than that, it's actually a life.
Justine Cowitz
At 25, Justine is one of the younger patrollers on the team. But she's a veteran on skis, having earned her chops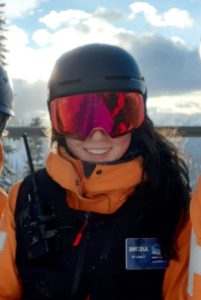 racing right underneath FIS level throughout her youth. Because Fernie hires patrollers through ski tryouts, she was top of the recruits list with her standout technical abilities on snow.
"I always knew that I wanted to be on patrol," she remembers, having grown up in nearby Calgary. "But for a good period of time I put it out of my brain. When I was a kid on the lift there was some old guy that took me up the chair because I couldn't put the bar down. I said, 'Being a patroller would be so cool one day, you get to throw dynamite and ski fresh snow.' He said, 'Yeah, if you want a career flipping signs it's for you, but it's an old boys club and you'll never throw an explosive.' And I truly believed that for a very long time."
That is, until she tried out, made it, and then was absorbed into a community of mentors who gladly helped her get all the certifications. The attitude at Fernie is to hire the right attitude; the rest of the skills can be taught, and Justine's picked up hers in a hurry.
"I have definitely thrown a lot of explosives," she says laughing.
It's not something she thought her degree in biology and statistics would ever lead to, but now her dream job's got her thinking more about becoming an avalanche forecaster.
Connie Henderson
Connie was born in Scotland, grew up in New Zealand, where she skied on Mount Ruapehu until she was 12, then her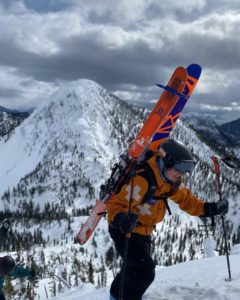 family moved to Vernon, B.C.
"As soon as I was done high school I moved back to New Zealand for a season," she says, "then Fernie."
She was 18 at the time. She spent a season teaching skiing, but found it wasn't for her. So she tried out for patrol, too. With a background in racing and freestyle, her skiing turned heads right away. It's not surprising given she'd also just finished 9th in North America for her category in the qualifier competitions for the Freeride World Tour (FWT).
Landing a patrol job seemed like just as big a challenge, but she nailed it.
"I always put the patrol at Fernie as idols," she explains. "It always seemed like a dream job to make avalanches happen and get to ski fresh snow and help people enjoy the mountain."
After just one season, she's still blown away at the support she's found since she made the cut. "Everyone wants you to succeed," she says excited.
And while she wants to continue competing in FWT qualifier events, she also wants to keep learning on the job, and the two skill sets seem to go really well together.
"I'd say managing emotions and your tiredness is the biggest thing I learned on patrol," she says. "There were times when I was really tired and had to be able to keep that under control and work through it. Obviously all the avalanche stuff and the science and the shot placement and route finding, too. After that, I found I was able to look at lines differently. A big thing with the FWT is you have to pick your line from the bottom. Now I can find contours or different lines that I wouldn't have thought of."
Olivia Johnson
Also originally from Calgary, 28-year-old Olivia started out in nursing school, too, but managed to finish her degree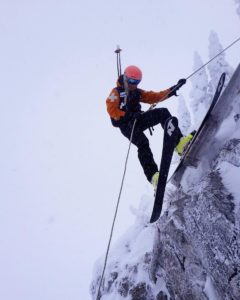 in Montreal before the mountains stole her away from the city.
"I honestly thought when I graduated university I'd move back to Calgary, become a nurse, live the city life weekend-warrior type of thing," she remembers. "But I have these five crazy uncles on my mom's side that were volunteer patrollers at Sunshine and Norquay in the '70s and '80s. They had the craziest stories ever when I was a kid and it sounded like a hilarious thing to do for a season. I graduated from university, went travelling and did a winter season in Wanaka, New Zealand, and really wanted to come back do a ski-bum year. One season turned into four, and ongoing."
Along the way she also found her way onto the patrol team, where she says she immediately found her people and her place in the world.
"Most of us could not hold down a nine-to-five office job even if our lives depended on it. We're all too high energy," she jokes.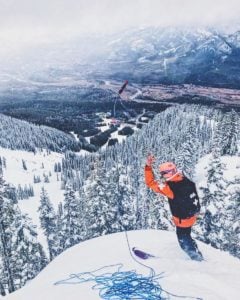 Like Megan, she also works year-round at Fernie, spending her summers in the bike park. Her training as a nurse has helped her adapt to some of the more demanding rigours of the job, but being outside and working with likeminded people is what compels her to stay. She's also become enthralled with the dynamics of avalanches.
"Now that I've been here long enough, I've started to do a lot of the Canadian Avalanche Association courses. I've fallen in love with the snow science side of the job. It's pretty cool making avalanches. Watching everyone ski powder all day because you've made the resort safe is a pretty awesome feeling. I work with a bunch yahoos, but I wouldn't have it any other way. Everyone I work with is so fun and super welcoming. I feel like I could trust any one of them with my life, which is what you actually have to do."