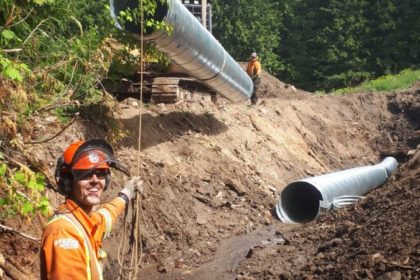 If you follow us on any of our social media platforms, then you will see all that our Resort has to offer through the summer and winter months. What you don't always see is all of the work that goes in behind the scenes to make it happen.
We have a lot of Crews – Trail Crew, Bike Trail Crew, Lift Ops Crew, Lift Maintenance Crew, Saw Crew, Brush Crew, Shop Crew, Patrol Crew – who all work together through the summer and fall to make it all come together.
This summer, our Trail Crew, who are the Swiss Army Knife of employees (they can do anything that's needed on the mountain), have replaced the old wooden culverts with sparkly (👈 my word, not theirs 😉) new ones.
HISTORY LESSON – Back in the '80s, to make a culvert the Trail Crew used their only machine, the skidder.  They would find a couple of the huge old Larch trees (24″-36″ diameter) that were lying around in the forest and lay those along either side of the creek.
They would then place timber – mostly from Cedar trees (12″-16″ diameter) – across the Larch to cover the creek. They had a gin pole rigged on the back of the skidder so that they could pick the trees up and back them into place.
Along with a peavy, and some brute force, they could build a bridge over the creeks that would then be buried with dirt. Most of these culverts lasted about 30 years before the top logs began to fail.
That brings us to this past summer; it was noticed that the culvert near the Boom Chair was starting to fail, so our team went in, dug the whole section up, and replaced it with a new one. No trees were harmed in the making of this culvert.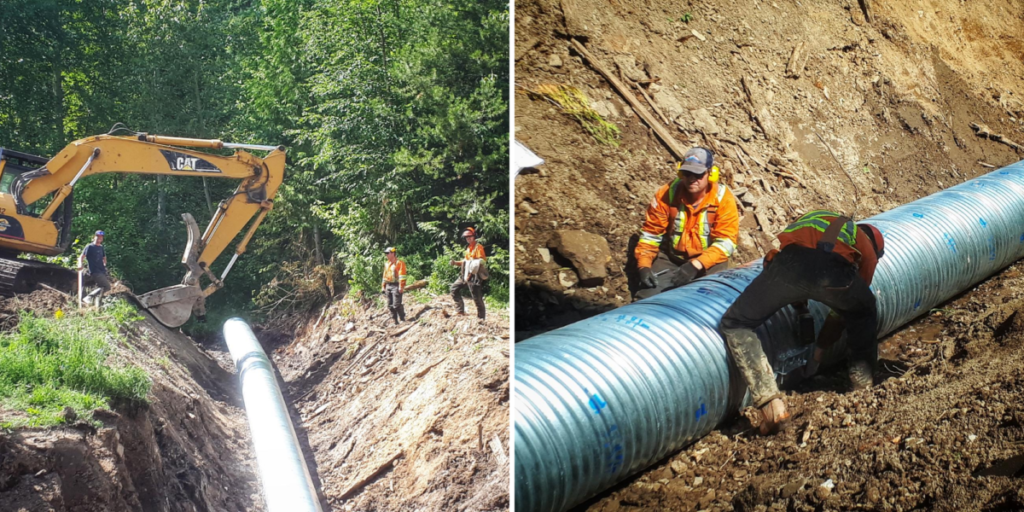 One of the biggest changes happening at the resort is going down in lower Currie Bowl. This past spring, May 31st to be exact, we had very heavy rainfall that followed some very hot weather, and a consequential mudslide in Currie Bowl. As the debris flowed down, it damaged and plugged multiple culverts. Our Trail Crew, along with assistance from Fiorentino Bros and Ground Tech Engineering were able to get in there to repair the culverts.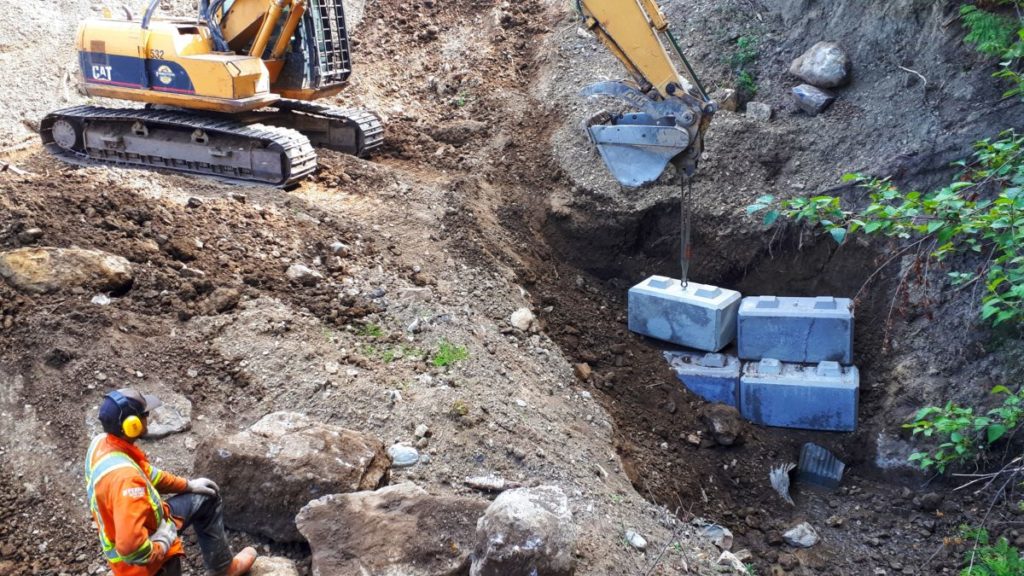 Turning adversity into improvements, the spring mudslide remediation enabled us to improve the exit from Currie Bowl and widen the Gilmar trail.
As we move closer to winter, we will continue to bring you updates from around the resort, and the work that goes in before we can open our doors lifts.