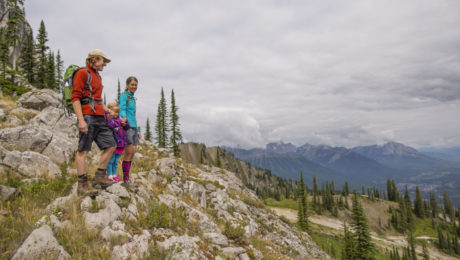 For Immediate Release: June 8th, 2017 
Fernie Alpine Resort to open on June 24th with Extended Summer Hours
Fernie, BC – Summer is here, it's time to get outdoors and enjoy mountains of fun (and sun).  Especially exciting this year is the extended summer hours (stay tuned for more information).
New highlights for the summer;
– NEW Weekly Activities
Working with Lizard Creek Lodge, there's a whole new weekly activity list to enjoy a Fernie Alpine Resort activity and follow it up with a meal at Cirque Restaurant in Lizard Creek Lodge, activities include Forage & Feast Tuesdays, Yoga on Saturdays, Kids Natures Hike & BBQ on Saturdays and Birding and Breakfast on Sundays.
– NEW Specialty Hikes
Adding a theme to each hike, sign up for the one that interests you and your family the most!  Specialty hikes start on July 2nd, see our website or Facebook events page for the themes and other dates.
– NEW Peak to Park to Pint
Join us for a fun day of biking!  Starting on the mountain at Fernie Alpine Resort, cruising downhill to Mt Fernie Provincial Park and then pedaling through town to enjoy hard-earned East Kootenay brewed beer samples.  Includes guiding, lift ticket, and post ride sampler drinks.  Guests then have the option to take our complimentary shuttle back to the resort.  Minimum 2 participants.
– Lift Accessed Mountain Top Camping – First in North America
An epic camping experience in British Columbia, the first of its kind in North America, awaits you! Sleep among the stars and wake up to spectacular alpine views near the top of the Timber Chair and Fernie's famous mountaintop restaurant, the Lost Boys Café.
Ongoing popular programs and events include;
– There's a variety of mountain bike programs & camps for adults to check out, such as the Ladies downhill weekend, Weekday Trail Warrior Camps and Twilight Sessions.
– Plus don't forget to keep those kids busy and outdoors during the summer!  Fernie offers Kids Summer Camps – Dirt Devils Multi-Week Youth Bike Camps, Kids Freeride Bike Camps, Kids Outdoor Adventure Camps and the Kids Howl at the Moon Sleepover Camp @ Lost Boys Café.
Get information about all the programs and things to do at Fernie Alpine Resort online.
Official Website
Book your vacation online or call 1-800-258-7669 to speak to a vacation specialist today!
Facebook Page • Twitter • Instagram
-30-
For more information, please contact:
Matt Mosteller
Senior VP Marketing & Resort Experience, Resorts of the Canadian Rockies
[email protected] • Powder Matt's Blog  •  Twitter, Facebook & Instagram – @PowderMatt