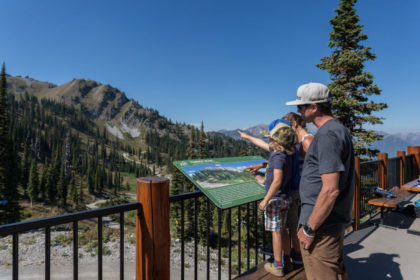 Fernie, BC – Fernie Alpine Resort is getting ready to open for the summer season on June 23rd and there is no shortage of fun outdoor activities for all ages!  Here are some summer highlights to look forward to;
Events 
Pop Up Mountain Market in the Plaza – June 24th
NEW North Face Trail Running Series – Thursdays
SCOTT Weekly Mountain Bike Race Series – Thursdays
Canada Cup/B.C. Cup Downhill – July 21 & 22
Griz Kidz Summer Carnival – July 29
Scenic Dinner at Lost Boys Cafe – September 15
Get more information on our Event Calendar.
Activities
Mountain Biking
Nature Bob Interpretive Centre
Aerial Park
Alpine Hiking
Weekly Programs
Forage & Feast – Tuesdays
Kids Nature Hike & BBQ – Saturdays
Birding & Breakfast – Sundays
Yoga at Lizard Creek Lodge – Saturdays
Peak to Park to Pint Bike Tour – Fridays & Saturdays
More information on Weekly Programs
Kids Camps
Kids Outdoor Adventure Camp
Howl at the Moon – Lost Boys Cafe Campout
Kids Bike Camps
Mini Griz Rangers
More information on Kids Camp Programs
Fernie Alpine Resort • Facebook • Twitter • Instagram
-30-
For more information, please contact:
Matt Mosteller
Senior VP Marketing & Resort Experience, Resorts of the Canadian Rockies
[email protected]
Twitter, Facebook & Instagram – @PowderMatt
Powder Matt's Blog