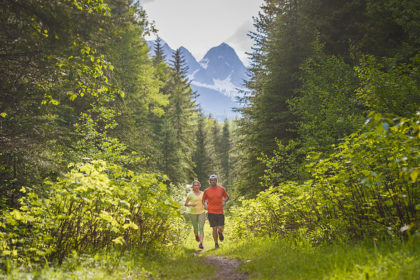 Fernie, BC – You already know you love Fernie Alpine Resort in the winter and summer months, now it's time to acquaint yourself with fall in the mountains!  We've put together a variety of new fall programs, events and retreats to appeal to foodies, wellness enthusiasts and women.
Foodie Fernie
Saturday, September 15th – Scenic Dinner at Lost Boys Cafe.
It's a fact – food tastes better when you're high..up on the top of a mountain!  Join us for our first ever scenic dinner at Lost Boys Cafe, located at the top of the Timber chairlift.
September 21st to 23rd – Lobsterfest & adventure weekend!
Come for the lobster – stay for the non stop fun.  Lizard Creek Lodge is hosting the lobsterfests to trump all lobsterfests, the rate for your weekend includes your accommodations, delicious lobster themed meals (5 in total) as well as a guided nature hike (did you know Fernie used to be an ancient sea bed?)
——
Health & Wellness
September 28th to 30th – Women's Trail Running Weekend.
Our second annual trail running workshop will be led once again my Magi Scallion, an avid trail runner based out of Golden, B.C. The registration fee for you weekend includes accommodations, massage, yoga class, trail running basics and food & beverage!
October 23rd to 28th – You & Your Body Wellness Retreat.
Treat yourself, you deserve it!  Your retreat package features 10 group classes focused on mind and body wellness, guided nature walks, healthy and mountain inspired meals, a self care welcome kit and your accommodations – all in a gorgeous mountain setting, the best spot to learn about your body & mind health.
November 2nd to 4th – Fall Yoga Retreat.
Recharge your mind, body & soul in the serenity of the Canadian Rocky Mountains, join Yogi Gordana Gigovic as she leads you through this invigorating all inclusive weekend.  Book now, the rate includes you accommodations, nature walk, yoga lessons and all meals.
**Book before August 15th to take advantage of our Early Bird Rate!**
Booking links and more information on all above can be found on our online events calendar.
Fernie Alpine Resort • Facebook • Twitter • Instagram
-30-
For more information, please contact:
Matt Mosteller
Senior VP Marketing & Resort Experience, Resorts of the Canadian Rockies
[email protected]
Twitter, Facebook & Instagram – @PowderMatt
Powder Matt's Blog