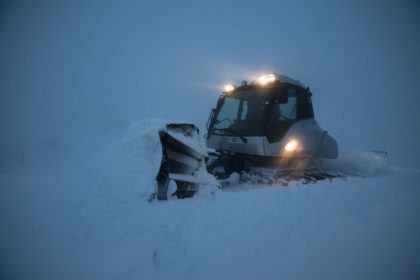 November 28th, 2017 – Fernie, BC – Fernie excited to kick off the season with first chair tradition this Saturday, December 2nd!
We are so proud of the passion for skiing and riding our community has! A great example of this incredible stoke is Greg Barrow- having snagged first chair for 17 years – now this is some feat. It has involved sleeping in his tent, with a cold weather certified sleeping bag at the base of the Elk Chair to hold this honour year after year. He is not alone as the masses have lined up to vie for this coveted seat.
A big shout out to Greg and all of you who share his passion for skiing and riding. We look forward to sharing the smiles and the tradition of skiing and riding with all of you!
Services available opening weekend;
Guest Services & Tickets – 8am to 5pm
Winter Sports School – Beginner Group Lessons & Early Season Private Lessons will be available
Childcare – Open from 9am to 4pm
Sports Alpine Retail Shop – 8:30am to 4:30pm
Rental & Repair Shop – 8:30am to 4:30pm
Daylodge – 8:30am to 4pm
Griz Bar – 11am to 6pm
Slopeside Coffee Shop – Serving coffees & bakery items – 8am to 4:30pm
Cirque Restaurant, Lizard Creek Lodge – Friday for dinner (5-9pm), Saturday 8am to 3pm (closed early for a private function) & Sunday 8am to 10pm
Mountain Pantry Grocery & Liquor Store – 8am to 9pm
For lifts & terrain open (will be determined over the next few days) please visit our Snow Report or RCR App for the most up to date information.
BOOK YOUR SKI VACATION NOW & SAVE
Book your vacation before November 30th for savings of up to 42%.  Call 1-800-258-7669 or book online.
UPDATED RCR APP – New GPS Tracker
Not only is the RCR App your best source for the most up to date information including run/lift status, mountain cams and snow reports, it's now your ski tracking app too!  Through our new GPS tracking feature, you can measure your speed, distance skied and altitude during your runs.  Simply open the app and use the GPS button to bring you to the tracking screen.
RCR ROCKIES CARD & GIFT CARDS – THE PERFECT HOLIDAY GIFT
Get 3 FREE days (plus daily discounts) for the price of one lift ticket with the RCR Rockies card, Gift Cards can also be bought for $25, $50 or $100 – purchase one or both for that special skier in your life through the RCR Online Store.
Photo from November 2017
Fernie Alpine Resort • Facebook • Twitter • Instagram
-30-
For more information, please contact:
Matt Mosteller
Senior VP Marketing & Resort Experience, Resorts of the Canadian Rockies
[email protected]
Twitter & Instagram – @PowderMatt
Powder Matt's Blog