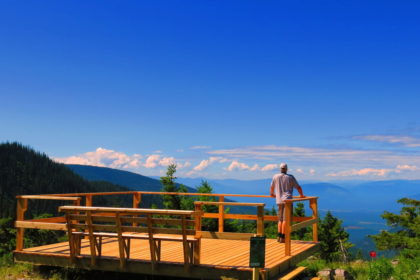 Fernie, BC – Fernie Alpine Resort is one of the best places for hiking and sightseeing, uniquely offering lift accessed hiking opens up the Alpine for just about everyone to hike, sight-see & enjoy.  Choose to venture out on your own and follow one of our maintained hiking paths, sign up for a guided hike and head out with a group or sign up for a specialty hike.  Get more information about our Hiking Trails or Guided Hikes on our website.
Specialty Hikes & Weekly Hiking Programs
July 8th – Fossils &  Geology
July 22nd – Mountain Wildflowers
August 5th – Birds & Wildlife
August 19th – Berries & Other Useful Plants
September 2nd – Forestry
——
Forage & Feast – Tuesdays
Kids Nature Hike & BBQ – Saturdays
Birding & Breakfast – Sundays
Get more information about Specialty Hikes or Weekly Programs on our website.
Nature Bob's Interpretive Centre
Nature Bob has been guiding people around Fernie Alpine Resort for over a decade, he is a wealth of knowledge about the nature and history of the resort, we've compiled (most) of his expertise into the Nature Bob Interpretive Centre, located at the top of the Elk Chair.  Fun and informative for the whole family, the Interpretive Centre features displays with information about Fernie Alpine Resort's native flora, wildlife and fossils.
Get more information on our website.
Mini Griz Rangers Kids Camp
Kids love to be outdoors, the Mini Rangers kids camp gives children lots of fresh air and natural sunlight!  Our Mini Griz Ranger leaders keep children active and engaged through games, scavenger hunts and digging for treasure.  Half day or full day programs are available for kids ages 3 – 5.
More information on Mini Griz Rangers & other Kids Camp Programs
Fernie Alpine Resort • Facebook • Twitter • Instagram
-30-
For more information, please contact:
Matt Mosteller
Senior VP Marketing & Resort Experience, Resorts of the Canadian Rockies
[email protected]
Twitter, Facebook & Instagram – @PowderMatt
Powder Matt's Blog