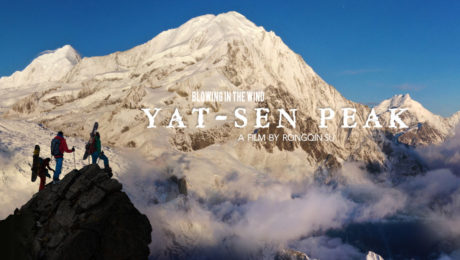 Come and check out this year's Chinese Mountain Film Festival hosted by Diudiu Bus in Slopeside Cafe. We will be showing three short films (description and trailers below) and Slopeside Cafe will be open for apres snacks and beverages. Films starting at 5:00 pm
This is a FREE event, no tickets required.
FILMS ON SHOW:
Altay Wild Snow ( 28 minutes) by LiShuang and Rongqin Su (Asu) – Trailer
The little town of Hemu in Xinjiang is "the birthplace of the world's ski history." Four men on a journey to enjoy skiing in powder snow start off in Beijing and fly four hours before arriving in Urumqi. From there, they drive 1,000km north to reach Hemu. Top skier Maliqin is electrifying as he flies down Mt. Makit, and the traditional fur ski-making scene is awe-inspiring.
**2018 Banff Mountain Film Festival finalist**
**2018 Kendall Mountain Film Festival finalist**
Yat-Sen Peak ( 24 minutes) by Rongqin Su (Asu) – Trailer
At 6886 meters, Yan-sen Peak is the second-highest peak in the rugged and remote Minya Konka area. Remote and besieged by hurricane-force winds, the mountain had previously only been summited once, providing a unique challenge for a group carrying its noodles and skis on their backs until 2000m. After an entire week spent reaching the mountain's main glacier, the group of Chinese mountain pioneers mounts the first summit attempt on skis.
**2019 Guangdong International Mountain Film Festival finalist**
Pilgrimage ( 8 minutes) by Rongqin Su (Asu)
A documentary on the Buddhist pilgrimage around Mount Kailash
**2015 winner of the Gold Rhino award for Best Outdoor Film in China**