Gracie Lou, more commonly known as Gracie Lou Whatwontshedo, is a passionate sit skier and lover of all things Fernie. Capturing special moments and people through the written word is one of Gracie Lou's greatest talents, which is why she has joined forces with Fernie Alpine Resort. If you ever see Gracie Lou exploring the hill, you know she's on the hunt for another epic story to highlight. Do you have an outstanding person or story you'd like to see featured on the FAR blog? Let us know and Gracie Lou will be ready to capture it!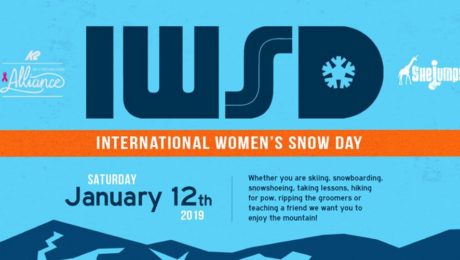 Hey, Ladies! Looking for something fun to do in the outdoors with your girls this Saturday? Well, look no further! We, at Fernie Alpine Resort, are excited to be partnering with SheJumps to bring you, International Women's Snow Day. This special day, tailored just for you lovely ladies and girls, is packed full of activities, opportunities to learn, and the chance to give back.
Before we give you all the details, let's talk about the powerful organization behind this event, and for that we caught up with SheJumps founder and executive director, Claire Smallwood.
A passion for skiing was sparked in Claire at the tender age of five, and from that point on she never looked back. Thanks to babysitting and mowing lawns, Claire's passion for skiing turned into a fire that continued to burn all through high school. This eventually brought Claire and her friends, Lyndsey Dryer and Vanessa Pierce, to a life altering revelation. What if they took the often solo sport of skiing, and turned it into an opportunity to unite women in their passions?
"Our main idea was to recognize the gifts that encountering fear and fun in the outdoors had afforded us as individuals, and the desire to bring that magic to women and girls of every background", said Claire when describing how they came to their vision. Through this simple question, a bright new organization was born.
So, what exactly is SheJumps? Simply, creating opportunities for women and girls to get together through outdoor activities. SheJumps hosts a variety of winter and summer activities, from skiing and snowboarding, fat biking, fly fishing, SUPing and surfing. But they don't just encourage activity, they also give women the opportunity to learn new skills by offering training for avalanche education and certification, bike maintenance, introduction to navigation, group hikes, and ski and snowboard tuning events. This is all based on their unique concept of Jump In, Jump Up, and Jump Out, which not only encourages women to try something new and gain more skills, but also inspires them to pass on the flame to the next generation. Through the aforementioned adult programs, SheJumps is able to offer subsidized youth programs for girls 6 and up, which creates the same wonderful opportunities to experience, learn, and be empowered.
SheJumps also partners with community organizations to reserve 50% of their youth programs for at risk or low-income girls. Their dedication lies in empowering women and girls to "keep our feet on the ground and head in the clouds, above chaos and drama", as their magical mascot, The Girafficorn, represents. SheJumps is all about fostering confidence, pushing through challenges, and inspiring the female community to get together and help others grow in their own journey.
Feeling all fired up? Why not bring your fire to International Women's Snow Day on January 12th! This is a day to celebrate the power of women who come together and accomplish their goals. We have planned a day exploding with fun activities like morning yoga, first tracks, SheJumps women's breakfast, a mountain tour, avalanche education, and of course, après ski!
Don't ski but want to attend the day anyways? You are welcome to attend yoga, an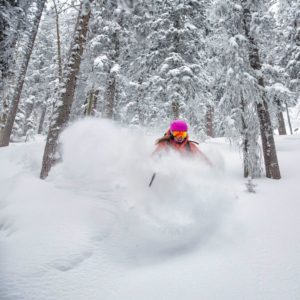 inspirational breakfast with Claire Smallwood from SheJumps, and the après ski event. Whether you're signing up for the whole day or participating in individual events, don't miss the opportunity to unite with other women and share your passion. Thanks to SheJumps and International Women's Snow Day partner K2 Alliance, you will also have the opportunity to bid on a sparkling new set of skis at the event, the proceeds of which will support the Junior Ski Patrol program that SheJumps is hoping to bring to Fernie in the spring.
You won't want to miss this adventure filled day, so bring your girlfriends, coworkers, mothers, sisters, daughters, anyone else from the female community and come join us this Saturday and keep your eye out on social media for a special Instagram contest running during the day!
For a full schedule and how to sign up, please visit our website.
You can also follow the event on Facebook here.
Saturday, 22 December 2018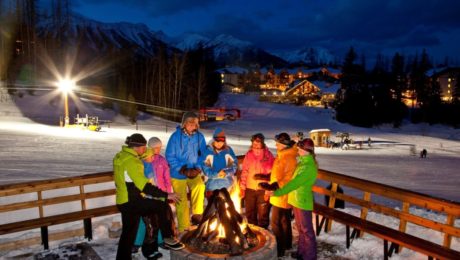 So, you're planning a vacation to Fernie Alpine Resort, or maybe you're trying to find fun activities while the kids are home from school, or you could just be looking to create some memories with friends. You might be wondering, what's going on at the ski hill over the holidays? Well, it might be quicker to ask what ISN'T going on! Get ready for a holiday activity blog that'll blow your stocking right off the fireplace!
Planning to sleigh (hehe, see what we did there?) the mountain on December 23rd and 24th? Join the big man himself as he shreds some pow between 10:00 am to noon. Santa will be enjoying his après ski cookies and milk in the Daylodge between noon to 2:00 pm, so don't forget to check if you've been naughty or nice and snap a picture with him before his big night.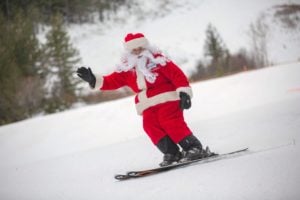 Jingle bells, jingle all the way, oh what fun it is to ride in a one-horse open sleigh, hey! We think horse drawn sleigh rides are a magical way to explore our very own winter wonderland! For only $15 per person, enjoy a scenic ride through Fernie Alpine Resort between December 21st and January 4th. Want to spread the holiday cheer with a bigger group? You have the opportunity to rent a private sleigh, available for a maximum of 11 guests. Hear the sweet jingle of our sleighs between 1:00 pm and 7:00 pm daily.
''Tis the season for giving, so in true Christmas spirit we are hosting a multitude of fun family activities absolutely free! Starting December 26th and again January 2nd, Bingo takes to the slopes. Mark off every run you ski on your bingo card and snap a picture for a chance to win some sweet prizes. Do you like après ski drinks? Do your kids like decorating Gingerbread houses? On December 27th at Slopeside Café, with your purchase of a beverage between 2:30 pm and 4:00 pm, receive a Gingerbread house decorating kit free! One Gingerbread house per family while supplies last. But our artistic spirit doesn't end there! Head back to Slopeside Café on December 28th and January 4th between 2:30 pm and 4:00 pm for even more creative fun. Receive a surprise arts and crafts kit to create a holiday memory you can take home with you (supplies are limited). Just when you thought it couldn't get any better, there's more! On December 30th why not go on a photo scavenger hunt, taking place all over the hill. Between 9:00 am and 10:30 am, pick up a list of clues at Slopeside Café and then the hunt is on! If you find a clue, take a picture and post it on Facebook or Instagram with #lovefernie. Once you've found all the clues, head back to Slopeside Café between 2:30 pm and 4:00 pm for some epic prizes!
Want to wind down after a crazy day on the slopes? Join us for après S'morey Time on January 3rd at Slopeside Café between 2:30 pm and 4:00 pm, and be enchanted by the tale of the Griz and other great legends. More après ski activities and games you won't want to miss will be taking place at Slopeside Café between December 26th and 30th, as well as January 1st through to the 5th.
Did you know Fernie Alpine Resort has supervised kids' activities going on through the holidays? Well now you do! December 23rd, 24th, 26th through 30th, January 1st to the 4th, The Griz Kidz Activity Night will be hosting games, crafts, movies, and pizza. Drop the kids off from 5:30 to 7:30 pm on the top floor of the Mountain Pantry (entrance via Fernie Slopeside Lodge parking lot) and enjoy the evening, kid free!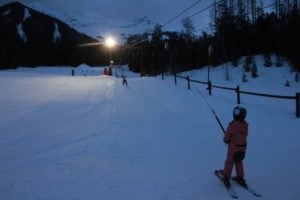 Do you think shredding the slopes shouldn't be limited to 4:00 pm? Neither do we! Which is why we are offering Night Skiing on the Mighty Moose December 22nd to 24th and December 26th through to January 5th.
We are anything but boring here at Fernie Alpine Resort, especially with great activities and events happening almost every day throughout the week! Saturdays on the hill are jam packed with loads of fun for all ages. Lizard Creek Lodge will be hosting a Kid's Pool Party and Movie Night every Saturday, with a BBQ dinner thrown into the mix. Uptracking Guided Tours available every Saturday will take you through a beautiful forested trail to the Bear's Den where delicious hot beverages can be had. Then after all that hard work and exercise, head back to Cirque and reward yourself with a cocktail. For a chill Saturday activity between 7:30 and 8:30 am, why not enjoy a Stretch and Warm Up at Lizard Creek Lodge before you hit the slopes? Nordic Sundays are fun way to spend your Sundays, enjoy a guided instructional tour on our beautiful Nordic trail system. On Tuesday enjoy a Snowshoe and Dine experience you'll never forget, where a 1.5 hour guided snowshoe tour ends with delicious pasta and wine at Cirque Restaurant. Craving even more exercise? Try the fast paced and exciting Vinyasa Yoga from 5:30 to 6:30 pm at Lizard Creek Lodge. And finally, Ride and Dine on Thursdays with a 1.5 hour guided bike tour followed by burgers and beer at Legends Mountain Eatery.
Our fantastic Griz Kidz program continues on New Year's Eve, where activities such as a pizza and dance party, games, snacks and a movie are happening all night long! Two options are available for this evening of fun; drop the kiddies off early at 6:00 pm, or drop them off a little later at 9:30 pm. This event is completely supervised by our Winter Sports School staff and runs until 12:30 am.
Help your kiddos develop their passion for sliding on snow by signing up for our Ski and Snowboard Camp, January 1st to the 4th!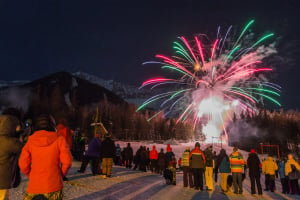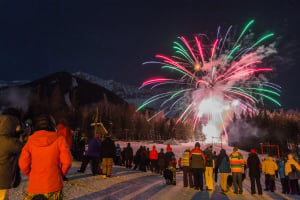 Enter the New Year with a BANG by joining us in the base area for a multitude of family activities, followed by a wondrous fireworks display presented by TELUS! All activities are free and no reservations are required. But don't stop there! Bring in the New Year with a party at Cirque Restaurant with local band, Cold Cuts! The Griz Bar is ringing in 2019 with live music from our favourite New Year's Eve band, the Todd Band,  and Legends Mountain Eatery will be bringing in a party like it's 1999!
Phew! So much to do and so little time to enjoy it! From all of us at Fernie Alpine Resort, we wish you a Merry Christmas and a Happy New Year!
Check out the full holiday schedule by clicking Holiday Events at FAR 2018-19!
For Guest Services contact: 250-423-2435 or guestservices@skifernie.com
For Winter Sports School contact: 250-423-2406 or snowschool@skifernie.com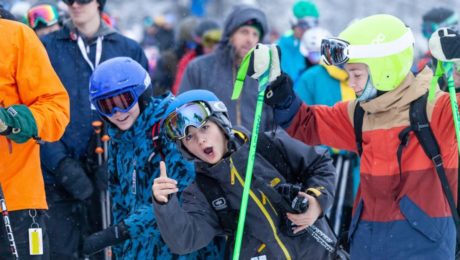 The act of sliding on snow is a mystical experience. It is a romance that only those captivated by its spell can truly understand. It can go beyond infatuation, beyond addiction, beyond reason, and in some cases, beyond the realm of impossible. It connects us to ourselves, it connects us to each other, it connects us to nature. Once you are drawn in, it is a lifelong passion. We sought out a variety of individuals, united by the love of sliding on snow, to find out just what gets their hearts beating this season.
The coming of a new season will rekindle the flame for adrenaline junkies and fun-seekers alike. An unmistakable flame resides in the heart of Greg 'G-Money' Barrow, a man whose local fame needs no introduction. Greg is a magnetic character whose Southern Swagger is iconic. Why G-Money? In the days of his youth, Greg delved into the world of basketball; and when making a shot the crowds would chant 'MONEY!!' Not what you expected hey…?
With the concept of carrying ski poles being a put off, G-Money took to snowboarding in 1982, and after traveling across North America he took the advice of his friend and hero, Craig Kelly, and opened Fernie's local snowboarding haven Edge Of The World. Why build a whole lifestyle around snowboarding? "Because of the feeling," said Greg as he flashed his charming smile. "You can't get that feeling anywhere else." So, what makes G-Money stand out from the crowd? Besides sporting the latest and greatest snowboards, Greg holds 18 consecutive first chair victories at Fernie Alpine Resort. We could tell you what it takes for Greg to snag first chair every year, but we are sworn to secrecy by The Griz himself. We CAN tell you only a snow-lover could commit themselves the way Greg has. Even though Greg wonders if a brave challenger will ever present themselves, his title still goes undefeated and at the grand age of 70 he once again found himself the first in line on opening day this season.
What makes a group of 10 and 11-year olds leave the comfort of their beds at 5:00 a.m. on a Saturday? The hope of winning first chair at Fernie Alpine Resort does! This season we have to highlight the spirit and enthusiasm of brothers Will and Ben Johnson and friend Tain Prentice, who were sitting proudly with G-Money on first chair. Only slightly less enthusiastic, Ben and Will's father, Mr. Johnson, described the new season as "The Year of the Dad" and is very pumped to be giving his well-deserved new skis a try. He went on to say, "There are a lot of reasons why I love skiing, but the elimination of distraction and just being able to let work and life go, being able to crank it up and feel the wind on your face. I don't know, there is nothing else like it." Lined-up on opening day were hundreds of skiers and snowboarders who felt the same and were eager to welcome in a new season.
But what happens when chasing a feeling becomes a matter of life and death? Caleb Brown, a born and bred local and avid skier, knows these consequences all too well. Caleb starts his account ominously by saying, "We thought it would be fine, even though there were signs that it wasn't." March 21st, 2017, Caleb was caught in an avalanche that flung his body down a mountainside for over a kilometer. Having luckily lived to tell the tale, no one would have been surprised if he had given up skiing forever. But for Caleb, the sport is more than just skiing, it's an addiction to adrenaline that dictates his every move. "There's nothing like it," Caleb said with a sparkle in his eye. "It is as close as you can get to flying without ever leaving the ground." For Caleb, nothing brings him more joy than being on skis, in the woods, with snow falling around him. The feeling Caleb chases was too valuable to leave behind, so the season following the avalanche he found a new perspective and passion – skiing bigger lines than he has ever skied before. This season will look a little differently for Caleb, knowing he can hit those lines is finally enough, as in the end what really matters most is that he is here to continue to experience what he loves with his friends and family by his side.
The intoxicating feeling of sliding on snow is something that can be felt and appreciated at any age. Someone who was brought up skiing will often have family or friends who have cultivated that seed, as was the case for Krista Turcasso. Krista was taught to ski at the early age of 3 years old by a close family friend. Though originally involved in ski racing, Krista's interests were turned to all-mountain skiing and the draw of finding solitude within white snowy peaks. The almost hypnotic feeling of floating on powder is something Krista finds exhilarating, but not to be overshadowed by experiencing skiing through the eyes of her daughters. Some of the many reasons why Krista enjoys time on the mountain include, "Creating that passion…Skiing is something you can have for a lifetime. To create something my family can do together and to see the girls get so excited about… [pushing] themselves to accomplish something – there's nothing like it." Krista, who taught her daughters to ski from the tender age of 18 months old, goes on to describe one of her favourite memories as watching her daughter discover powder for the first time and the absolute thrill of her disappearing skis! Krista and family are very excited for the season and all the adventures and memories they will create this year.
So, what's the big deal about sliding on snow? As the snow enthusiasts throughout our blog have said, "THERE IS JUST NOTHING LIKE IT!" We can't wait to see how you will celebrate SNOW-FUN with us this season! What made you fall in love with skiing or snowboarding? Let us know in the comments below!!