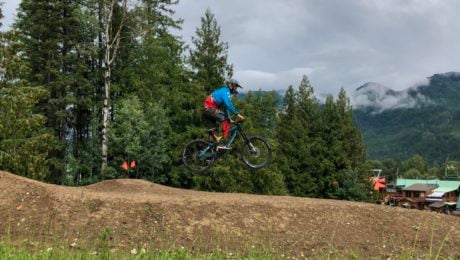 There are many things in this world that we take for granted. The way that we move and our freedom to walk, run, ski and bike are undoubtedly some of them.
It's not so hard.
Want to go skiing? Go.
Want to climb a mountain? Go.
Want to go downhill mountain biking? Go.
I have a question, what if you had no legs? Would the 'go' be as easy?
This past Saturday was International Ride MTB Day, and we had the honour of having Mack Adams, a shredder from the Elk Valley, spend the day with us here at Fernie Alpine Resort. Mack is an upbeat guy who is always keen for a chat and, ALWAYS keen to send it on the mountain with his friends.
You wouldn't guess it to look at him, but Mack is a double amputee who lost both of his legs at ten months old due to a congenital birth defect. He hasn't let that stop him.
At the age of 12, Mack learnt how to bike, using outriggers (adult training wheels), with the help of Mark Hall, owner of GearHub. He then tried his hand at dirt jumping but found that his true biking passion lay with downhill mountain biking.
So, once again, with the help of Mark from GearHub who loaned him a Rocky Mountain Maiden, on Saturday Mack was back up at our bike park, in the pouring rain, getting his laps in. At one point I asked him if he was doing ok. He answered, "Yeah, but my ankles are starting to hurt." His friends told me that these kinds of jokes had been flying around all day. His stoke was high, he was having fun, and watching him do his thing was inspiring! What a great way to spend International Ride MTB Day.
Mack has a dream of riding every trail that we have in one weekend, and Fernie Alpine Resort is working with Mack to help him make it happen. He is also a keen basketballer, volleyballer and loves to play his guitar – basically, nothing will stop him once he has set his mind to it.
What a legend.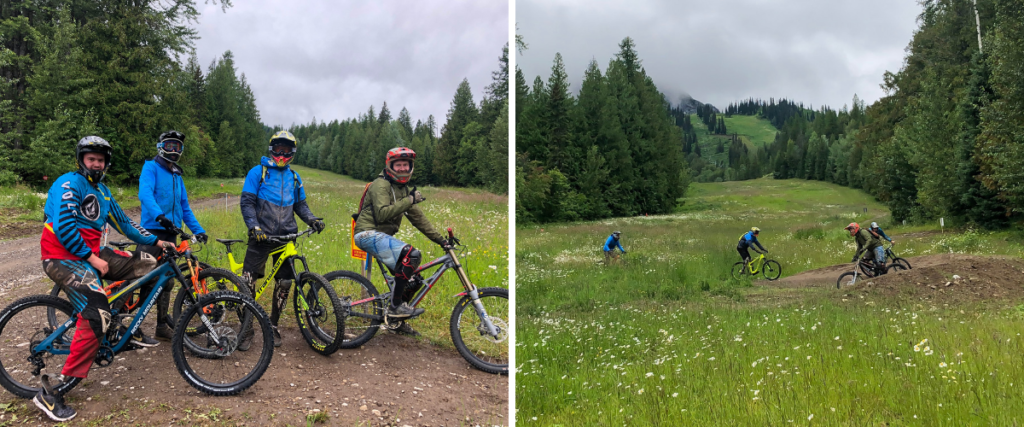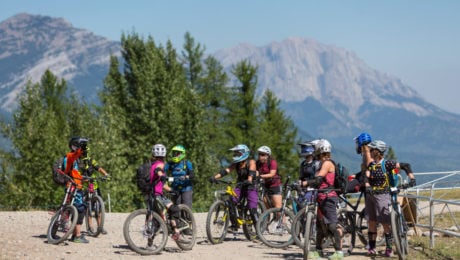 Downhill mountain biking in Fernie is exhilarating, and often breathtaking.
The downhill trails here at Fernie Alpine Resort are in prime condition and riding beautifully.
Come and check out what it's all about, and advance your skills, in one of our mountain bike camps or lessons!
NEW! ADULT CO-ED DOWNHILL CAMPS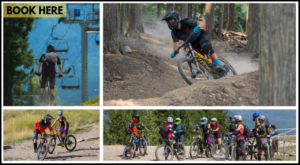 Are you comfortable on green & blue trails but want to develop your downhill riding skills?  Join us for our new adult co-ed intermediate weekend camps – focusing on progression to more technical descents, roots, rocks, drops, jumps & obstacles. With small group sizes, our certified professional coaches will help take your riding to the next level.  Camp includes 10 hrs of coaching over two days, lunch, lift tickets, and bike maintenance session.  Ages 18+.
Dates:  July 13 & 14 / August 10 & 11  Time: 10am – 4pm. Price: 2 day camp $229 / 1 day camp $139
WOMEN'S MOUNTAIN BIKE CAMPS

MTB designed by women for women! These camps are catered to various levels of riding ability and are led by qualified female instructors. Camps include skill sessions, bike maintenance, lift tickets, instructional trail rides and lunch.
Dates:  July 13 & 14, 2019   /   August 10 & 11, 2019
Time:  10am – 4pm
Price: 2 day camp $229  /  1 day camp $139
MOUNTAIN BIKE PRIVATE LESSONS
For the beginner or hardcore rider — have a lesson tailor-made to suit your skills! Rates are based on 3 people per lesson — price includes instruction only. Lift ticket is required.  Participants receive a 20% discount on bike rentals for the day of their private lesson.
DISCOVER MOUNTAIN BIKING
Discover the thrill of Downhill Mountain biking under the expert guidance of one of our bike coaches. Learn the basics and gain confidence! Minimum 3 people per lesson and a maximum of 10 people per lesson. The clinic includes a 3-hour coaching session, 3-hour bike rental and 3-hour lift pass. Rates based per person.  For ages  8+.
Days & Times:  Saturdays, Sundays, Tuesdays & Thursdays from 10am-1pm
PEAK TO PARK TO PINT BIKE TOUR
Join us for a fun afternoon of biking! Starting from the top of the chairlift at Fernie Alpine Resort, cruising downhill to Mt Fernie Provincial Park and then pedalling through town to enjoy a refreshing sampling of East Kootenay beers! Includes guiding, lift ticket, and post-ride sampler drinks. Guests then have the option to take our complimentary shuttle back to the resort. Minimum 2 participants.  Ages 19+.
Fridays & Saturdays
1:30 PM to 4:30 PM