Wednesday, 15 January 2020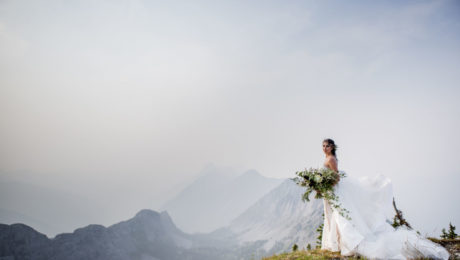 A wedding in the mountains is a dream for many, and luckily for you, we are in the business of making dreams come true!
Located in the heart of the Canadian Rocky Mountains, Fernie Alpine Resort goes above and beyond to understand your vision, mix it with our uniqueness and offer you a variety of venues that will help your dreams become a reality.
The joy is in the journey, and your choice of a magical mountain wedding, whether it be intimate or extravagant, rustic or elegant, becomes effortless with our passionate staff dedicated to taking care of your every need.
On January 19th, 2020, we will be at The Wedding Fair in Calgary. This event is the largest, most respected and sought after wedding show in Alberta.
Look for our Fernie Alpine Resort booth and stop by to see us!
YOUR CEREMONY
LOST BOYS – THE BREATHTAKING VIEW SPEAKS FOR ITSELF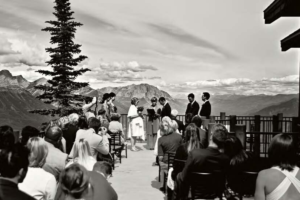 Whisk your guests up 5,662 feet on the Timber Express Chair for an unforgettable experience. This unique mode of transportation will leave your guests talking about your wedding for years to come.
Say 'I do' surrounded by the spectacular views of the Lizard Mountain Range. With space for 100 guests, your ceremony will be sure to impress. It's not just a stunning location; you can have a traditional ceremony with a sense of adventure! No celebration is complete without a champagne toast to the newlywed couple, luckily Lost Boys Café is licenced.
ELK TOP – TRANQUILITY OF THE NATURAL SURROUNDINGS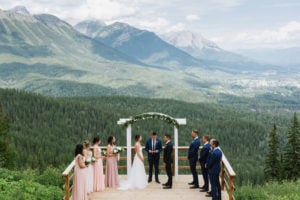 Take the Elk Quad Chair up to say your vows on a deck that looks as if it is suspended in mid-air and overlooks the beautiful Elk Valley. It's not just a breathtaking location; you can have a traditional ceremony that makes you feel as if you're on a secluded mountainside setting with enough room for up to 100 guests. The mountains will take care of the decorating for you, but a beautiful arch really sets the scene with this unique location.
LIZARD CREEK – SURROUNDED BY THE MAJESTIC ROCKY MOUNTAINS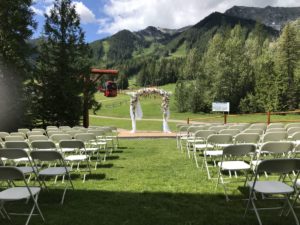 Lizard Creek is at the base of the mountain so that you can start your new life together with Fernie Alpine Resort as the backdrop. This space is perfect for those wanting to be surrounded by the mountains without taking your feet off the ground. With space for 120 guests, the lawn provides a tranquil area attached to Lizard Creek Lodge and Cirque Restaurant. It's a stunning location for your guests to witness you saying, "I do!".
YOUR RECEPTION
CIRQUE RESTAURANT – ROMANCE AT THE HEART OF THE MOUNTAINS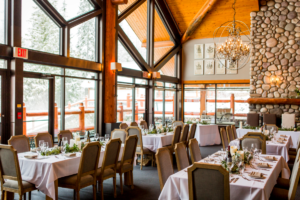 Located in Lizard Creek Lodge, Cirque Restaurant can accommodate 120 guests allowing for an intimate ambiance and embodies the true feeling of a romantic and elegant mountain destination wedding. Floor-to-ceiling windows allow you and your guests to enjoy the view of the Lizard Mountain Range as you celebrate the beginning of your new life together. Cirque has elegant fixtures, luxurious linen, leather chairs and a four-sided fireplace that are perfectly themed for a chic mountain wedding.
THE GRIZ LODGE – INFUSE YOUR WEDDING WITH A LITTLE BIT OF MOVIE MAGIC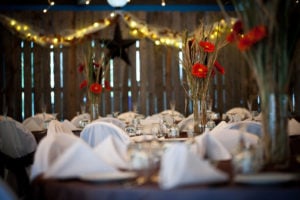 Our largest venue, The Griz Lodge, can accommodate up to 200 guests allowing for all your friends and family to make the invite list. Bring your creative mind to infuse this space with a little magic of your own, transforming it into a venue fit for an extravagant affair. The Griz Lodge is located at the heart of Fernie Alpine Resort and is within walking distance to both the Timber Chair and on-hill accommodations.
Fun fact, The Griz Lodge was part of the set for the movie Hot Tub Time Machine, making it a unique wedding venue.
THE GRIZ BAR – MAKE YOUR BIG DAY LEGENDARY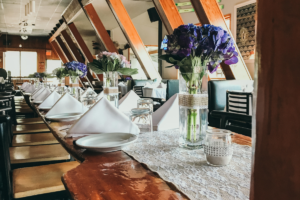 Located in the village plaza, your guests will enjoy celebrating the night away in this legendary venue. The rustic mountain charm creates an ambiance of casual comfort, allowing you and your guests to relax and party hard. Fernie Alpine Resort's most iconic venue, the Griz Bar, features vintage skis and photos lining the walls making this the perfect reception space for couples looking to add some of Fernie's ski history to their wedding day. The Griz Bar can accommodate 80 guests allowing for an intimate affair.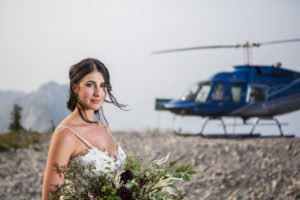 From helicopter rides to the top of the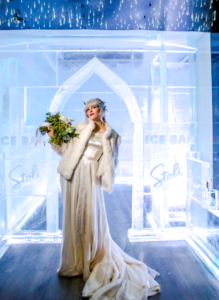 mountain for unforgettable photos, to a uniquely chilling experience in our Ice Bar, we are excited to help bring 'a day that you will always remember' to life.
You can find our Wedding Guide with more information here.
We would love to speak with you; please contact us to discuss how we can go above and beyond to get you the wedding of your dreams.
Stacey Charest Weddings & Groups Coordinator | Phone: (250) 430-7163 | E-Mail: [email protected]