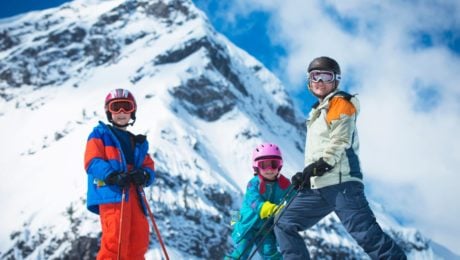 Hey, Family Day weekenders! Can't decide what to do this weekend? Not sure what's happening on the hill or in town? Don't worry, we've got you covered! Get ready for a blog packed full of fun and entertaining activities that you won't want to miss!
Kicking off our weekend of greatness, we are bringing back a fan favourite for just one week only. Night skiing is back from February 16th to the 23rd, so you can keep hitting the slopes from 4 pm to 9 pm on the Mighty Moose. Night skiing comes with your purchase of a day ticket, or grab a night ticket at the rental shop after 4 pm. Riders under the age of 17 can pick up a night skiing ticket FREE! Speaking of fan favourites, we're also bringing back some family fun activities from the holidays. Saturday is Ski Bingo day, so don't forget to pick up your bingo card from Slopeside Café between 9 am, and 11 am. Ski a run on the card and snap a picture (preferably including the run name), then head back to Slopeside between 2 pm and 4 pm for your chance to win some sweet prizes.
On Sunday the activities continue, so why not take the family on a Scavenger Hunt? Pick up your list of clues at Slopeside Café between 9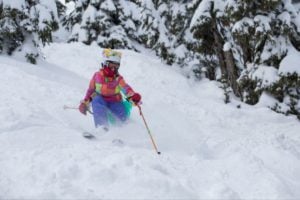 am, and 11 am, and then the hunt is on. Clues are located all over the base area and on the mountain, so when you find one, be sure to snap a selfie and post on our Facebook or Instagram using #lovefernie. When you're done, head back to Slopeside between 2 pm and 4 pm where prizes will be waiting.
We've got plenty of opportunities to win some prizes this weekend! From 9 am on Saturday and Sunday, Summit Squad members will be on the mountain handing out some of our epic swag. Don't forget to stop by the Summit Squad tent in the plaza and enter for the chance to win a Jeep. Also on Saturday and Sunday, stop by the Honeycomb Drop Into The Bowl Activation in the plaza and grab a bowl of their delicious cereal. You can also customize one of their stickers to sport on your skis or snowboard.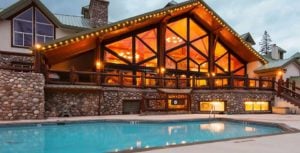 With all the fun happening at the hill, don't forget our regular weekly activities specially tailored for the soloist, a group of friends, or the whole family. Enjoy a relaxing yoga class before you hit the slopes for an epic day of powdery delight. Guided yoga sessions are offered on Saturdays between 7:30 am and 8:30 am at the luxurious Lizard Creek Lodge. If you're looking for an apres ski activity, why not join us on Saturday evening for an Uptracking Guided Tour?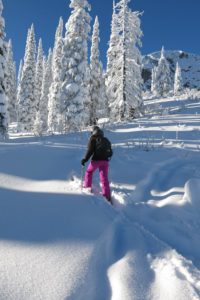 From 5:30 pm to 7:30 pm, skin up through a beautiful woodsy trail to the Bear's Den, where a soothing warm beverage is served. Then make your way back down to Cirque Restaurant for a well-deserved cocktail. While you're enjoying your cocktail, why not drop the kids off for a BBQ, pool party, and movie at Lizard Creek Lodge? This night of fun is fully supervised by our professional resort staff and is available for ages 6 and up. Join us on Nordic Sundays for an instructional tour of our beautifully scenic Nordic Trail System, offered between 2 pm and 4 pm. Pre-booking is recommended for all the above activities, which can be done by calling 250 423 2406 or by emailing [email protected].
Feel like heading into town? Enjoy a skate on our beautiful outdoor skating rink, open daily from daylight to 10 pm weather permitting. If you want to wind down after a full day of riding, the Fernie Aquatic Centre is the place for you, open on the weekends from 12 pm to 5 pm. For a spectacular display of local skating talent, head to the Fernie Memorial Arena at 7 pm on February 16th for the annual Skating Carnival. Tickets are available at the door. You can also join the Elk Valley Nordic Centre on Sunday starting at 10:30 am for a day of skating and cross country ski racing for all ages. You can pre-registration for the race here.
Whether you're celebrating Family Day on the hill or in town, we hope your weekend is filled with lots of fun and laughter! Don't forget to tag us in all your snow fun by using the hashtag #lovefernie on Facebook and Instagram!