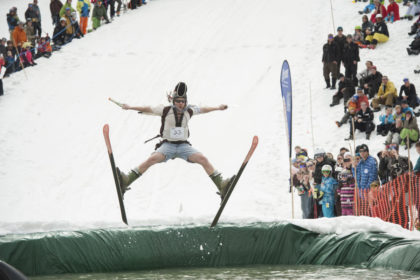 Spring, it's the time of year when the flowers bloom and everything turns green, unless you're in the Canadian Rockies.  If you find yourself in the Rockies come spring, you'll quickly notice that the winter blanket of white snow is far from disappearing. In fact, spring in the Rockies offers some of the best skiing conditions. Not to mention the added bonus of starting après before sun down, not that you have to stop when the sun disappears, no judgments here!
Ever heard the expression "suns out guns out' or "skies out, thighs out"? We are pretty sure they were first said by a hardy Canadian spring skier wearing a sleeveless shirt and shorts while laying down a killer line in the Rockies. Warmer temps bring out some of the best and most amusing spring skiing fashion trends, again, no judgments. The warmth of the sunshine isn't just great for tan lines, but also works its magic for ultimate snow conditions. One thing that's reliable in the Rockies is epic corn snow. Corn snow, or "hot pow" if you will, is a descriptive term for the glorious snow that coats our backyard all spring long, it's fast, warm, and punch-able for ultimate control.
Spring is the ideal time to celebrate in the mountains. Everything from live music, pond skims, themed races and festivals make their way onto the calendar come spring. Fernie Alpine Resort welcomes April with live outdoor music and an unforgettable Festival that goes by the name of Fernival. A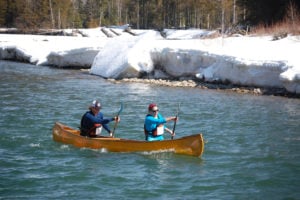 film festival kicks of Fernival followed by the famous Raging Elk Powder, Pedal, Paddle Relay, what better way to fully embrace spring that in a multisport multi-season relay. Fernie wraps up their season with the Coca Cola Slope Soaker and live music. If spring skiing is half about skiing and half about socializing, Fernival is exactly where you want to be. Strictly skiing more your style? Kimberley Alpine Resort has some of the longest days available for lap crushing by offering night skiing. Hop on the first lift at 9am and ski right until 4pm. A mandatory break of operations will remind you to eat, relax and enjoy some live music before getting back on the slopes at 5:30pm when night skiing kicks off. Nakiska is the place to see it all, and ski it too, Calgary's closest mountain shouldn't be missed! Nakiska is home to fun event weekends in April referred to as Spring Fiesta's with family friendly activities and of course, the tube park will be open! The biggest crowd drawing event at Kicking Horse Mountain Resort is non other than the famous Wrangle the Chute Freeride World Tour 4 Star qualifier. Watch some of the most talented athletes tastefully choose lines to tackle with style in front of the stoke filled crowd. The after party is quickly becoming equally as famous, another reason to put Kicking Horse Mountain Resort on your spring hit list.
Combining long, warm, and snow filled days with awesome events sounds like the perfect reason to get to the Rockies this spring if you ask me. If you haven't experienced spring the Rockies you don't know what you're missing and hopefully I've given you enough reasons to change that!