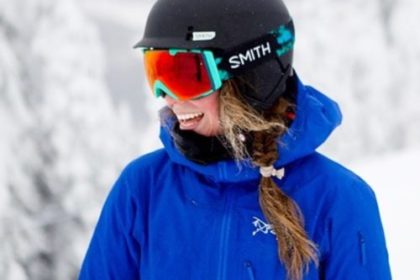 When you cross the Elk River and wind your way into the town of Fernie you'll automatically feel like you've entered a winter wonderland. The quaint streets are lined with lights that illuminate the taller-than-your-car snow banks, signalling the first hint that this place is a powder junkies dream destination. The town its self is loaded with a unique history, scenic views, things to do, places to see and experiences to be had. If you're driven by skiing educed face shots, then the first thing on your Fernie hit list should most definitely be Fernie Alpine Resort.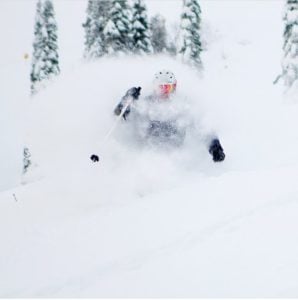 With a snowfall average of 11 meters per a season you can expect quite a few powder days in this town! The absolute best way to do a pow-day proper in Fernie? One word, early.  While Fernie Alpine Resort is known to hold the snow stashes for days after a storm, there is nothing like having first pick of what you want to lay a fresh line into! With over 2500 acres of skiable terrain you'll be able to get freshies a few laps in a row if you don't hit snooze! The best mornings start with early ups and a lift line coffee snagged at Slopeside Café on route to the lift of your choosing! It's an experience that everyone should part take in at least once, if not adapt to your regular ski vacation regimen! When the wide open bowls and runs have been checked off the list head into the Fernie's legendary tree skiing for even more untouched powder! When your legs are starting to feel the burn from lapping 1080m vertical long runs coated in powder it's time to call it a day on the slopes, but not a finished day. The ultimate Fernie experience encompasses another activity before après begins!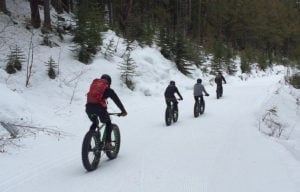 Fat tire bikes are an awesome way to see the sights in town, explore the groomed cross-country trails or rip up the snowy single track. New to fat biking? No problem, Fernie Alpine Resort has rental bikes, groomed trails and guided programs. Maximize your day by hitting the resort early and hard, then snag a bite at Lost Boys Café or at The Griz Bar before heading one a Discover Fat Biking clinic at 1:30pm. Enjoy two hours with a guide who will show you the ropes of fat biking on groomed trails and maybe even some wilder single track if you dare! Evening Ride and Dine packages are also offered on Thursdays that include headlamps, dinner at the scrumptious Cirque Restaurant and an evening adventure that won't be forgotten! Regardless of whether you fat bike in the afternoon or evening one thing is certain, and that is that you should follow it up by heading to the Stoli Ice Bar!
The Stoli Ice Bar is an experience unlike any other. The sub zero ice room feels like an ice castle and is almost cozy feeling when you're snuggled up in a Helly Hansen parka! Open from 11am-10pm daily the Ice Bar is waiting for you to sample some of the most sought after vodka's from around the world! Each experience is yours for the making as you choose from a variety of vodka options and sip from a ice glass. There's nothing more rewarding and most definitely refreshing than ending your day with a salute to the mountains with an ice glass cheers in warm company. What happens after the Stoli Ice Bar is up to you, might we recommend a nightcap next to the Cirque Restaurant's fire place to warm up? We look forward to seeing your memories being made, be sure to share them with us on social media by hashtagging #LoveFernie to give us all a case of the FOMO (fear of missing out)!