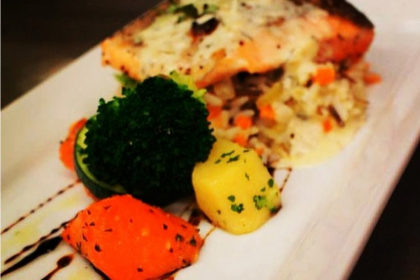 Lizard Creek Lodge is known for its luxury accommodations including everything from Hotels to Condos, as well as providing an exception dining experience for guests as well as the public to enjoy.  With an outdoor patio and a gorgeous great room to enjoy, it makes a great date night idea or dinner out with the family.
Some of our suggested delectable dishes to try include;
The Steelhead Salmon

The Grilled Rack of Lamb

The Braised Beef Poutine

Truffle Mushroom Cannelloni

Complimenting your meal with a Fresh Watermelon Cocktail and this view, this is the opposite of a problem

And top it off with a Tiramisu Desert

So make this your hangout this summer, stay, play, dine and cool off at Lizard Creek Lodge.

Photo by Powder Matt Mosteller
Get more information on Lizard Creek Lodge online or by call 250-423-2057.