Jayme Moye writes about travel, exploration, and pushing the limits of human potential. Her work appears in National Geographic, Outside, Travel + Leisure, New York, and Women's Health, among others. She is a former adventure news correspondent for Men's Journal, and the former managing editor of Elevation Outdoors. In 2014, the North American Travel Journalists Association named Jayme "Travel Writer of the Year" for her work reporting on Afghanistan's first women's bike racing team for ESPN. Her stories have been anthologized in The Best Women's Travel Writing and Vignettes and Postcards from Paris. She is co-author of the best-selling adventure epic On the Nose: A Lifelong Obsession with Yosemite's Most Iconic Climb. http://jaymemoye.com/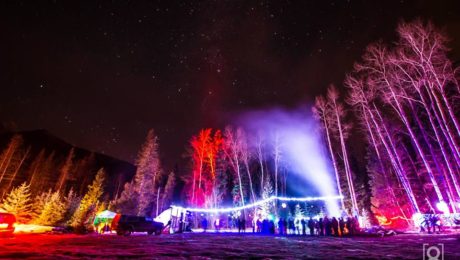 On November 18, 2017, in the dark of night someplace in the woodlands surrounding Fernie, British Columbia, spotlights of fuchsia, aquamarine, and gold illuminate a clearing at the base of a hillside. There, hundreds of humans clad in ski pants, puffy jackets, and toques, move to the beat of the intergalactic house music that pumps from speakers on a makeshift stage. The wooden stage has a pyramid for a roof—presumably to protect the DJs and electronic equipment from the elements—currently serving as a fantastical screen, wrapped in white polyethylene plastic sheeting, upon which someone, somewhere, projects a mesmerizing light show.
Welcome to the Mogul Smoker, a 42-year Fernie tradition. You won't find anything for sale here. Not the modern artwork or willowy dreamcatchers that hang from the surrounding trees. Nor the "Gluten Free Hugs" advertised on the white sandwich board. Admission is free. BYOB, and even your own water. The producers, a group of local volunteers, put on this beloved annual event for the sheer fun of it.
The very first Mogul Smoker occurred one snow-less November in 1976, as a playful ritual to appease Griz—Fernie's mythical winter deity—to make it snow. Residents Liz and Ian Stokie, along with their good friend Barry Hulbert, started it with a barn party and bonfire. Kim Stokie wrote on Facebook that she remembers her dad and Hulbert using up all the alcohol in the house to perfect a special party drink, which ended up containing rum, Kalua, coffee, and hot chocolate. They dubbed the concoction the Mogul Smoker. In the early years, participants burned old wooden skis in the bonfire, and donated either a bottle of rum or Kalua to the cause. The party kept going until it snowed, the faithful raising glass after glass of Mogul Smoker and toasting "Long live the Griz!"
The present-day Mogul Smoker is less about the homespun cocktail, and more about the smoking hot dance floor, erected each year at a secret location in the forest, where a non-stop lineup of DJs spin tunes well into the morning. There's still a bonfire, but the Griz is not amused by people who throw in modern-day skis. "Burning plastic is counter intuitive to creating snow," says Caleb Brown, 26, a lifelong Fernie resident who has been part of the team that organizes the Mogul Smoker for seven years.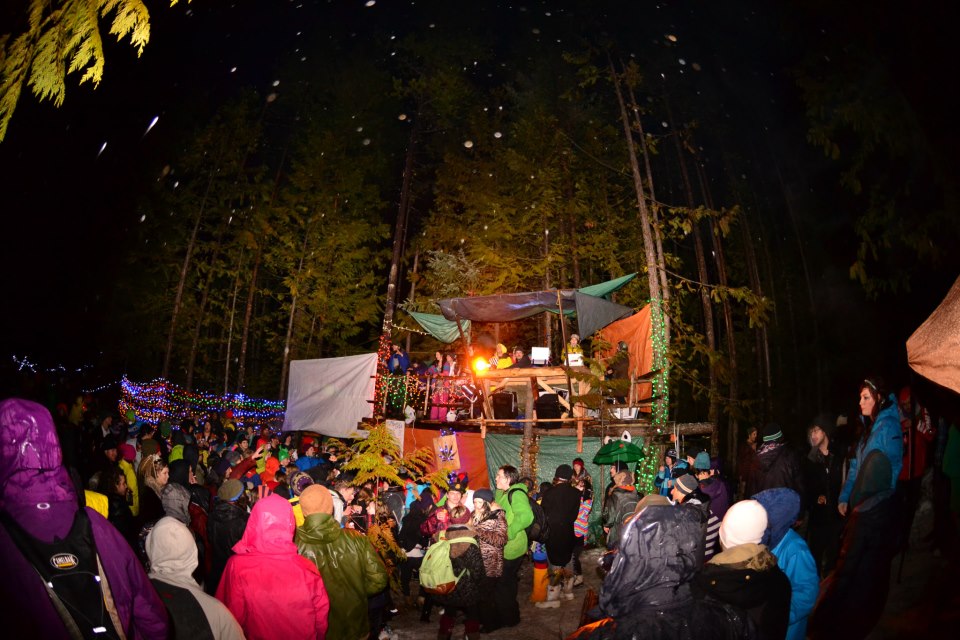 Brown and team built the 2017 stage and its trippy pyramid from scratch, along with a treehouse-style shelter for the audio technician, and various other wood platforms and pyramid-shaped shelters. Chad Kona did the psychedelic visuals and PK Sound handled the flawless audio. The DJs were all Fernie locals who volunteered their time, and assisted with setup and teardown. GearHub sold 500 wristbands for $20 each, which gave participants access to a shuttle bus system that ran all night between the Royal Hotel and the undisclosed venue location.
Brown, a DJ himself, took the final set at 7:00 a.m. "It's sort of become my trademark," he says. "There may not be as many people left for the last set, but those are the people that mean the most, the ones that stick it out to the end." Brown needn't have worried about playing to a ghosted dance floor—100+ people were still standing strong for the Griz.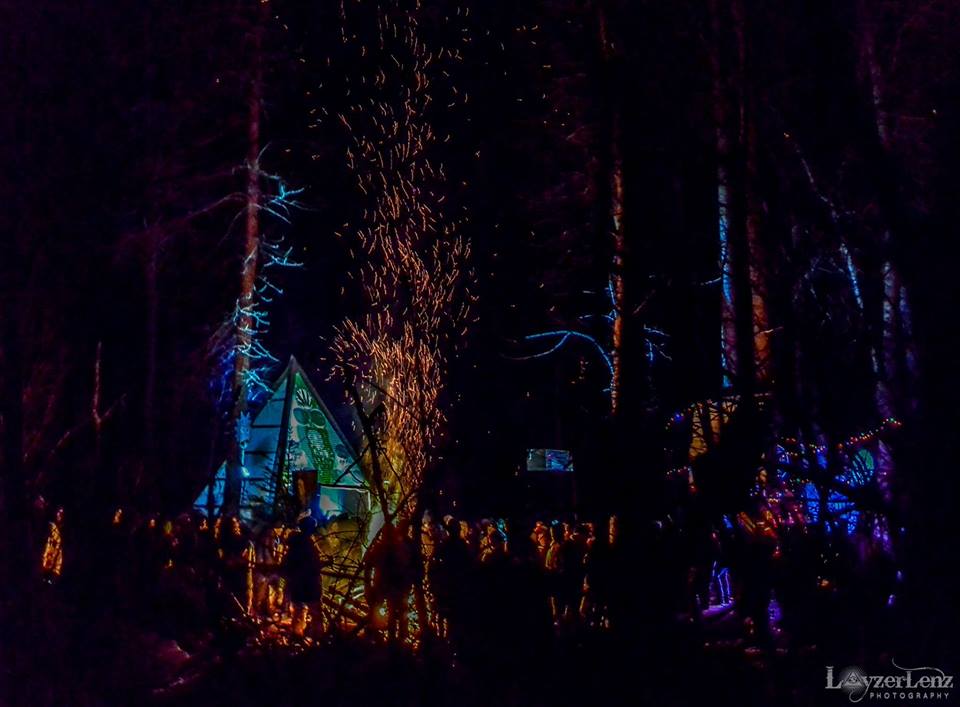 On the following Tuesday, Fernie Alpine Resort announced that it has already accumulated more than seven feet of snow, and would be opening a week early, on November 25th. Long live the Griz!
Get Some
Keep the snow coming by toasting Griz with a Mogul Smoker cocktail, available at The Griz Bar at Fernie Alpine Resort. Or make your own following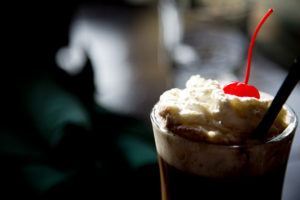 this flavorful recipe, courtesy of Stephanie Fleming, owner and mixologist at Infinitea T-Bar & Boutique in downtown Fernie:
1oz Sailor Jerry Spiced Rum
1oz Kahlua
Hot chocolate made with organic dark chocolate powder, honey, and cream
Top with whipped cream and a sprinkling of chocolate powder.
Photos: Mogul Smoker Facebook & Abbydell Photography