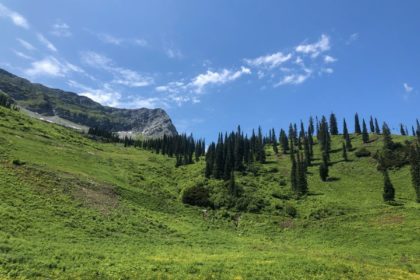 The annual Brushing Program for the Fernie Ski Resort is having a very successful summer. The cooler weather and lower Fire Danger ratings have allowed the crew to keep working through the dog days of summer without restrictions due to Fire Danger. The crew this summer has also been doubled to allow us to catch up a little on the past couple seasons where High Fire Danger has shut us down or limited our progress. The crews have been hard at work in many areas across the mountain.
There has been a new line cut down Snake Ridge as well as cleaning a new line down the North Boundary for those that are looking for the Steep and Deep that Fernie is famous for.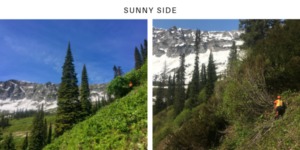 Additionally, we have been working on core areas on the Lizard Side that focusses on terrain that is open at 9 am on most big snow days. The Sunny Side has had a new haircut that extends down onto the China Wall and old Griz Lift line that will provide some early deep turns on those Pow Days.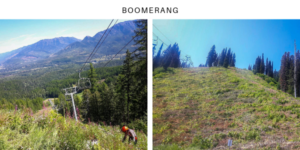 Boomerang and Boom Ridge has received another mow and will be prime for early season riding providing steep turns right out of the gate.
New Side lovers will also see some changes to the lines in the Alpha Centauries and Currie Chutes areas as well as the lower elevations of the Big Three as we cleaned up the exits from those thigh-burning runs. In addition, core areas around the Timber Bowl, Surprise, Black Cloud have all been touched.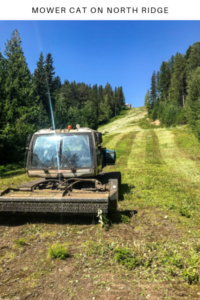 Our Summer Mower Cat was rebuilt from a repurposed Snowcat this Spring and will be out in anger this fall to mow many of our main runs including all our beginner terrain on the lower mountain and runs where all the rocks and obstacles have been removed such as Bear, North Ridge, Kodiak, and many others.
It is a giant mountain, and we have excellent growing conditions. People ask why don't you just cut it all? Sounds like a good idea but when you are standing at the bottom of Cedar Ridge looking up at acres of 12 foot high Alder, you start to feel pretty small. When you dive into Cedar Ridge early season and have that perfect line top to bottom down the King Fir don't forget to think about that person that has spent their summer on the end of a saw making that possible.
We are looking forward to an awesome season.